What were the first International Visits made by US Presidents?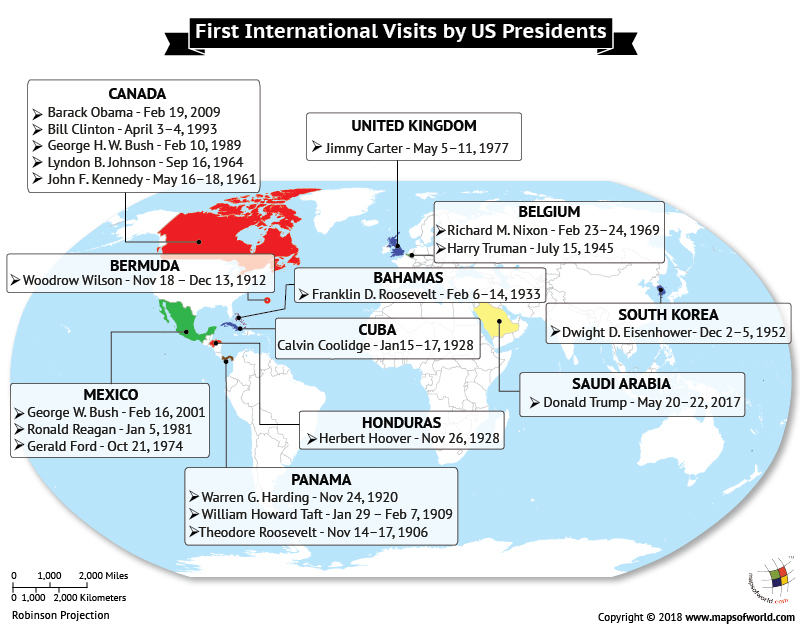 International visits by the US Presidents are an important part of US diplomacy and for formation of good international relations. They are a means of strengthening relations, and many-a-times important agreements are also signed during such visits which are beneficial for governments in both the countries.
In 19th century, international travel by US Presidents was considered a taboo. They were able to travel within the country for a better understanding of issues arising in people's lives, but public never appreciated their international travel.
After the policy makers reconsidered the role of nation in international affairs in early 20th century, it was then that first international visit by a sitting US president was made and President Theodore Roosevelt visited Panama from November 14 to 17, 1906.
Ever since, international trips by US Presidents have been considered significant and here we have mentioned first international trips made by them, starting from Donald Trump, the current president of the United States.
Donald Trump made his first international visit to Saudi Arabia on May 19, 2017. Donald Trump is the first President to choose Saudi Arabia as the first stop on a maiden visit.
Barack Obama, who served as the President from 2009 to 2017, had made several international visits during his eight years in office. However, his first international visit was to Canada, which was undertaken on February 19, 2009.
George W Bush made his first visit to Mexico on February 16, 2001, and discussed several issues such as migration, trade, battle against illegal drugs etc. with Mexico President, Vincente Fox.
Bill Clinton made the first international trip to Canada from April 3 to 4, 1993, where he attended a Summit Meeting, along with Boris Yeltsin, who was the President of Russia during that time. Apart from Obama, and Clinton, three other US Presidents made their first international visit to Canada. These were George HW Bush (February 10, 1989), Lyndon B Johnson (September 16, 1964), and John F Kennedy (May 16 -18, 1961).
Gerald Ford made his first international trip to Mexico on October 21, 1974.
Both Jimmy Carter and Franklin D Roosevelt's first trips were to the United Kingdom.
D Eisenhower's first international visit was to South Korea from December 2 to 5, 1952.
Apart from Theodore Roosevelt, the other two US Presidents whose first international visit was made to Panama were William Howard Taft and Warren G Harding. Taft visited Panama from January 29 to February 7, 1909, Harding visited the nation on November 24, 1920.
The table below provides information on when the US Presidents made their first international visit.
| | | |
| --- | --- | --- |
| Name of President | Date and Year | Country |
| Donald Trump | May 19, 2017 | Saudi Arabia |
| Barack Obama | Feb 19, 2009 | Canada |
| George W. Bush | Feb 16, 2001 | Mexico |
| Bill Clinton | April 3-4, 1993 | Canada |
| George H. W. Bush | Feb 10, 1989 | Canada |
| Ronald Reagan | Jan 5, 1981 | Mexico |
| Jimmy Carter | May 5-11, 1977 | United Kingdom |
| Gerald Ford | Oct 21, 1974 | Mexico |
| Richard M. Nixon | February 23-24, 1969 | Belgium |
| Lyndon B. Johnson | Sep 16, 1964 | Canada |
| John F. Kennedy | May 16-18, 1961 | Canada |
| Dwight D. Eisenhower | December 2-5, 1952 | South Korea |
| Harry Truman | July 15, 1945 | Belgium |
| Franklin D. Roosevelt | February 6-14, 1933 | The Bahamas |
| Herbert Hoover | Nov 26, 1928 | Honduras |
| Calvin Coolidge | January 15-17, 1928 | Cuba |
| Warren G. Harding | November 24, 1920 | Panama |
| Woodrow Wilson | November 18 – December 13, 1912 | Bermuda |
| William Howard Taft | January 29 – February 7, 1909 | Panama |
| Theodore Roosevelt | November 14-17, 1906 | Panama |
Know more:
Related Maps: