What countries have better Health and Hygiene factor for Travelers?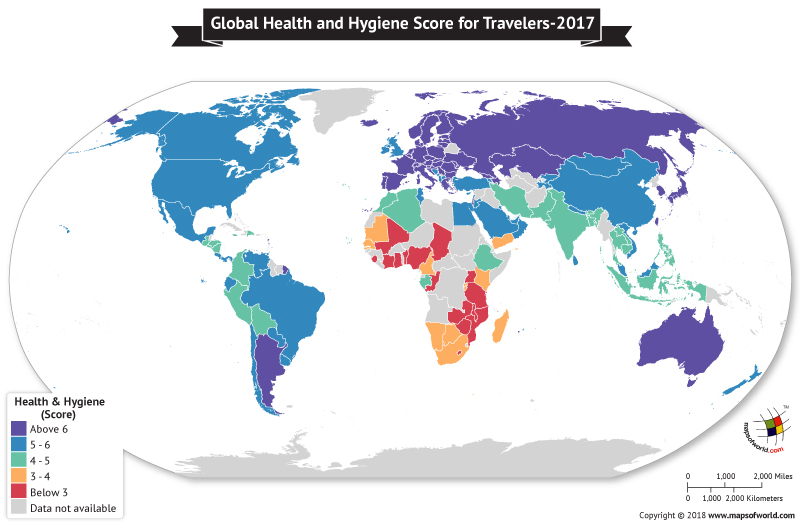 Every year millions of tourists pack their bags and travel to different nations for leisure, business or to have different experiences. Tourism is thus, one of the most significant industry that scrapes in huge revenues for countries around the world. Currently, it contributes more than 10% to global GDP, and avails many opportunities to people for employment. It serves as a source for developing nations to grow in the value chain.
Tourists are compelled to visit a nation for a business purpose or to experience living in a different environment, but before a person decides where to visit, they look into the crucial factors like safety and security, the state of infrastructure, business environment, etc. However, health and hygiene is one factor that can either make or break the reputation of a nation. Considering the bad report of a country, a tourist can easily ignore that destination.
The Travel and Tourism Competitiveness Report is released by the World Economic Forum annually, to access the competitiveness of countries on a number of a parameters such as business environment, safety and security, health and hygiene, human resources and labor market; and ICT readiness. In terms of health and hygiene, Germany has topped the rankings for the year 2017, with a score of 6.86. Lithuania stood second with a score of 6.81 and Austria was third obtaining score of 6.71.
Some of the popular tourist destinations and well-developed countries like Qatar, UK, USA, Singapore, United Arab Emirates have a score between 5 and 6.
Meanwhile, there are nations which were least competitive and had scores less than three. These were Ghana, Malawi, Lesotho, Mozambique, Nigeria, Uganda, and a few other nations.
To get information on how nations are ranked on the health and hygiene factor, refer to the table below.
| Country | Score |
| --- | --- |
| Germany | 6.86 |
| Lithuania | 6.81 |
| Austria | 6.71 |
| Belgium | 6.71 |
| Russia | 6.7 |
| Kazakhstan | 6.69 |
| Czech Republic | 6.69 |
| Ukraine | 6.63 |
| Hungary | 6.63 |
| Bulgaria | 6.63 |
| Greece | 6.57 |
| Hong Kong | 6.56 |
| Switzerland | 6.53 |
| France | 6.52 |
| Slovak Republic | 6.5 |
| Latvia | 6.44 |
| Japan | 6.43 |
| Argentina | 6.38 |
| Croatia | 6.38 |
| Korea, Rep. | 6.35 |
| Malta | 6.35 |
| Norway | 6.31 |
| Finland | 6.29 |
| Spain | 6.28 |
| Estonia | 6.27 |
| Luxembourg | 6.27 |
| Portugal | 6.25 |
| Poland | 6.25 |
| Netherlands | 6.23 |
| Italy | 6.18 |
| Romania | 6.14 |
| Australia | 6.14 |
| Denmark | 6.13 |
| Moldova | 6.13 |
| Sweden | 6.11 |
| Georgia | 6.1 |
| Azerbaijan | 6.09 |
| Iceland | 6.07 |
| Israel | 6.06 |
| Taiwan, China | 6.05 |
| Barbados | 6.05 |
| Serbia | 6.04 |
| Slovenia | 6.03 |
| Macedonia, FYR | 5.99 |
| Uruguay | 5.97 |
| Qatar | 5.96 |
| Lebanon | 5.91 |
| Armenia | 5.91 |
| United Kingdom | 5.83 |
| Mongolia | 5.82 |
| Cyprus | 5.81 |
| Montenegro | 5.8 |
| Kyrgyz Republic | 5.76 |
| New Zealand | 5.72 |
| Ireland | 5.71 |
| United States | 5.71 |
| Tajikistan | 5.68 |
| Bosnia and Herzegovina | 5.66 |
| Canada | 5.59 |
| Saudi Arabia | 5.58 |
| Jordan | 5.54 |
| Singapore | 5.45 |
| United Arab Emirates | 5.44 |
| Turkey | 5.43 |
| Oman | 5.43 |
| Kuwait | 5.43 |
| China | 5.42 |
| Egypt | 5.4 |
| Mauritius | 5.34 |
| Brazil | 5.32 |
| Sri Lanka | 5.28 |
| Mexico | 5.26 |
| Albania | 5.22 |
| Chile | 5.19 |
| Tunisia | 5.18 |
| Bahrain | 5.17 |
| Malaysia | 5.16 |
| Panama | 5.14 |
| Trinidad and Tobago | 5.14 |
| Venezuela | 5.1 |
| Ecuador | 5.06 |
| Vietnam | 5.04 |
| Paraguay | 5.02 |
| Costa Rica | 5.01 |
| Nepal | 5.01 |
| Colombia | 4.99 |
| El Salvador | 4.94 |
| Dominican Republic | 4.93 |
| Algeria | 4.92 |
| Thailand | 4.9 |
| Peru | 4.8 |
| Philippines | 4.79 |
| Iran, Islamic Rep. | 4.72 |
| Jamaica | 4.68 |
| Cape Verde | 4.67 |
| Bhutan | 4.62 |
| Nicaragua | 4.6 |
| Guatemala | 4.58 |
| Morocco | 4.57 |
| Honduras | 4.55 |
| Pakistan | 4.53 |
| Ethiopia | 4.47 |
| Bolivia | 4.43 |
| India | 4.36 |
| Gabon | 4.35 |
| Lao PDR | 4.34 |
| Bangladesh | 4.34 |
| Indonesia | 4.3 |
| Cambodia | 4.02 |
| Yemen | 3.85 |
| Burundi | 3.8 |
| Rwanda | 3.79 |
| South Africa | 3.77 |
| Mauritania | 3.69 |
| Senegal | 3.63 |
| Gambia, The | 3.58 |
| Namibia | 3.52 |
| Botswana | 3.51 |
| Madagascar | 3.33 |
| Kenya | 3.17 |
| Cameroon | 3.14 |
| Ghana | 2.99 |
| Malawi | 2.97 |
| Lesotho | 2.94 |
| Tanzania | 2.93 |
| Benin | 2.9 |
| Chad | 2.89 |
| Zimbabwe | 2.88 |
| Congo, Democratic Rep. | 2.77 |
| Uganda | 2.75 |
| Zambia | 2.7 |
| Nigeria | 2.68 |
| Mali | 2.56 |
| Côte d'Ivoire | 2.56 |
| Sierra Leone | 2.34 |
| Mozambique | 1.83 |
Know more:
Related Maps and info: