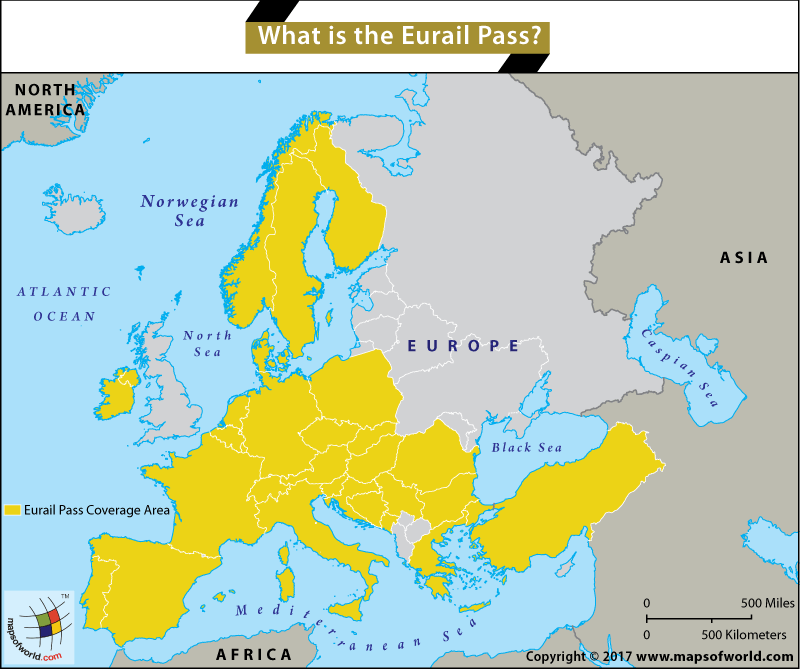 First introduced in 1959, the Eurail Pass is your all-in-one ticket to access extensive rail networks, and some ferries, across 28 European countries. It is the most common and most flexible way to travel across Europe. Eurail is not a company, nor are there special Eurail trains, it's simply the brand name for the principal rail pass (ticket) offered to overseas visitors.
You can choose a Eurail pass that gives you unlimited travel, for various periods of time on the national rail networks, which means you can hop-on-and-off whenever you like.  Unlimited travel means, you can use one train, or 20 trains a day, going 10 miles or 800 miles, it doesn't matter.  Eurail passes allow you to travel on all the normal scheduled trains run by the national train operator; high-speed, inter-city, overnight, local, regional, or suburban.
To qualify to purchase a Eurail Pass, you have to live outside of Europe, and the Pass must be purchased prior to landing in Europe. Europeans do not qualify for the Pass, and instead, need to buy an InterRailPass.
With a Eurail Pass, the beauty and breathtaking scenery of Europe is at your fingertips. You can view stunning landscapes right outside your train window! As mentioned, the wide network of Eurail trains and the flexibility of the pass, provide ease and convenience to visit Europe's cities and villages.  More than 10,000 destinations can be visited with just one rail pass, and you can customize your own itinerary.
You don't need to specify the exact date you want your Eurail pass to start when you buy it.  The pass validity will start on the day you validate it at the first station in Europe. This can be done any time in the 11 months after you buy it.
To start using your Eurail Pass, you will need to 'validate' it a primary station, before your first train.
You do this by going to the ticket office, where the agent will enter the start date on your pass.  Your Eurail pass is then ready to use and the Eurail clock starts ticking.
There are different types of Eurail Pass:
A 

Eurail

 Global pass covers all 28 participating countries
A 

Eurail

 

Selectpass

 covers your choice of any 2, 3 or 4 neighboring countries.
A 

Eurail

 Single-Country pass covers just one country of your choice.  A 

Eurail

 single-country pass now exists for each participating country including (from 2017) France.
Some of the Eurail Pass offers are as below:
Youth Pass – Travelers aged 12 to 27 can order a Youth Pass, saving 20% off standard Adult Pass prices.
Saver Pass – Adults traveling in a group of 2 to 5 people can travel on a single Saver Pass at a 15% discount per person.
Family Pass – Up to two children (aged 1 to 11) can travel for free with a single adult.
The countries participating in the Eurail pass are; Austria, Belgium, Bulgaria, Croatia, Czech Republic, Denmark, Finland, France, Germany, Greece, Hungary, Ireland, Italy, Luxembourg, Netherlands, Norway, Slovak Republic, Portugal, Romania, Slovenia, Spain, Sweden, Switzerland, Turkey, Poland, Bosnia, Serbia & Montenegro.
It's easy to buy a Eurail pass online at either www.raileurope.com (USA), www.raileurope.ca (Canada), www.raileurope.com.au or www.internationalrail.com.au (Australia) or www.raileurope-world.com (if you live in New Zealand, Asia, Africa or South America).  Or buy from the official Eurail site, www.eurail.com
Related Maps: