Persian Gulf or Arabian Gulf – Which is the Correct Name?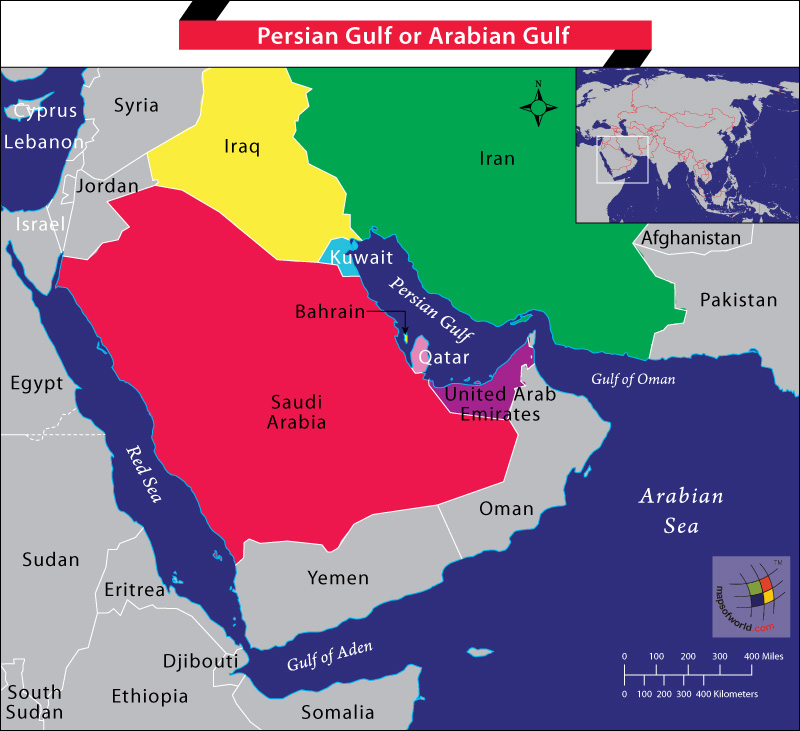 The Persian Gulf or Arabian Gulf? This has been the subject of a heated debate that has been raging since the 1960s. While the international community does not hold much by the name, this is a contentious issue causing much animosity between Iran and the Arab nations.
The water body that is popularly referred to as the Persian Gulf is a sea of the Indian Ocean – an extension of the Gulf of Oman – that separates Iran and the Arabian Peninsula. It is bound through the north and east by Iran while to the west and south are a number of Arab states – Iraq, Kuwait, Saudi Arabia, Qatar, Bahrain, and United Arab Emirates.
Going back through history, the name Persian Gulf (Khalīj-e Fārs) is believed to have been used by ancient historians including the likes of Ptolemy. This is the name that finds its way in popular usage through the ages. In the mid-20th century, however, the Arab nations suggested that the proper name for the gulf is Arabian Gulf (Baḥr Fāris). The dispute escalated to the extent that Iran banned publications using the term "Arabian Gulf". Both parties have extended historic proof to support their individual claims.  Most independent writers and publications now prefer to merely call it The Gulf or the Gulf of Basra.
Most prominent nations such as the US continued to refer to it as the Persian Gulf till about 2010. Recent (unofficial) references to the Arabian Gulf, however, have been viewed as a political stance rather than support of the Arab claim. The Eighth United Nations Conference on the Standardization of Geographical Names held in Berlin in August- September 2002, clear the UN stance. According to the UN the use of Arabian Gulf is faulty and the name Persian Gulf is the correct name. The International Hydrographic Organization (IHO), the organization responsible for naming water bodies across the globe refers to the gulf as "Gulf of Iran (Persian Gulf)" lending authenticity to Iran's claim.
Despite the dispute most famous atlases continue to call the gulf "Persian Gulf". Some specify "Arabian Gulf" within parentheses.
Related Maps: