Is there any Active Volcano in Europe?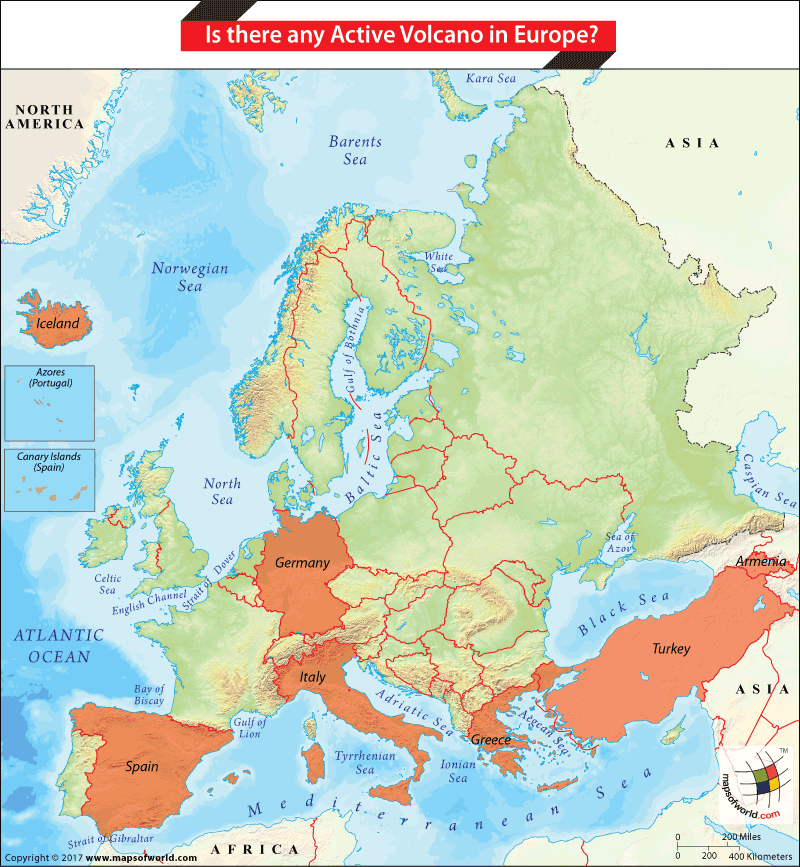 There are over 60 active volcanoes located in various parts of Europe. Two of the best known volcanoes of the world; Mount Vesuvius and Mount Etna are located in Europe.
A volcano is typically a mountain with a rupture or a vent through which molten lava, gases, and ash erupt from a magma chamber below. There are numerous underwater volcanoes located in the seas and oceans of the earth making it difficult to pinpoint the exact number of volcanoes in existence.
Volcanoes are classified into active, dormant, and extinct. Most geologists and scientists define an active volcano as one that has erupted in the past 10,000 years. This makes way for the possibility of an eruption at any time. An extinct volcano is one that is unlikely to erupt again. Understanding a volcano's lifespan, however, is not easy. There are numerous volcanoes which are now inactive but could possibly roar back into life. These are called dormant volcanoes.
Here's a look at some of the most prominent volcanoes in Europe:
Italy: Amiata, Campi Flegrei (Phlegrean Fields), Campi Flegrei Mar Sicilia, Etna, Ischia, Monte Albano, Pantelleria, Vesuvius, Vulsini
Germany: Kaiserstuhl, Laacher See, Vogtland volcanic area
Spain: Madeira Madeira Olot Field
Canary Islands: El Hierro, Fuerteventura , Gran Canaria , La Gomera , La Palma , Lanzarote, Tenerife
Armenia: Aragats, Dar-Alages, Ghegam, Porak, Stromboli, Tskhouk-Karckar
Greece:  Kolumbo, Methana, Milos, Nisyros, Santorini, Sousaki
Azores: Agua de Pau, Corvo, Don Joao de Castro Bank, Fajã de Cima, Fayal, Flores, Furnas, Graciosa Pico, Monaco Bank, Picos Volcanic System, Sete Cidades, San Jorge, Terceira
Turkey: Acigöl-Nevsehir, Akyarlar, Ararat, Erciyes Dağ, Girekol, Göllü Dağ, Hasan Dagi, Karaca Dağ, Karadağ, Karapinar, Kars, Kenger, Koruhüyüğü, Kula, Nemrut Dağ, Sandal, Süphan Dağ,  Tendürek Dağ
Iceland: 130 volcanoes including Katla, Hekla, Bárðarbunga, and Grímsvötn
The one volcano in Europe that deserves special mention is Mount Etna. At 10,926 feet (3330 meters) tall, Mount Etna is located on the eastern coast of the island of Sicily in Italy. It has earned the fierce reputation of being the largest and most active volcano in the continent. Apart from this, it also has set the record for the longest continuous eruption. The volcano is a live entity and spews ash, gas, or lava several times a year. The last major eruption, though, occurred in 1992.
Recently researchers of seismic activity have suggested that four of Iceland's 130 volcanoes may erupt soon, triggered by earthquakes in the region. Katla in particular seems priming for an eruption. The last eruption on the island (Eyjafjallajökull) in 2010 came at cost of about $4.9 billion.
Related Maps: