Where is Guam and why was North Korea targeting it?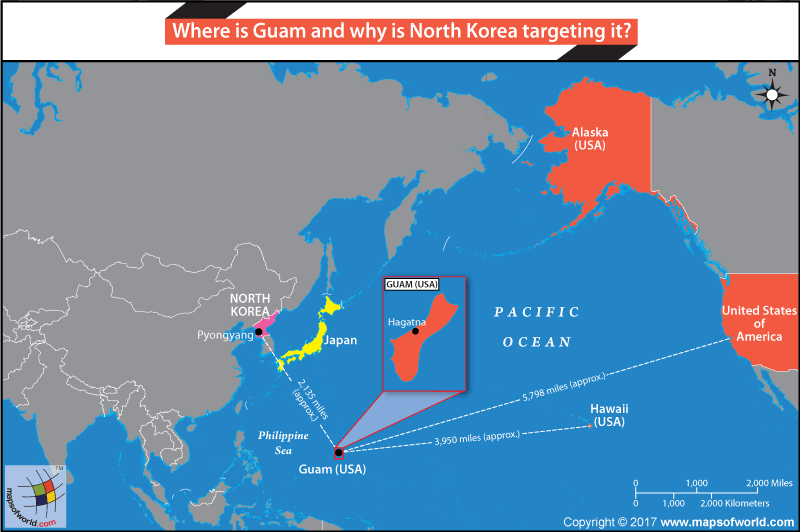 Is the world bracing for a war between the United States and North Korea? War will likely break out if North Korea threatens to bomb Guam, a key US military base in the Pacific Ocean. Tensions between North Korea and the United States have been brewing for quite a long time. But, US President Donald Trump's statement to bring "fire and fury" down on North Korea annoyed the country. In retaliation, the North announced its plan to make an enveloping fire at areas around Guam. Let us look at some questions that are on top of our minds.
Distance between the US mainland and Guam?
Guam is a part of the US territory in Micronesia, located in the western Pacific Ocean. The small remote island, which comprises a population of approximately 162,700, is around 5,798 miles away from the West Coast of the United States mainland. Meanwhile, the distance between Guam and the state of Hawaii is 3,950 miles.
Distance between North Korea and Guam?
Guam is relatively close to North Korea. Guam lies 2,135 miles away from North Korea. To give American readers a better example, the distance can correspond roughly to that between California and Ohio, some 2,082.3 miles.
How is Guam a part of the US
For around four centuries, Guam was a part of Spain. Following the Spanish-American War in 1898, the United States seized Guam as a part of the Treaty of Paris. On December 23, 1898, Guam came under the control of the US Navy. Check this Guam Map to learn more about Guam.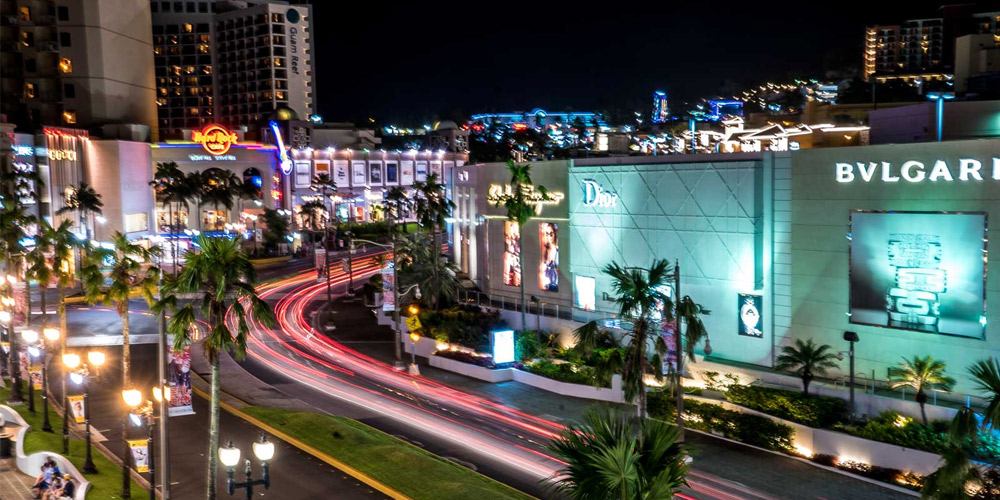 Why is Guam Important for the Americans?
The island, which covers an area of just 210 square miles, may be small in size but, it is strategically vital for the United States. Guam has some of the US's most strategically important bases. Referred by military commanders as a "permanent aircraft carrier", Guam currently has some 6,000 American troops, Naval Base Guam, and the Anderson Air Force Base. The island is also armed with THAAD, Terminal High Altitude Area Defense, which can intercept missiles.
Following the Pearl Harbor attacks during WW2, Guam fell under the occupation of Japanese forces, though for a short time. By 1944, when the Axis powers were being beaten back, US managed to reclaim the island.
The island also had a major role to play during the Cold War as a support center and during the Vietnam War, when many American forces were stationed at Guam to aid South Vietnam in its fight against the North.
The official name of Guam is the 'Territory of Guam'.
The official languages of Guam are English and Chamorro.
Mt. Lamlam, rising to a height of 1,334 feet (407 meters), forms the highest point in Guam.
Where is North Korea on a map?
North Korea is in Asia, to be precise East Asia. Covering an area of 46,540 square miles, North Korea shares its borders with three nations – South Korea, China, and Russia.
Where is Guam on a map?
Covering an area of 210 square miles, Guam is in Oceania. Guam is an island; hence it does not have land borders with any nation. To get an idea of its location visit, Guam Location Map.
What did Trump say to get North Korea act like this?
Though North Korea has every now and then threatened the US with missile attacks but the past few days witnessed the rhetoric between US President Donald Trump and the North Korean leader Kim Jong-un taking a dangerous turn with Trump's "fire and fury" statement if the North threatened the US and Kim's threat to envelop Guam with fire. Though threats and counter-threats have been usual between the two nations, but in the past few days tensions have reached a dangerously high level with Trump's statement echoing a nuclear attack. Undeterred, North Korea said, "It is a daydream for the US to think that its mainland is an invulnerable Heavenly kingdom."
Has North Korea ever gone to war?
North Korea cannot be taken lightly as the nation has war experiences in the Korean War (1950 to 53); Simba Rebellion (1964); Communist Insurgency in Thailand (1965 to 1983); Vietnam War (1967 to 1969), where it supported North Vietnam; Yom Kippur War (1973) and a few others including the most recent Yemeni Civil War (1994). Barring the Vietnam War, North Korea had to suffer defeat in all the other wars it took part in.
Is North Korea likely to carry out this threat?
Though, at the moment, it is hard to say whether North Korea will go ahead with its plan, as it has time and again threatened to attack the US, especially Guam. It is usual for North Korea to issue a threatening statement every time, the US flies its bombers from its airbase in Guam over the Korean Peninsula. It comes out with a clichéd statement about the island being within range of its missiles. North Korea had earlier issued threats in 2013 when the North Korean leader had called upon his military to make plans for launching strikes on US military bases from as close to Guam and South Korea to as far as Hawaii and the US mainland. Even last year, North Korea had threatened to destroy all US military bases in the Pacific, including Guam, in case of a substantial attack.
Could Congress stop Trump from bombing North Korea?
 The Congress has an almost negligible ability to prevent Donald Trump from declaring a strike on North Korea. This is mainly because, as the commander-in-chief of the Country, the President has his own authority to protect the nation from threats. Nevertheless, the Congress may succeed in blocking  funds for military action or pass a law preventing the use of force.
Why world fears a North Korean Nuclear attack?
A nuclear war is terrible. Though it has been more than 70 years, but the world, especially people of Japan, have still not forgotten the horrors of the atomic bombing of Hiroshima and Nagasaki. Thus, a North Korean nuclear attack is a cause for worry.  Apart from large-scale loss of life, physical damages, and emotional and mental scars that would take years to heal, a North Korean nuclear attack would also lead to vast economic problems. Even if North Korea does not deploy weapons against the South, its neighbor, the economic damages can be unimaginable. South Korea is an advanced economy and home to some of the world's top companies. It accounts for some 1.9 percent of the world's economy. War would not only set the nation back but the world as well. It would have a severe impact on the global financial markets and would lead to a weakening of world currencies. Other than this it would have a devastating effect on the climate and would lead to widespread famines and floods.
Has North Korea caught the US off guard?
The US is leaving no stone unturned in its preparedness as North Korea's battle-hardened soldiers and dangerous missiles cannot be taken lightly. The US military chiefs are on alert, seven warships supporting "hit-to-kill" missile interceptors, three US aircraft carriers are already on standby in case any eventuality may occur.
Can North Korea attack Israel, a close ally of the US?
As of now, no report has emerged of North Korea threatening Israel, which is a close ally of the United States.
Can North Korean threat to Guam extend to California?
There is much talk in the United States, especially in California, which lies on the West Coast, about whether a North Korean missile can reach the United States. In recent years, North Korea has tested more missiles, which can travel 7,400 miles. The most advanced rockets can reach the continental US, except Florida. It has been estimated that North Korea has approximately 1,000 ballistic missiles. The majority of these are aimed at South Korea, and their range is between 30 miles and 300 miles.
Related Maps: