What is the oldest occupied castle in the world?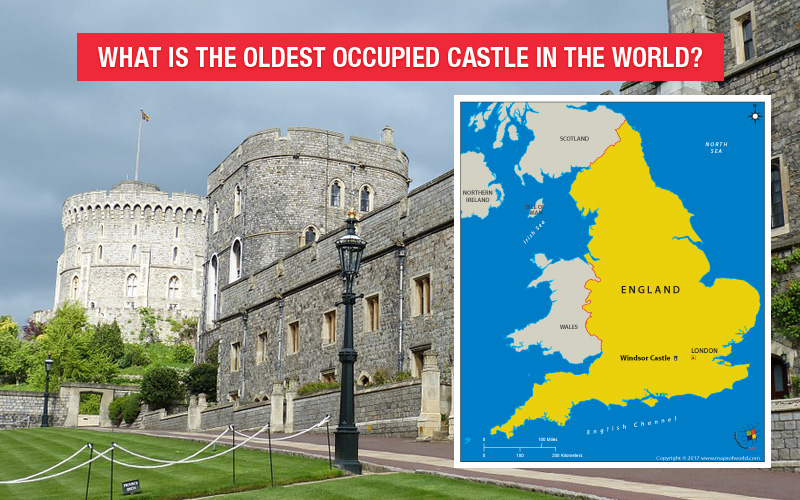 The spectacular Windsor castle, the royal residence of the British monarch is the oldest occupied castle in the world. Spread over an area of 13 acres (approximately 5 hectares), it is also the largest inhabited castle anywhere in the world. Located in Windsor (Windsor and Maidenhead district, Berkshire County), about 22 miles (approximately 35 kilometers) from London, this castle has been home to the kings and queens of England for almost 900 years. The Windsor Castle is believed to have been constructed in the 11th century, a short while after the historic Norman invasion of England led by William the Conqueror.
Historians suggest that during the Saxon times, a royal residence existed in Windsor, some distance from the current Windsor Castle. In 1066, William the Conqueror (Duke William II) embarked on the conquest and occupation of England. William then built a fortification in the cliffs overlooking the Thames, and later additions were made by subsequent monarchs.
Since the reign of Henry I, the Windsor Castle has been the official residence of the king or queen of England. Henry II commissioned the Round Tower apart from several other additions. Henry III also contributed by building several additions apart from a chapel. Much of the current residential complex was constructed by Edward III, but by the time Charles II became the monarch, these sections were reconstructed. King George IV also contributed to the construction of state chambers to receive foreign dignitaries.
Queen Elizabeth II uses the Windsor Castle as her residence over weekends and for a week in June every year. It is during this week in June that she attends both the Royal Ascot and the service of the Order of the Garter. Apart from this, the Windsor Castle is the official residence of the queen for about a month over Easter when she holds the Easter Court. It is in the Windsor Castle that the Queen also receives official dignitaries and guests of the state.
Currently, the State Apartments and St. George's Chapel are open to guests (except on Sundays). Tickets are available for purchase online.
Related Maps and Articles: