What are the Key Facts of Sierra Leone?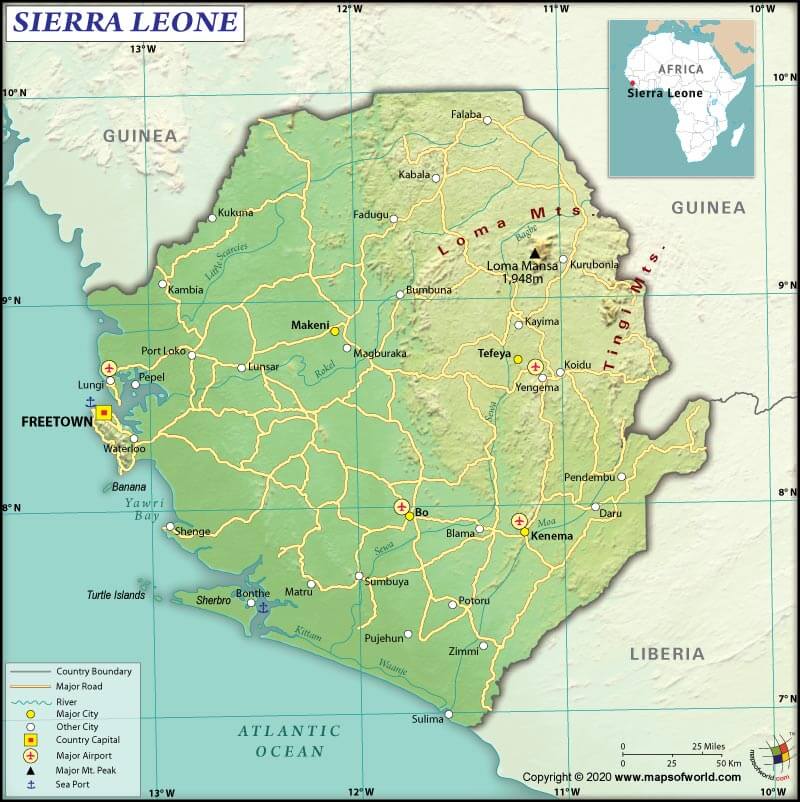 | | |
| --- | --- |
| Official Name | Republic of Sierra Leone |
| Continent | Africa |
| Capital | Freetown |
| Largest City | Freetown |
| Coordinates | 8.500000, -11.500000 |
| Area | 27,699 sq. mi (71,740 sq. km) |
| Land Boundaries | 679 mi (1,093 km) |
| Coastline | 250 mi (402 km) |
| Currency | Leone (SLL) |
| Neighboring Countries | Liberia, Guinea |
| Population | 7,813,220 (World Bank, 2019) |
| Official Languages | English |
| Major Religion | Islam |
| National Day | 27 April (Independence Day) |
| National Anthem | "High We Exalt Thee, Realm of the Free" |
| Form of Government | Presidential republic |
| President | Julius Maada Bio |
| Vice-President | Mohamed Juldeh Jalloh |
| GDP per capita (PPP) | $ 1,789.6 (World Bank, 2019) |
| GDP per capita (nominal) | $ 504.5 (World Bank, 2019) |
| HDI | 0.438 (2019), Rank: 181 |
| Literacy Rate (%) | 43.21 (UNESCO, 2018) |
| Space Agency | NA |
| Military Expenditure Ranking | 140 (SIPRI, 2019) |
| No. of Olympic Medals | 0 (as of 2018) |
| Driving Side | right |
| Calling Code | 232 |
| Time Zone | UTC (GMT) |
| Internet TLD | .sl |
Where is Sierra Leone?
Sierra Leone (whose official name is the Republic of Sierra Leone) is a West African country located between Liberia and Guinea, bordering the North Atlantic Ocean. The country is situated on the southwest coast of West Africa.
What is the Geography of Sierra Leone?
Sierra Leone spreads across a total area of 71,740 sq. km (27,699 sq. mi). Out of the total area, 71,620 sq. km (27,652.6 sq. mi) is land and 120 sq. km (46.3 sq. mi) is water.
The total land boundary of Sierra Leone is 1,093 km (679.2 mi) long, which is shared with two countries: Guinea (794 km or 493.4 mi) to the northeast and Liberia (299 km or 185.8 mi) to the southeast. Sierra Leone has a 402 km (249.8 mi) long coastline. The Atlantic Ocean borders the country to the west and southwest.
The mean elevation of the country is 279 m (915.4 ft). While the highest point is Loma Mansa (Bintimani) at 1,948 m (6,391.1 ft), the lowest point is the Atlantic Ocean at 0 m (0 ft).
Sierra Leone's terrain is characterized by mountains in the eastern region, upland plateau, wooded hill country, and a coastal belt of mangrove swamps.
The mountainous Sierra Leone Peninsula is the most striking landforms in the country. Along the Atlantic Ocean, you will find a zone of low-lying coastal marshland.
A wide and prominent plains region extends inland till around the middle of Sierra Leone.
As you move in the eastward direction of the plains, the land starts rising. It spreads to a broad, moderately elevated plateau, where you can find occasional emergence of hill masses and mountains, which includes the highest elevation point in West Africa.
Along the coast, you will find fertile soils. Sierra Leone has a rich mineral deposit. Some of the country's economically significant mineral deposits are bauxite, iron ore, diamond, and titanium ores.
The coastal belt predominantly consists of low-lying land, spread across a total area of around 70 miles (112.7 km). You will find a mountain plateau near the eastern frontier that rises to about 4,000-6,000 ft (1,219.2-1,828.8 m). This eastern frontier plateau is also known for being rich in the timber forest.
Freetown, the capital city of this Western African country, is located just beside the Sierra Leone Harbor in the coastal peninsula. The Sierra Leone Peninsula has a length of 24 miles (38.6 km) and a width of 10 miles (16.1 km).
On the West African coast of Sierra Leone, a mountainous promontory can be found. This landform's characteristic feature is that it can rise to 300 ft (91.4 m) above the sea level in certain places. Along the Atlantic Ocean, Sierra Leone has some of the most beautiful white sandy beaches.
Loma Mansa in the Northern Province is the highest mountain in the country. Some of the major rivers in Sierra Leone are the Sierra Leone River, Great Scarcies River (Kolenté River), Little Scarcies River (Kaba River), Sherbro River, Moa River, Mano River, etc. The most important lakes in the country are Lake Mape, Lake Mabesi, and Lake Sonfon.
What is the Climate of Sierra Leone?
A tropical climate is found in Sierra Leone. The weather remains hot across the year. Two distinct seasons can be found in the country, and they are the dry season and rainy season.
The dry season lasts for 5-months. It starts in December and continues until April. The season is dominated by winds blowing from the northeast. The rainy season lasts for seven months. It begins in May and continues until November. However, the duration, as well as the commencement of both seasons, may vary.
The yearly average rainfall amount hovers within 2,000-3,000 mm (80-120 inches). Maximum rainfall takes place in the coastal area. The altitude in the hilly and mountainous regions, significantly above 1,000 m (3,300 ft), tempers the heat.
In Sierra Leone, it remains hot and sunny during the winter season. Variation in temperature is found between the interior and coastal areas. The daytime and nighttime temperatures in the coastal regions hover around 86 °F (30 °C) and 72-75 °F (22-24 °C), respectively. In the interior area, the daytime and the nighttime temperatures hover around 90-93 °F (32-34 °C) and 64-68 °F (18-20 °C), respectively.
The temperature can reach around 100-104 °F (38-40 °C) during winter. The nighttime temperature can go as low as 50 °F (10 °C). In the mountainous region, it can be cold. Harmattan blows from the Sahara desert, lowering humidity mainly in the inland areas.
What is the Economy of Sierra Leone?
Sierra Leone is essentially an impoverished country, despite having rich natural resources, especially minerals. Most of the population is involved in subsistence agriculture. Iron ore mining is the economic driver of Sierra Leone. From 2014, the economy of the country has become more independent. Earlier it had to depend on external assistance.
The nominal GDP of Sierra Leone grew at an annual rate of 5.513% to US$3.941 billion in 2019. The export and import values of the country in 2018 were US$677 million and US$1.03 billion, respectively. Sierra Leone has a negative balance of trade amount to -US$355 million in 2018.
The major exports are Titanium Ore, Rough Wood, Diamonds, Aluminum Ore, and Non-fillet Frozen Fish. The major imports of Sierra Leone are Rice, Cars, Iron Structures, Packaged Medicaments, and Sauces and Seasonings.
The unemployment rate dropped from 4.68% in 2014 to 4.43%% in 2019. 2011 Sierra Leone Integrated Household Survey (SLIHS) showed that the country had a 52.9% incidence of poverty. It dropped 13.5% from the 2003 poverty data, which was 66.4%. A preliminary analysis of 2018 SLIHS shows that the poverty rate remains above 50%.
What is the Transportation System of Sierra Leone?
Sierra Leone has eight airports, out of which one has paved runway, and 7 have unpaved runways. Major airports are Lungi International Airport (Freetown), Hastings Airport (Freetown), Yengema Airport (Yengema), Kenema Airport (Kenema), Bo Airport (Bo), etc. There are two heliports too in the country.
A total of 800 km (497 mi) of waterways are there in the country, out of which 600 km (372.8 mi) remain navigable throughout the year.
Freetown, Sherbro Islands, and Pepel are the major seaports of Sierra Leone. There are 518 merchant marine vessels in the country, out of which 263 are general cargo, 95 are oil tankers, 30 are bulk carriers, 10 are container ships, and 120 are other types of vessels.
What International Organizations is Sierra Leone Part of?
WTO, IMF, UN, WHO, ILO, ACP, AfDB, AU, C, ECOWAS, FAO, G-77, IAEA, IBRD, ICAO, ICCt, ICRM, IDA, IDB, IFAD, IFC, IFRCS, IMO, Interpol, IOC, IOM, IPU, ITU, MIGA, MINUSMA, NAM, OIC, OPCW, UNAMID, UNCTAD, UNESCO, UNIDO, UNIFIL, UNISFA, UNWTO, UPU, WCO, WIPO, WMO, EITI (compliant country), IHO (pending member), ISO (correspondent), ITUC (NGOs), WFTU (NGOs)
Related Maps: