What Countries Top the World Education Rankings?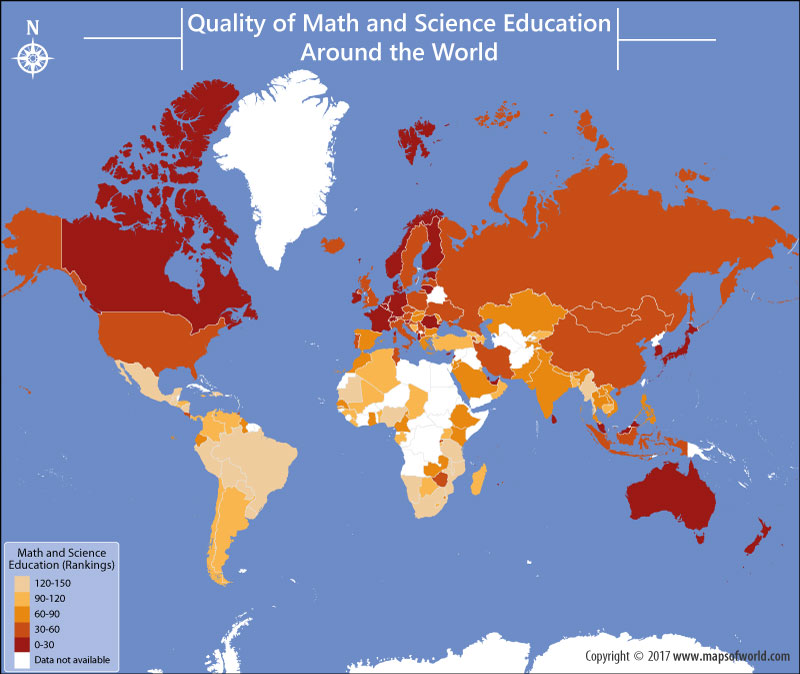 How many times have you feigned a headache or abdominal pain so that you do not have to attend the terribly boring Algebra class? Well, the question is not for the wizards residing in Singapore or Finland, because as per a recent data released by the World Economic Forum, the former has the best quality of math and science education in the world. The data, released in 2016, placed Singapore at the first spot among 139 countries. No wonder, Singaporean students of math and science subjects are some of the brightest in the world. Coming at the second spot was the European nation of Finland, which again had one of the best science and math education in the world.
Apart from Finland, the other three European countries that were placed among the top ten nations were Belgium, Switzerland and the Netherlands, which occupied the 3rd, 4th and 7th ranks respectively. Hong Kong, Japan and New Zealand were placed at the 8th, 9th and 10th spots. However, Japan and New Zealand had done remarkably well when compared to their ranking in 2015. In 2015, while New Zealand was placed at the 12th spot, Japan occupied the 21st spot. Interestingly, in the two Middle Eastern nations of Qatar and Lebanon, the quality of science and math education is one of the highest in the world. Occupying the 5th and 6th spots respectively, these nations were ahead of many European and American nations.
In spite of comprising some best universities in the world, the United States of America and the United Kingdom had not fared very high in terms of quality of maths and science education. These two nations were placed at the 44th and 46th positions respectively. Meanwhile, other popular educational destinations such as Canada and Australia were placed far ahead at the 18th and 27th ranks respectively.
Among the South Asian countries, the quality of science and math education was the best in Sri Lanka which was placed at the 25th rank. However, the bottom rank among these countries went to Pakistan which was placed at 106.
The African nation of Côte d'Ivoire was the best among the African nations occupying the 17th spot, an improvement from the 22nd position that it reported in 2015. Surprisingly, South Africa had the worst quality of science and math education and was placed at the bottom of the ladder at the 139th spot. Placed slightly better than South Africa were Paraguay, Dominican Republic, Peru and Nicaragua occupying the 138th, 137th, 136th and 135th spots.
Here is the complete list of countries, starting with the best country in the world for math and science education.
| Country | Rank (in 2016) |
| --- | --- |
| Singapore | 1 |
| Finland | 2 |
| Belgium | 3 |
| Switzerland | 4 |
| Qatar | 5 |
| Lebanon | 6 |
| Netherlands | 7 |
| Hong Kong SAR | 8 |
| Japan | 9 |
| New Zealand | 10 |
| United Arab Emirates | 11 |
| Malaysia | 12 |
| Slovenia | 13 |
| Estonia | 14 |
| Taiwan, China | 15 |
| Germany | 16 |
| Côte d'Ivoire | 17 |
| Canada | 18 |
| France | 19 |
| Lithuania | 20 |
| Ireland | 21 |
| Cyprus | 22 |
| Malta | 23 |
| Norway | 24 |
| Sri Lanka | 25 |
| Romania | 26 |
| Australia | 27 |
| Albania | 28 |
| Denmark | 29 |
| Korea, Rep. | 30 |
| Croatia | 31 |
| Luxembourg | 32 |
| Iceland | 33 |
| Mongolia | 34 |
| Trinidad and Tobago | 35 |
| Iran, Islamic Rep. | 36 |
| Austria | 37 |
| Ukraine | 38 |
| Montenegro | 39 |
| Latvia | 40 |
| Italy | 41 |
| Bahrain | 42 |
| Sweden | 43 |
| United States | 44 |
| Portugal | 45 |
| United Kingdom | 46 |
| Armenia | 47 |
| Serbia | 48 |
| China | 49 |
| Mauritius | 50 |
| Poland | 51 |
| Indonesia | 52 |
| Tunisia | 53 |
| Zimbabwe | 54 |
| Costa Rica | 55 |
| Seychelles | 56 |
| Czech Republic | 57 |
| Russian Federation | 58 |
| Rwanda | 59 |
| Macedonia, FYR | 60 |
| Greece | 61 |
| Bulgaria | 62 |
| India | 63 |
| Jordan | 64 |
| Vietnam | 65 |
| Cameroon | 66 |
| Philippines | 67 |
| Israel | 68 |
| Saudi Arabia | 69 |
| Guyana | 70 |
| Kazakhstan | 71 |
| Ghana | 72 |
| Tajikistan | 73 |
| Morocco | 74 |
| Hungary | 75 |
| Slovak Republic | 76 |
| Cape Verde | 77 |
| Kenya | 78 |
| Thailand | 79 |
| Moldova | 80 |
| Zambia | 81 |
| Senegal | 82 |
| Bhutan | 83 |
| Spain | 84 |
| Ecuador | 85 |
| Swaziland | 86 |
| Ethiopia | 87 |
| Nepal | 88 |
| Pakistan | 89 |
| Lao PDR | 90 |
| Madagascar | 91 |
| Bosnia and Herzegovina | 92 |
| Gambia, The | 93 |
| Liberia | 94 |
| Botswana | 95 |
| Jamaica | 96 |
| Georgia | 97 |
| Burundi | 98 |
| Kuwait | 99 |
| Lesotho | 100 |
| Honduras | 101 |
| Oman | 102 |
| Turkey | 103 |
| Azerbaijan | 104 |
| Algeria | 105 |
| Bangladesh | 106 |
| Chile | 107 |
| Gabon | 108 |
| Benin | 109 |
| Mali | 110 |
| Uganda | 111 |
| Cambodia | 112 |
| Argentina | 113 |
| Panama | 114 |
| Guinea | 115 |
| Venezuela | 116 |
| Colombia | 117 |
| Kyrgyz Republic | 118 |
| El Salvador | 119 |
| Chad | 120 |
| Namibia | 121 |
| Uruguay | 122 |
| Mauritania | 123 |
| Haiti | 124 |
| Bolivia | 125 |
| Mexico | 126 |
| Myanmar | 127 |
| Malawi | 128 |
| Tanzania | 129 |
| Egypt | 130 |
| Nigeria | 131 |
| Mozambique | 132 |
| Brazil | 133 |
| Guatemala | 134 |
| Nicaragua | 135 |
| Peru | 136 |
| Dominican Republic | 137 |
| Paraguay | 138 |
| South Africa | 139 |
Know more:
Related maps: