Percentage of Out-of-school Children of Primary School Age
Next Story
Gender Gap in Internet use: Male Users Outnumber Female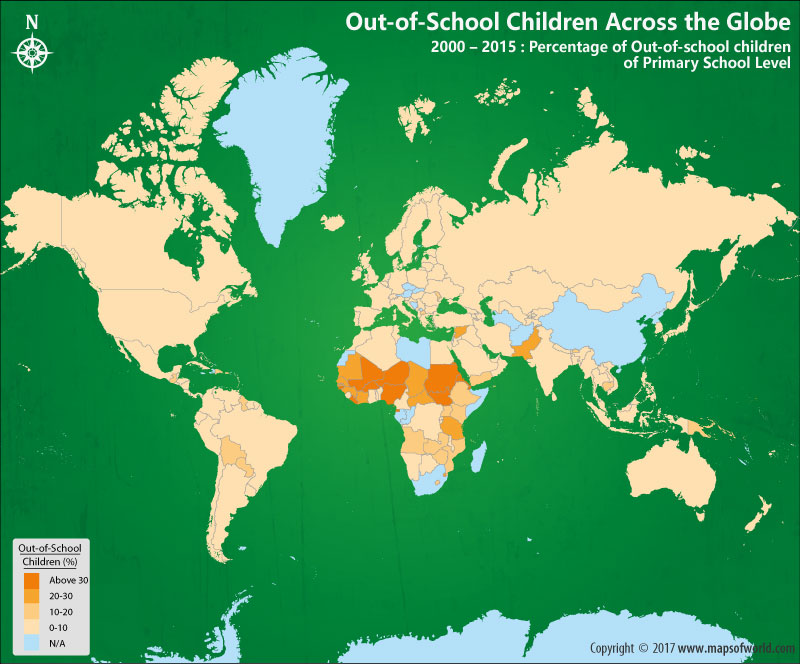 If you have a theme, we have a map.
Contact us for your custom mapping requirements
Education is the right of every child, but, in some countries around the world, a significant percentage of the child population is denied this very basic right. A number of factors contribute to children not enrolling in schools in these countries. One of the many factors that contribute to such a large number of out-of-school children is the economic instability in the country or being affected by war or violence.
But some other factors that play a significant role are the inability to afford education because of extreme poverty, being forced to work to support families, being unable to understand the language in which education is imparted as it is not spoken at home, etc. However, many societies also discourage girls from going to school or the scourge of child marriage keeps them away from education. Sometimes, these girls are also unable to attend school or continue further education as the schools, especially in remote areas, do not have basic amenities such as toilets.
The figures on the number of children denied a basic education are alarming. According to a UNESCO data, sourced across 15 years – from 2000-2015 – there are currently 61 million children around the world who have not been enrolled in school. These are typically aged between 6 and 11 years. This staggering figure indicates that today, about 1 out of 11 of children is denied basic education.
The report paints an alarming picture of the Sub-Saharan Africa region, where about half of the 61 million children are out of school. Here, an estimated 34 million children have been denied the right to basic education. If broken down by gender, girls fare much worse than boys in this region. Girls form 23 percent of the students who are out of school, while boys form 19 percent. Coming at the second spot is southern Asia; however, it is way behind Africa. In Asia, there are 11 million children who are out of school.
In South Sudan, 71.84 percent of children were out of school at the primary age, while in Liberia, it was 62.39 and in Eritrea, 60.86. However, African nations such as Mozambique reported 10.87 percent of out-of-school children and in the North African nation of Tunisia, it was 0.39 percent. In Pakistan, an estimated 26.15 percent of the children were out of school, but in India the figure stood at 4.86. The other Asian nations that had a high out-of-school population included Singapore at 20.94, Cambodia at 11.43, Bhutan at 11.02, to name a few. The European nations witnessed less than 10 percent of out-of-school children.
Data sourced from UNESCO
Recent Posts