What are the most competitive nations?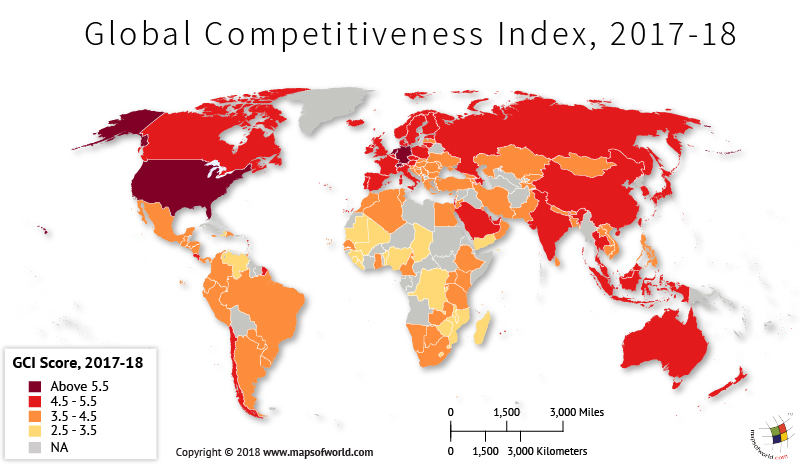 According to estimations by the World Economic Forum, the global economy shows recovery in 2017-2018, yet the policymakers and business leaders are doubtful about the prospects of economic growth in the future. There is an increased uncertainty among individuals regarding technology and geopolitical forces which are reshaping today's economic order. Also, many countries have witnessed growth because of increased inequality and technological challenge. Globalization has also impacted the world in complex ways.
The Global Competitiveness Index assesses the ability of countries to achieve high levels of prosperity for their people. Areas of improvement in the economy can be identified by the leaders with detailed study of the released report. The rankings are based on aggregating indicators across the report's 12 pillars which cover both social and business areas, these are: level of institutions, appropriate infrastructure, a stable macroeconomic framework, good health and primary education, higher education and training, efficient goods markets, efficient labor markets, developed financial markets, the ability to harness the benefits of existing technologies, domestic and international market size, sophisticated production processes, and innovation.
According to Global Competitiveness Index for 2017-18, Switzerland is the most competitive country in the world and it has remained at the top for nine years. The European nation attained a score of 5.86. Due to efficient work force, innovation, and high-quality business landscape, Switzerland has remained quite competitive. The people of the country attain high standards of living.
Amid the developing BRICS nation, China attained the highest score, and that is 5, whereas Brazil scored 4.14.
Meanwhile, Yemen was ranked as the least competitive nation, having a score of 2.87.
The report analyzed by the results that there are few challenges which are still faced by the economy, that is, financial sector remains vulnerable and labor market needs to be more flexible, along with protection of workers' rights.
The table below mentions the rankings and scores of nations in Global Competitiveness Index 2017:
| | | |
| --- | --- | --- |
| Rank | Economy | Score |
| 1 | Switzerland | 5.86 |
| 2 | United States | 5.85 |
| 3 | Singapore | 5.71 |
| 4 | Netherlands | 5.66 |
| 5 | Germany | 5.65 |
| 6 | Hong Kong SAR | 5.53 |
| 7 | Sweden | 5.52 |
| 8 | United Kingdom | 5.51 |
| 9 | Japan | 5.49 |
| 10 | Finland | 5.49 |
| 11 | Norway | 5.4 |
| 12 | Denmark | 5.39 |
| 13 | New Zealand | 5.37 |
| 14 | Canada | 5.35 |
| 15 | Taiwan, China | 5.33 |
| 16 | Israel | 5.31 |
| 17 | United Arab Emirates | 5.3 |
| 18 | Austria | 5.25 |
| 19 | Luxembourg | 5.23 |
| 20 | Belgium | 5.23 |
| 21 | Australia | 5.19 |
| 22 | France | 5.18 |
| 23 | Malaysia | 5.17 |
| 24 | Ireland | 5.16 |
| 25 | Qatar | 5.11 |
| 26 | Republic of Korea | 5.07 |
| 27 | China | 5 |
| 28 | Iceland | 4.99 |
| 29 | Estonia | 4.85 |
| 30 | Saudi Arabia | 4.83 |
| 31 | Czech Republic | 4.77 |
| 32 | Thailand | 4.72 |
| 33 | Chile | 4.71 |
| 34 | Spain | 4.7 |
| 35 | Azerbaijan | 4.69 |
| 36 | Indonesia | 4.68 |
| 37 | Malta | 4.65 |
| 38 | Russia | 4.64 |
| 39 | Poland | 4.59 |
| 40 | India | 4.59 |
| 41 | Lithuania | 4.58 |
| 42 | Portugal | 4.57 |
| 43 | Italy | 4.54 |
| 44 | Bahrain | 4.54 |
| 45 | Mauritius | 4.52 |
| 46 | Brunei | 4.52 |
| 47 | Costa Rica | 4.5 |
| 48 | Slovenia | 4.48 |
| 49 | Bulgaria | 4.46 |
| 50 | Panama | 4.44 |
| 51 | Mexico | 4.44 |
| 52 | Kuwait | 4.43 |
| 53 | Turkey | 4.42 |
| 54 | Latvia | 4.4 |
| 55 | Vietnam | 4.36 |
| 56 | Philippines | 4.35 |
| 57 | Kazakhstan | 4.35 |
| 58 | Rwanda | 4.35 |
| 59 | Slovakia | 4.33 |
| 60 | Hungary | 4.33 |
| 61 | South Africa | 4.32 |
| 62 | Oman | 4.31 |
| 63 | Botswana | 4.3 |
| 64 | Cyprus | 4.3 |
| 65 | Jordan | 4.3 |
| 66 | Colombia | 4.29 |
| 67 | Georgia | 4.28 |
| 68 | Romania | 4.28 |
| 69 | Iran | 4.27 |
| 70 | Jamaica | 4.25 |
| 71 | Morocco | 4.24 |
| 72 | Peru | 4.22 |
| 73 | Armenia | 4.19 |
| 74 | Croatia | 4.19 |
| 75 | Albania | 4.18 |
| 76 | Uruguay | 4.15 |
| 77 | Montenegro | 4.15 |
| 78 | Serbia | 4.14 |
| 79 | Tajikistan | 4.14 |
| 80 | Brazil | 4.14 |
| 81 | Ukraine | 4.11 |
| 82 | Bhutan | 4.1 |
| 83 | Trinidad and Tobago | 4.09 |
| 84 | Guatemala | 4.08 |
| 85 | Sri Lanka | 4.08 |
| 86 | Algeria | 4.07 |
| 87 | Greece | 4.02 |
| 88 | Nepal | 4.02 |
| 89 | Moldova | 3.99 |
| 90 | Namibia | 3.99 |
| 91 | Kenya | 3.98 |
| 92 | Argentina | 3.95 |
| 93 | Nicaragua | 3.95 |
| 94 | Cambodia | 3.93 |
| 95 | Tunisia | 3.93 |
| 96 | Honduras | 3.92 |
| 97 | Ecuador | 3.91 |
| 98 | Laos | 3.91 |
| 99 | Bangladesh | 3.91 |
| 100 | Egypt | 3.9 |
| 101 | Mongolia | 3.9 |
| 102 | Kyrgyzstan | 3.9 |
| 103 | Bosnia and Herzegovina | 3.87 |
| 104 | Dominican Republic | 3.87 |
| 105 | Lebanon | 3.84 |
| 106 | Senegal | 3.81 |
| 107 | Seychelles | 3.8 |
| 108 | Ethiopia | 3.78 |
| 109 | El Salvador | 3.77 |
| 110 | Cape Verde | 3.76 |
| 111 | Ghana | 3.72 |
| 112 | Paraguay | 3.71 |
| 113 | Tanzania | 3.71 |
| 114 | Uganda | 3.7 |
| 115 | Pakistan | 3.67 |
| 116 | Cameroon | 3.65 |
| 117 | Gambia | 3.61 |
| 118 | Zambia | 3.52 |
| 119 | Guinea | 3.47 |
| 120 | Benin | 3.47 |
| 121 | Madagascar | 3.4 |
| 122 | eSwatini | 3.35 |
| 123 | Mali | 3.33 |
| 124 | Zimbabwe | 3.32 |
| 125 | Nigeria | 3.3 |
| 126 | Democratic Republic of the Congo | 3.27 |
| 127 | Venezuela | 3.23 |
| 128 | Haiti | 3.22 |
| 129 | Burundi | 3.21 |
| 130 | Sierra Leone | 3.2 |
| 131 | Lesotho | 3.2 |
| 132 | Malawi | 3.11 |
| 133 | Mauritania | 3.09 |
| 134 | Liberia | 3.08 |
| 135 | Chad | 2.99 |
| 136 | Mozambique | 2.89 |
| 137 | Yemen | 2.87 |
Know more:
Related maps: