What are the social globalization rates across the world?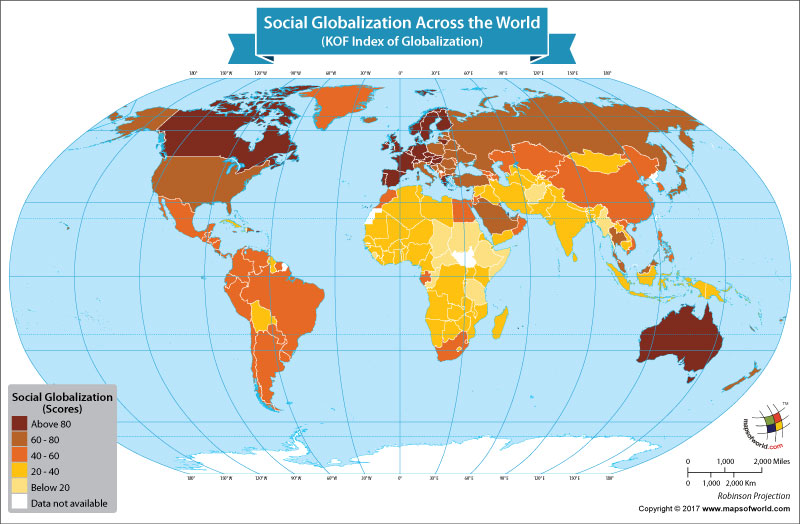 The KOF Index of Globalization is published annually by the Swiss Federal Institute of Technology in Zurich. The index, which assesses the degree of globalization in nations around the world, is based on three principal criteria. These are social political and economic.
The Social globalization is measured in three categories. The first among these is to measure the cross border personal contacts. This includes letters, telephone calls, size of the resident foreign population and tourist flows. The second is measuring cross border information. This is in regard to access to foreign press products, TV and the Internet. The third is to measure the cultural closeness to the global mainstream.
According to the 2017 KOF Index of Globalization, Singapore is ranked at the top in the social globalization sub-index. The nation had a score of 91.61. The European nation of Switzerland was the second most socially globalized nation in 2017 and had a score of 91.13. Coming at the third spot was Ireland with a score of 90.99. Other nations that had scores of more than 80 were Belgium, Canada, France, the United Kingdom, Germany, Qatar, Spain and some other nations.
Countries which had scores between 60 and 80 included the United States, New Zealand, Japan, Italy, Saudi Arabia, Kuwait, Romania, Lebanon, Ukraine and other nations. Among the BRICS nations, Russia was the most socially globalized with a score of 66.58, while India was the least and had a score of 31.08.
Meanwhile, the countries which were ranked at the bottom of the table and had scores of less than 20 were Haiti, Ethiopia, Sierra Leone, Chad, Afghanistan, Sudan, Myanmar, Somalia, Central African Republic, Tanzania, and the Democratic Republic of the Congo.
To get information on how nations have scored on the social globalization sub-index of the KOF Index of Globalization, refer to the table below.
| Country | Social Globalization |
| --- | --- |
| Singapore | 91.61 |
| Switzerland | 91.13 |
| Ireland | 90.99 |
| Netherlands | 90.71 |
| Austria | 90.62 |
| Belgium | 90.34 |
| Puerto Rico | 89.98 |
| Canada | 89.22 |
| Denmark | 87.54 |
| Cyprus | 87.17 |
| France | 87.11 |
| Norway | 86.31 |
| United Kingdom | 85.83 |
| Germany | 85.49 |
| Croatia | 85.29 |
| Sweden | 84.66 |
| Australia | 84.13 |
| Finland | 83.81 |
| Portugal | 83.39 |
| Spain | 83.38 |
| Slovak Republic | 82.76 |
| Czech Republic | 82.19 |
| Hungary | 81.16 |
| Greece | 80.74 |
| Lithuania | 80.72 |
| Qatar | 80.05 |
| Poland | 79.82 |
| Luxembourg | 79.39 |
| Italy | 79.37 |
| United States | 78.82 |
| United Arab Emirates | 77.93 |
| Andorra | 77.3 |
| Kuwait | 77.28 |
| Israel | 77.12 |
| Malta | 76.59 |
| Saudi Arabia | 76.24 |
| Malaysia | 74.2 |
| New Zealand | 73.99 |
| Estonia | 73.81 |
| Slovenia | 71.93 |
| Bahrain | 71.88 |
| Bulgaria | 71.34 |
| Romania | 70.97 |
| Latvia | 70.43 |
| Aruba | 70.14 |
| Iceland | 69.85 |
| New Caledonia | 69.07 |
| Japan | 68.89 |
| Turkey | 68.22 |
| Macao, China | 67.95 |
| Brunei Darussalam | 67.08 |
| Russian Federation | 66.58 |
| Bahamas, The | 66.3 |
| Dominican Republic | 65.74 |
| Lebanon | 65.12 |
| Serbia | 65.06 |
| Thailand | 64.23 |
| Virgin Islands (U.S.) | 64.2 |
| Bosnia and Herzegovina | 62.5 |
| Mauritius | 61.94 |
| Liechtenstein | 61.6 |
| Belarus | 61.05 |
| Ukraine | 61.05 |
| Costa Rica | 60.83 |
| Antigua and Barbuda | 59.88 |
| Bermuda | 59.03 |
| Faeroe Islands | 58.36 |
| Panama | 57.92 |
| Oman | 57.65 |
| Georgia | 57.44 |
| Egypt, Arab Rep. | 57.42 |
| Morocco | 56.78 |
| Trinidad and Tobago | 56.45 |
| Monaco | 56.04 |
| San Marino | 55.89 |
| Uruguay | 55.83 |
| Moldova | 55.16 |
| Seychelles | 55 |
| Jordan | 54.72 |
| Montenegro | 54.56 |
| China | 54.23 |
| Korea, Rep. | 53.93 |
| French Polynesia | 53.9 |
| Fiji | 52.82 |
| Grenada | 52.69 |
| Argentina | 52.6 |
| Cayman Islands | 52.55 |
| Maldives | 52.08 |
| Chile | 52.05 |
| Mexico | 51.72 |
| El Salvador | 51.71 |
| Azerbaijan | 51.45 |
| Venezuela, RB | 50.77 |
| Barbados | 50.76 |
| Palau | 49.29 |
| West Bank and Gaza | 49.01 |
| South Africa | 48.71 |
| Macedonia, FYR | 48.49 |
| Greenland | 47.89 |
| St. Kitts and Nevis | 47.41 |
| St. Lucia | 47.33 |
| Colombia | 47.09 |
| Guam | 46.76 |
| Paraguay | 46.59 |
| Albania | 46.24 |
| Brazil | 45.58 |
| Ecuador | 45.41 |
| St. Vincent and the Grena | 44.44 |
| Nicaragua | 44.13 |
| Armenia | 43.88 |
| Jamaica | 43.63 |
| Dominica | 43.21 |
| Kazakhstan | 43.07 |
| Swaziland | 42.9 |
| Peru | 42.81 |
| Honduras | 42.6 |
| Guatemala | 42.52 |
| Belize | 41.73 |
| Cape Verde | 41.56 |
| Kyrgyz Republic | 40.64 |
| Gabon | 40.45 |
| Philippines | 40.27 |
| Vietnam | 40.18 |
| Suriname | 40.11 |
| Syrian Arab Republic | 39.74 |
| Tunisia | 39.66 |
| Namibia | 39.45 |
| Sri Lanka | 39.42 |
| Samoa | 39.4 |
| Tonga | 38.09 |
| Guyana | 37.41 |
| Botswana | 37.4 |
| Turkmenistan | 37.31 |
| Djibouti | 36 |
| Bolivia | 35.76 |
| Uzbekistan | 35.61 |
| Algeria | 35.55 |
| Gambia, The | 35.54 |
| Indonesia | 35.14 |
| Libya | 35.12 |
| Pakistan | 34.93 |
| Iran, Islamic Rep. | 34.67 |
| Vanuatu | 33.72 |
| Micronesia, Fed. Sts. | 33.71 |
| Cuba | 33.66 |
| Bhutan | 32.51 |
| India | 31.08 |
| Iraq | 31 |
| Sao Tome and Principe | 30.73 |
| Togo | 30.47 |
| Senegal | 30.27 |
| Kiribati | 29.59 |
| Zimbabwe | 29.47 |
| Cote d'Ivoire | 29.47 |
| Tajikistan | 28.47 |
| Lesotho | 28.11 |
| Mongolia | 28.03 |
| Comoros | 27.62 |
| Cambodia | 27.34 |
| Congo, Rep. | 26.94 |
| Ghana | 26.55 |
| Malawi | 25.74 |
| Nepal | 25.67 |
| Zambia | 25.58 |
| Cameroon | 25.48 |
| Kenya | 25.39 |
| Lao PDR | 25.21 |
| Mozambique | 25.16 |
| Yemen, Rep. | 24.53 |
| Guinea-Bissau | 24 |
| Benin | 23.78 |
| Niger | 23.75 |
| Equatorial Guinea | 23.67 |
| Mali | 23.49 |
| Eritrea | 23.28 |
| Burkina Faso | 23.25 |
| Mauritania | 23.09 |
| Rwanda | 22.52 |
| Solomon Islands | 22.49 |
| Liberia | 22.24 |
| Angola | 21.86 |
| Madagascar | 21.6 |
| Bangladesh | 21.56 |
| Nigeria | 21.13 |
| Burundi | 21.11 |
| Uganda | 21.1 |
| Papua New Guinea | 21.08 |
| Guinea | 20.81 |
| Timor-Leste | 20.58 |
| Haiti | 19.45 |
| Ethiopia | 19.04 |
| Sierra Leone | 18.82 |
| Chad | 18.74 |
| Afghanistan | 18.64 |
| Sudan | 18.19 |
| Myanmar | 17.87 |
| Somalia | 17.7 |
| Central African Republic | 17.54 |
| Tanzania | 17.52 |
| Congo, Dem. Rep. | 15.83 |
Know more:
Related maps: