How Many Overseas Branches Does China Construction Bank have?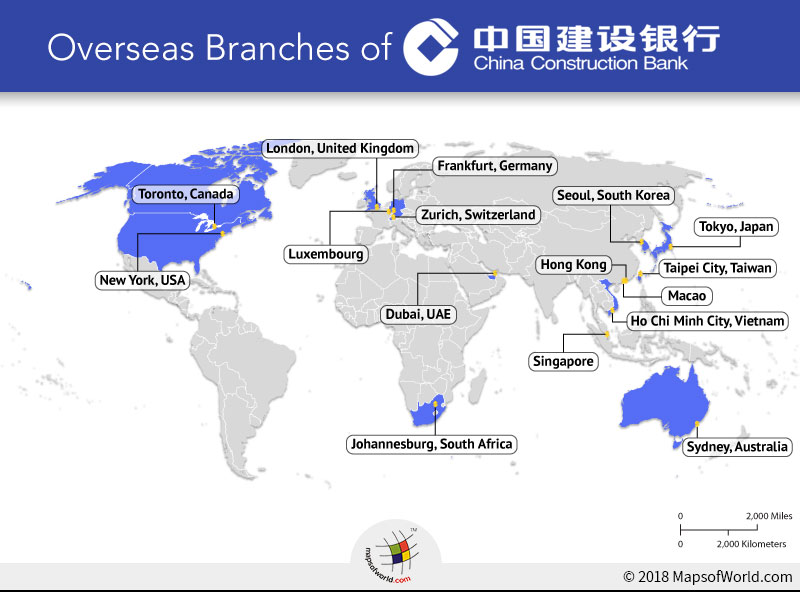 China Construction Bank (CCB) is one of the largest banks in the world. Headquartered in Beijing, CCB is a dominant banking firm of China. Not only does it have over 13,629 branches in the country, but there are numerous overseas branches as well, located in: Frankfurt, Luxembourg, Zurich, Hong Kong, Macao, Ho Chi Minh City, Johannesburg, New York City, Toronto, Tokyo, Taipei City, Dubai, Sydney, Seoul, Singapore, and a wholly owned subsidiary in London.
Providing credible banking and financial services to people, CCB has been renowned for its large market capitalization. It entails operational segments like Corporate Banking, Personal Banking, Treasury Business, and equity investments.
The origination can be traced back to 1954, when it was founded as "People's Construction Bank of China". It was owned by the state and directed by the Ministry of Finance of the PRC. The government funds were utilized for projects relating to its construction and infrastructure. It was in 1979, that it officially became a financial institution. The commercial operations had begun at a speedy rate, and in 1996 it was renamed to "China Construction Bank".
However, there have been few negative speculations regarding the bank authorities. In 2002, CCB Chairman Wang Xuebing was sentenced to 12 years of jail time, for accepting bribes during his employment with Bank of China. Even his successor, Zhang Enzhao, was sentenced to 15 years in prison, for accepting a bribe worth US$1 million.
In September 2004, China Construction Bank undertook a separation procedure under the PRC Company Law, and was established as a joint-stock commercial bank. This concluded that many organizations or governments could invest some percentage into the bank's overall equity. It was only the next day of the declaration that Central Huijin Investment Company (also known as Huijin), became the owner of the bank. In year 2005, Bank of America also attained its 9% stake, aiming to broaden its Chinese business.
As of 2016, the bank was declared as the second largest public company in the world by Forbes magazine, and has a potential to remain amid the top spots for a long time.
Know more:
Related links: