Where is the Great Barrier Reef Located?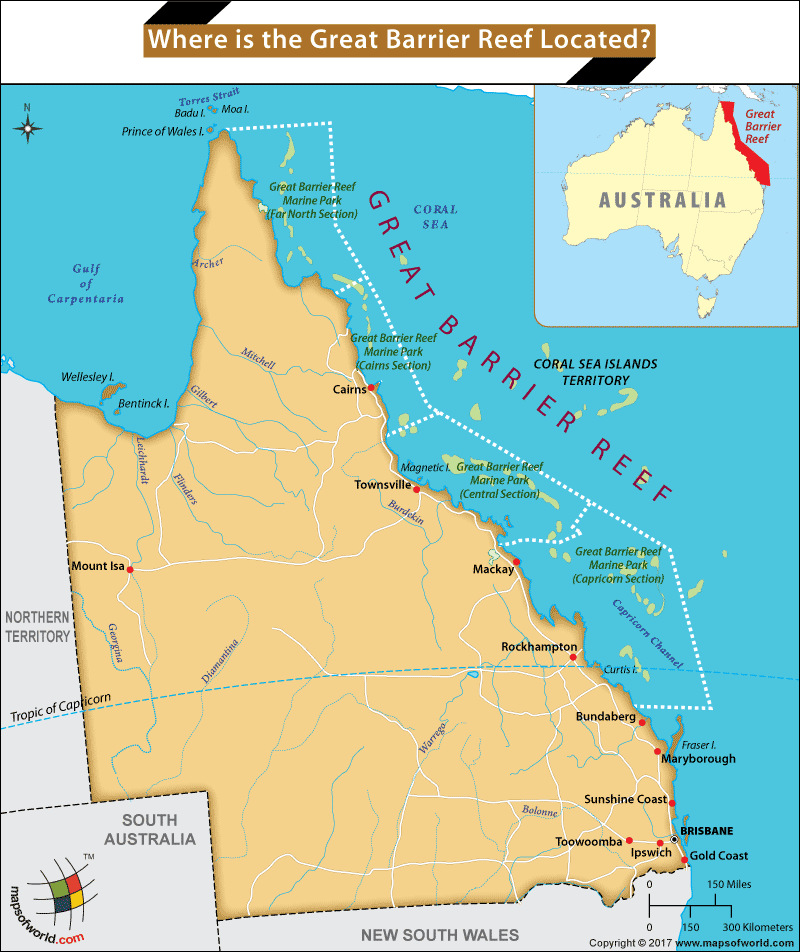 The Great Barrier Reef is located off the east coast of the Australian state of Queensland, in the Coral Sea. The largest coral reef system on earth, the Great Barrier Reef is so huge that it can be seen from outer space. The reef has come to be noted for its astounding beauty, and tourists from all across the world visit the reef to catch a glimpse of the attractions it has to offer. The Great Barrier Reef, which has been called one of the seven natural wonders of the world by CNN, is the biggest single structure in the world that has been created by living organisms.
The Great Barrier Reef, which earned the UNESCO World Heritage Site tag in 1981, comprises some 900 islands that stretch for more than 1,400 miles, and 2,900 individual reefs. It has an area of some 135,000 square miles. The Great Barrier Reef is composed of coral polyps, which are very minute organisms, and is home to exotic sea life and other natural attractions, such as 200 types of birds, 1,500 species of tropical fish, 20 kinds of reptiles, the world's largest collection of corals, rays, and dolphins. Here visitors also come across giant clams which are over 120 years old. Among the numerous activities that one can indulge in at the Great Barrier Reef are snorkeling and scuba diving. Tourists can also take a scenic flight over the reef and witness its amazing beauty from above.
The Great Barrier Reef Marine Park is responsible for the protection of a large part of the reef. With conservation the primary aim of the park, it helps in limiting the impact of human use, which includes fishing and tourism.
Related Maps and Info: