What are the most magnetic cities of the world?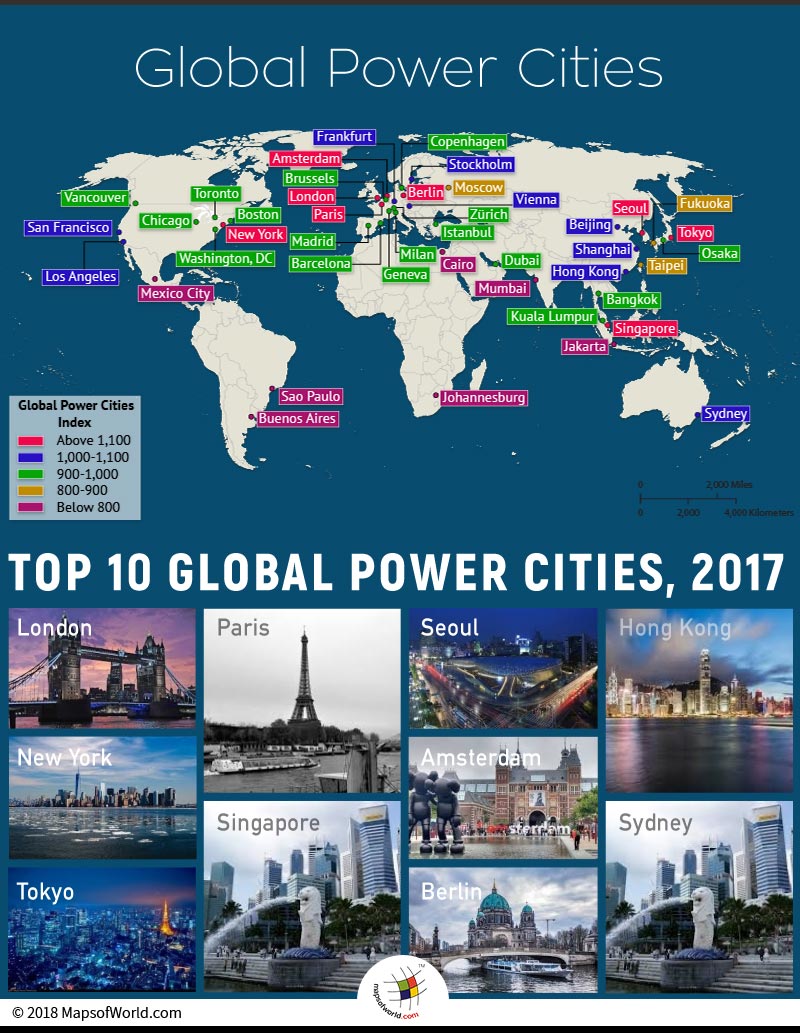 Some cities have a magnetic feel which draws people from all over the world. These cities attain comprehensive power to attract businesses that can boost the economic and social development.
The Mori Memorial Foundation releases its Global Power City Index (GPCI) annually, ranking major global cities based on six significant criteria: economy, research and development, cultural interaction, livability, environment, and transport accessibility. As per 2017 Index, London, New York and Tokyo are the most magnetic cities in the world.
London attained the No.1 ranking in the Index and has remained at the leading position for six years. This city located in the United Kingdom, topped the rankings for it has a strong and vibrant cultural offering and diverse culinary experience. Along with it, the city avails abundance of business opportunities to people from across the globe. Numerous findings suggest that even after UK's exit from the European Union, London will persist as a dominant global business center. Despite attaining a top rank, the city did score comparatively low in terms of livability.
New York – Widely known as 'The city where dreams come true,' New York stood second in the overall comprehensive ranking. It scored the best in terms of economy, research and development. In 2017, the city welcomed over 62.8 million tourists. The expansive tourism prevailing here is a major contributor to its bustling economy and business prospects. However, this densely populated mega city, New York did not attain good scores in the criteria of livability.
Tokyo – For the very first time, the capital of Japan emerged amid the top three rankings in Global Power City Index. It leapfrogged Paris, and numerous other American cities owing to its continued betterment in cultural interaction. The city has noticed an increase in the number of foreign visitors, and its universities are attracting more international students as well. However, the economy has shown weaker results in comparison to last year.
The GPCI has been analyzing the ups and downs of global cities since last ten years. It is evident that global economy revolves around urbanization, and here we have ranked the renowned cities of the world:
| Rank | Cities | Total Score |
| --- | --- | --- |
| 1 | London | 1560.1 |
| 2 | New York | 1386.3 |
| 3 | Tokyo | 1354.7 |
| 4 | Paris | 1282.1 |
| 5 | Singapore | 1224.6 |
| 6 | Seoul | 1143.5 |
| 7 | Amsterdam | 1129.8 |
| 8 | Berlin | 1107.8 |
| 9 | Hong Kong | 1090.1 |
| 10 | Sydney | 1078 |
| 11 | Los Angeles | 1073.5 |
| 12 | Frankfurt | 1059.8 |
| 13 | Beijing | 1051.6 |
| 14 | Vienna | 1046 |
| 15 | Shanghai | 1032.9 |
| 16 | Stockholm | 1027.4 |
| 17 | San Francisco | 1006 |
| 18 | Zurich | 996.9 |
| 19 | Toronto | 992.4 |
| 20 | Copenhagen | 984.1 |
| 21 | Brussels | 978.5 |
| 22 | Chicago | 975.6 |
| 23 | Dubai | 969.6 |
| 24 | Barcelona | 967.1 |
| 25 | Boston | 964.7 |
| 26 | Osaka | 958.7 |
| 27 | Madrid | 945.7 |
| 28 | Vancouver | 944.6 |
| 29 | Washington, D.C. | 928.3 |
| 30 | Istanbul | 926.2 |
| 31 | Kuala Lumpur | 919.3 |
| 32 | Milan | 913.4 |
| 33 | Bangkok | 908.8 |
| 34 | Geneva | 901.8 |
| 35 | Moscow | 857.7 |
| 36 | Taipei | 848.1 |
| 37 | Fukuoka | 840.9 |
| 38 | Mexico City | 783.7 |
| 39 | Sao Paulo | 777.2 |
| 40 | Buenos Aires | 728.2 |
| 41 | Jakarta | 675.6 |
| 42 | Mumbai | 667.1 |
| 43 | Cairo | 604 |
| 44 | Johannesburg | 593 |
Related info: