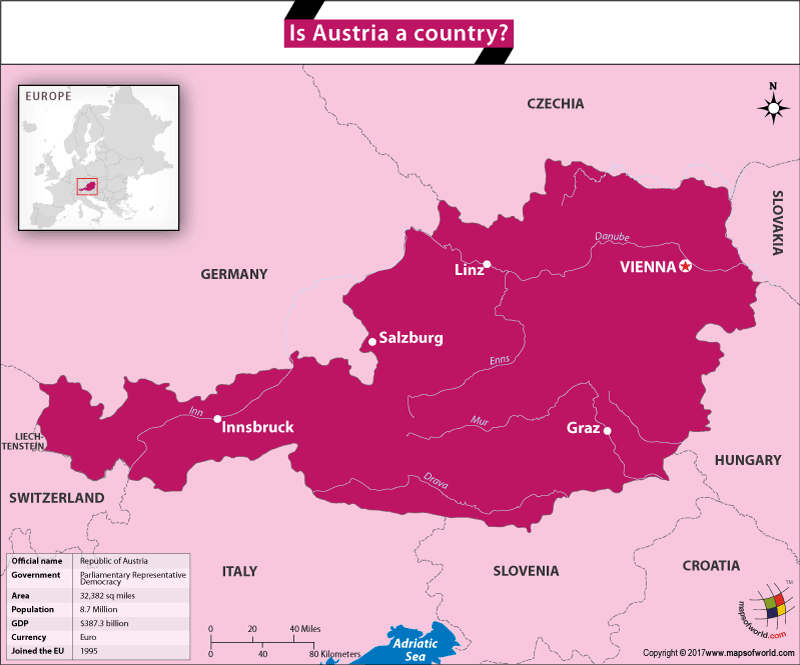 Yes. Austria, also known as the Republic of Austria, is an independent country and a federal republic in Central Europe.
Austria covers a land area of 32,382 sq miles. It is located at Latitude 47° 20' 0'' N and Longitude 13° 20' 0'' E. The country is landlocked and shares its borders with Slovenia, Hungary, Slovakia, Czech Republic, Germany, Switzerland, Lichtenstein and Italy.
The total land border extends 1,568 miles and includes a long border with Germany 498 miles; Italy 251 miles; the Czech Republic 250 miles; Hungary 199 miles; Slovenia 186 miles; Switzerland 98 miles; Slovakia 65 miles; Lichtenstein 21 miles.
Austria's west and southern sides are mostly mountainous with the Alpine region covering almost 70% of the country. Gentle meadows, slopes and plains spread towards its northern and eastern sides.
Forests cover 47.2 % of the total land, 38.4% is agricultural land, and 14.4% is the other land. The river Danube flows through Austria with three of its tributaries – Inn, Salzach and Enns, flowing north of the watershed. The other three rivers south of the watershed are – Drau, Gail and Mur.
Grossglockner or Glockner is the highest point at 12,461feet and forms part of the Hohe Tauern range in the Eastern Alps. The lowest point is Neusiedler at 508 feet.
Vienna is the country's capital, and other major cities include Graz, Linz, Salzburg, Innsbruck, Klagenfurt am Woerthersee, Villach, Wels.
The total population is 8,772,865 (Jan 2017), marking an increase of 72,374 over 2016 (+0.83%). As on 2015, the region-wise population distribution was Vienna 1,828,127; Lower Austria 1,650,367; Upper Austria 1,450,151; Styria 1,229,443; Tyrol 736,176; Carinthia 559,491; Salzburg 543,838; Vorarlberg 382,798; Burgenland 290,229.
Population distribution by some of the bigger cities: Vienna 1,691,468; Graz 222,326; Linz 181,162; Salzburg 150,269; Innsbruck 112,467; Klagenfurt am Woerthersee 90,610; Villach 58,882; Wels 57,946.
The ethnic break-up is Austrians 81.1%; 2.7% Germans; 2.2% Turks; and others including Hungarians, Czechs, Slovaks and Roma.
The population break-up by religion is Roman Catholic 73.6%; Lutheran 4.7%; Muslim 4.2%; Other 5.5% and no particular religion 12.0%.
The official language is German and is spoken by 92% of the population. Austria enjoys high literacy levels at 98%.
Austrian economy
The official currency of Austria is the Euro. In 2016, the GDP was $387.3 billion registering an increase of 1.4% over 2015. The per capita GDP (PPP) was $47,900 (2016). The Gross National Saving was 25.1% of GDP. The total revenues in 2016 were $ 187.3 billion and expenditures at $192.6 billion. Taxes and other revenues formed 48.4% of GDP, and Public Debt was 83.5% of GDP.
The European Union remained the biggest trading partner of Austria with total imports recorded at being $151.80 billion (71.4% of total imports), and total exports to EU registering $146.91 billion (69.45% of total exports). In 2016, the international trade registered a deficit of $4.89 billion. Over $43.43 billion was the total import trade with non-EU countries and exports to the same stood at $ 44.91 billion.
Austria remained a popular tourist destination with 140,876,953 persons visiting the country in 2016.
A brief history of Austria
The Habsburg Dynasty ruled over the Austro-Hungarian empire with Vienna as its capital for almost 600 years. The empire remained a prosperous one with art, culture and architecture evolving in a significant way during the period.
In 1914, the assassination of Franz Ferdinand, the Archduke of Austria in Sarajevo, triggered World War I and took a significant toll on Austrian lives and economy.
In 1918, the Republic of Austria was established. Post-World War I, the country remained economically and politically weak.
On March 12, 1938, Nazi Germany invaded Austria and made it a part of the German Reich. On May 15, 1955, the Austrian State Treaty was signed by the four occupying nations – United States, Great Britain, France and the Soviet Union, granting full independence. In 1995, Austria joined the European Union and had since been its member.
Related Maps: