What is the Global Peace Index?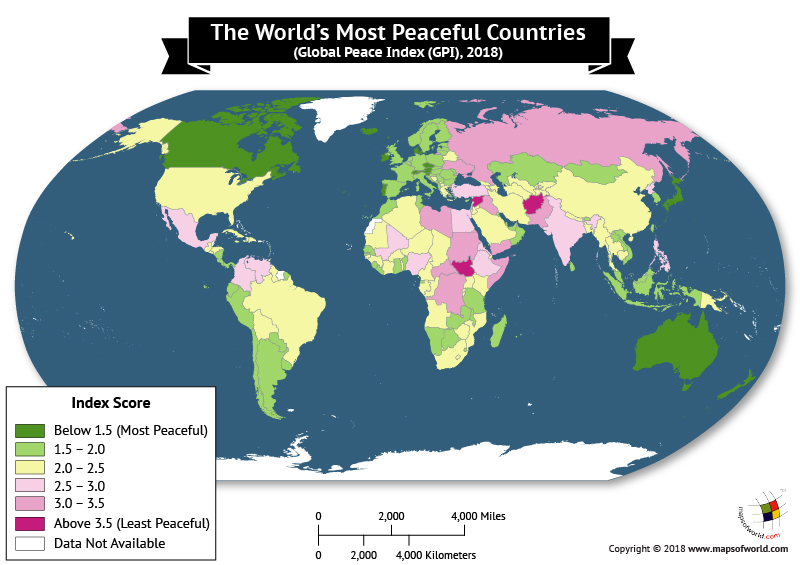 The Global Peace Index measures the relative position of nations' and regions' peacefulness. This index is released by the Institute for Economics and Peace. IEP is an independent, non-partisan, non-profit think tank dedicated to shifting the world's focus to peace as a positive, achievable, and tangible measure of human well-being and progress.
As per the report, there is a fall in the level of peace around the world, marking the fourth successive year of deteriorations. The 2018 report is the twelfth edition of the Global Peace Index (GPI) and it ranks 163 independent states and territories according to their level of peacefulness. The report reveals that 92 countries deteriorated while 71 countries improved their score.
The ten-year trend in peacefulness finds that global peacefulness has deteriorated by 2.38 percent since 2008. The Middle East and North Africa (MENA) region recorded an improvement in peacefulness for only the third time in the last eleven years. Qatar experienced the single largest deterioration in peacefulness.
Here is a table representing the global ranking of countries as per the 2018 report by the Institute for Economics and Peace.
| | | |
| --- | --- | --- |
| RANK | COUNTRY | SCORE |
| 1 | Iceland | 1.096 |
| 2 | New Zealand | 1.192 |
| 3 | Austria | 1.274 |
| 4 | Portugal | 1.318 |
| 5 | Denmark | 1.353 |
| 6 | Canada | 1.372 |
| 7 | The Czech Republic | 1.381 |
| 8 | Singapore | 1.382 |
| 9 | Japan | 1.391 |
| 10 | Ireland | 1.393 |
| 11 | Slovenia | 1.396 |
| 12 | Switzerland | 1.407 |
| 13 | Australia | 1.435 |
| 14 | Sweden | 1.502 |
| 15 | Finland | 1.506 |
| 16 | Norway | 1.519 |
| 17 | Germany | 1.531 |
| 17 | Hungary | 1.531 |
| 19 | Bhutan | 1.545 |
| 20 | Mauritius | 1.548 |
| 21 | Belgium | 1.56 |
| 22 | Slovakia | 1.568 |
| 23 | Netherlands | 1.574 |
| 24 | Romania | 1.596 |
| 25 | Malaysia | 1.619 |
| 26 | Bulgaria | 1.635 |
| 27 | Croatia | 1.639 |
| 28 | Chile | 1.649 |
| 29 | Botswana | 1.659 |
| 30 | Spain | 1.678 |
| 31 | Latvia | 1.689 |
| 32 | Poland | 1.727 |
| 33 | Estonia | 1.732 |
| 34 | Taiwan | 1.736 |
| 35 | Sierra Leone | 1.74 |
| 36 | Lithuania | 1.749 |
| 37 | Uruguay | 1.761 |
| 38 | Italy | 1.766 |
| 38 | Madagascar | 1.766 |
| 40 | Costa Rica | 1.767 |
| 41 | Ghana | 1.772 |
| 42 | Kuwait | 1.799 |
| 43 | Namibia | 1.806 |
| 44 | Malawi | 1.811 |
| 45 | UAE | 1.82 |
| 46 | Laos | 1.821 |
| 46 | Mongolia | 1.821 |
| 48 | Zambia | 1.822 |
| 49 | South Korea | 1.823 |
| 50 | Panama | 1.826 |
| 51 | Tanzania | 1.837 |
| 52 | Albania | 1.849 |
| 52 | Senegal | 1.849 |
| 54 | Serbia | 1.851 |
| 55 | Indonesia | 1.853 |
| 56 | Qatar | 1.869 |
| 57 | United Kingdom | 1.876 |
| 58 | Montenegro | 1.893 |
| 59 | Timor-Leste | 1.895 |
| 60 | Vietnam | 1.905 |
| 61 | France | 1.909 |
| 62 | Cyprus | 1.913 |
| 63 | Liberia | 1.931 |
| 64 | Moldova | 1.939 |
| 65 | Equatorial Guinea | 1.946 |
| 66 | Argentina | 1.947 |
| 67 | Sri Lanka | 1.954 |
| 68 | Nicaragua | 1.96 |
| 69 | Benin | 1.973 |
| 70 | Kazakhstan | 1.974 |
| 71 | Morocco | 1.979 |
| 72 | Swaziland | 1.98 |
| 73 | Oman | 1.984 |
| 74 | Peru | 1.986 |
| 75 | Ecuador | 1.987 |
| 76 | The Gambia | 1.989 |
| 77 | Paraguay | 1.997 |
| 78 | Tunisia | 1.998 |
| 79 | Greece | 2.02 |
| 80 | Burkina Faso | 2.029 |
| 81 | Cuba | 2.037 |
| 82 | Guyana | 2.043 |
| 83 | Angola | 2.048 |
| 84 | Nepal | 2.053 |
| 84 | Trinidad & Tobago | 2.053 |
| 86 | Mozambique | 2.056 |
| 87 | Macedonia (FYR) | 2.058 |
| 88 | Haiti | 2.064 |
| 89 | Bosnia & Herzegovina | 2.065 |
| 90 | Jamaica | 2.068 |
| 91 | Dominican Republic | 2.073 |
| 92 | Kosovo | 2.078 |
| 93 | Bangladesh | 2.084 |
| 94 | Bolivia | 2.092 |
| 95 | Gabon | 2.099 |
| 96 | Cambodia | 2.101 |
| 96 | Guinea | 2.101 |
| 98 | Jordan | 2.104 |
| 98 | Togo | 2.104 |
| 100 | Papua New Guinea | 2.109 |
| 101 | Belarus | 2.112 |
| 102 | Georgia | 2.13 |
| 103 | Rwanda | 2.14 |
| 104 | Lesotho | 2.144 |
| 104 | Uzbekistan | 2.144 |
| 106 | Brazil | 2.16 |
| 107 | Uganda | 2.168 |
| 108 | Kyrgyz Republic | 2.181 |
| 109 | Algeria | 2.182 |
| 110 | Cote d' Ivoire | 2.207 |
| 111 | Guatemala | 2.214 |
| 112 | China | 2.243 |
| 113 | Thailand | 2.259 |
| 114 | Tajikistan | 2.266 |
| 115 | Djibouti | 2.269 |
| 116 | El Salvador | 2.275 |
| 116 | Guinea-Bissau | 2.275 |
| 118 | Honduras | 2.282 |
| 119 | Turkmenistan | 2.283 |
| 120 | Armenia | 2.287 |
| 121 | USA | 2.3 |
| 122 | Myanmar | 2.302 |
| 123 | Kenya | 2.354 |
| 124 | Zimbabwe | 2.326 |
| 125 | South Africa | 2.328 |
| 126 | Rep of the Congo | 2.343 |
| 127 | Mauritania | 2.355 |
| 128 | Niger | 2.359 |
| 129 | Saudi Arabia | 2.417 |
| 130 | Bahrain | 2.437 |
| 131 | Iran | 2.439 |
| 132 | Azerbaijan | 2.454 |
| 133 | Cameroon | 2.484 |
| 134 | Burundi | 2.488 |
| 135 | Chad | 2.498 |
| 136 | India | 2.504 |
| 137 | Philippines | 2.512 |
| 138 | Eritrea | 2.522 |
| 139 | Ethiopia | 2.524 |
| 140 | Mexico | 2.583 |
| 141 | Palestine | 2.621 |
| 142 | Egypt | 2.632 |
| 143 | Venezuela | 2.642 |
| 144 | Mali | 2.686 |
| 145 | Colombia | 2.729 |
| 146 | Israel | 2.764 |
| 147 | Lebanon | 2.778 |
| 148 | Nigeria | 2.873 |
| 149 | Turkey | 2.898 |
| 150 | North Korea | 2.95 |
| 151 | Pakistan | 3.079 |
| 152 | Ukraine | 3.113 |
| 153 | Sudan | 3.155 |
| 154 | Russia | 3.16 |
| 155 | Central African Rep | 3.236 |
| 156 | Dem. Rep Congo | 3.251 |
| 157 | Libya | 3.262 |
| 158 | Yemen | 3.305 |
| 159 | Somalia | 3.367 |
| 160 | Iraq | 3.425 |
| 161 | South Sudan | 3.508 |
| 162 | Afghanistan | 3.585 |
| 163 | Syria | 3.6 |
Know more about the world:
Related Maps: