Which Country has the Lowest Population?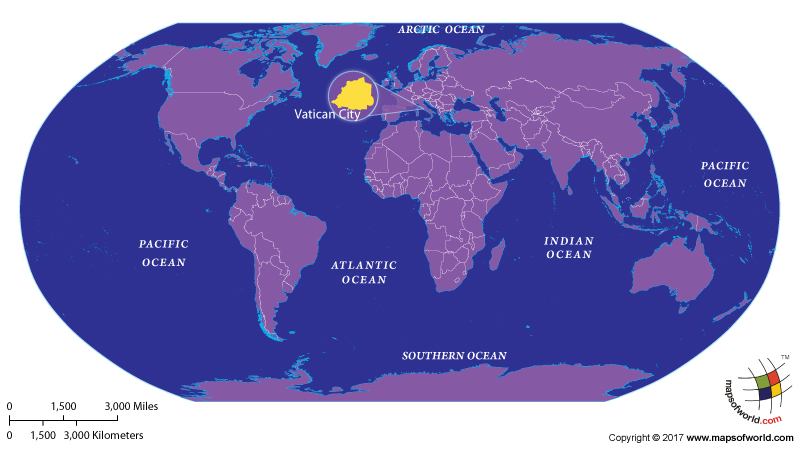 The country with the lowest population is the Vatican City, with 800 people, according to the official figures.
A number of interesting facts are associated with the Vatican. Though it is the least populated country in the world, it ranks 7th in population density. The reason becomes obvious when you look at its total area – a mere 0.44 sq km. To get an idea about how large it is – 8 Vatican Cities would fit inside New York's Central Park alone.
The Vatican City was formed in 1929, through the Lateran Treaty, negotiated between the Pope and the Italian government. It is wholly enclosed within the city of Rome. Due to the entire expanse of the Vatican being urban, the country can claim to have 100% of its population being urban.
While the population is 800, only about half of those 800 people have actual citizenship. The rest are merely residents by permission. In fact, citizenship in the Vatican is not hereditary; one is not granted citizenship just because one was born there, or was born to Vatican citizens. Only through official permission and acclamation can citizenship be conferred. Citizenship can also be revoked. In such cases, citizens automatically become Italian citizens.
Nearly half the Vatican's citizens live, however, outside the Vatican City itself: many citizens serve in Holy diplomatic missions all over the world. Vatican citizenship is almost entirely tied up with Holy services. Cardinals, guards, and official diplomats make up the majority of its population. The Vatican does, however, have its own football team.
A significant segment of the Vatican population is the Swiss Guard – specialists recruited for the sole purpose of protecting the Pope. Around 100-110 Swiss officers are recruited for this purpose, and are, for all practical purposes, the Vatican City's army.
With the Vatican's close proximity to Italy, a lot of its day-to-day functioning happens in association with Italy. For example, there is a basic setup for detention of petty criminals, but the Italian police patrols St Peter's Basilica. Since there are no proper prisons in the Vatican, imprisonment for crimes in the Vatican happens in Italian prisons.
The Vatican City, despite its tiny size and lowest population, attracts nearly 18 million visitors each year.
Related Maps: