What countries have an Extradition Treaty with the United States?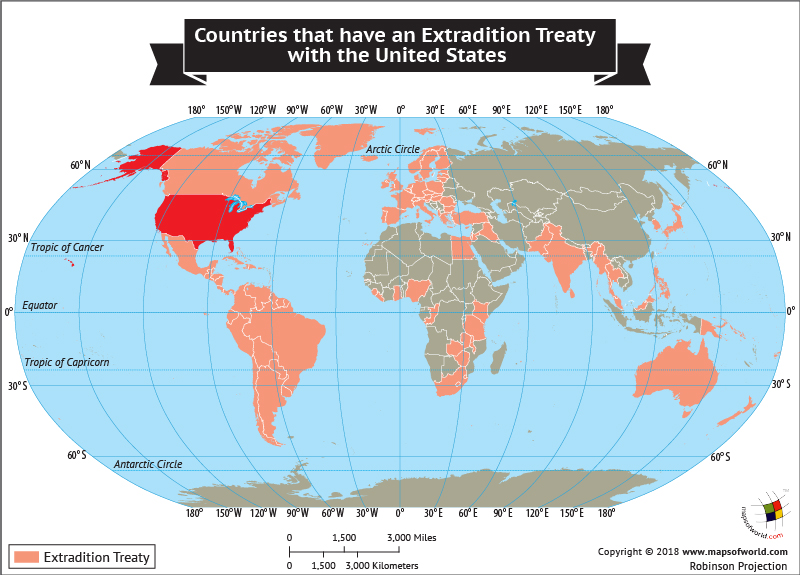 Extradition is the process whereby a person who is accused of committing a crime in his or her home country, and then escaped to another country to avoid the law can be sent back to their home country. Extradition takes place between two countries or states and its references can be found even in ancient times. There is mention of Ramesses II, an Egyptian Pharaoh, negotiating an extradition treaty with Hattusili III, a Hittite King as early as the 13th century B.C. There are treaties in place to regulate the extradition process; however, there is no country in the world which has extradition with all other nations.
Here is a list of countries with which the US has an Extradition Treaties.
Country
Date signed
Entered into force
Albania
Mar 1, 1933
Nov 14, 1935
Antigua and Barbuda
Jun 3, 1996
Jul 1, 1999
Argentina
Jun 10, 1997
Jun 15, 2000
Australia
May 14, 1974
Sept 4, 1990
May 8, 1976
Dec 21, 1992
Austria
Jan 8, 1998
May 19, 1934
Jan 1, 2000
Sept 5, 1934
Bahamas
Mar 9, 1990
Sep 22, 1994
Barbados
Feb 28, 1996
Mar 3, 2000
Belgium
Apr 27, 1987
Sep 1, 1997
Belize
Mar 30, 2000
Mar 27, 2001
Bolivia
Jun 27, 1995
Nov 21, 1996
Brazil
Jan 13, 1961
June 18, 1962
Dec 17, 1964
Dec 17, 1964
Bulgaria
March 19, 1924
June 8, 1934
June 24, 1924
Aug 15, 1935
Burma
Dec 22, 1931
Nov 1, 1941
Canada
Dec 3, 1971
June 28/July 9, 1974
Jan 11, 1988
Jan 12, 2001
March 22, 1976
March 22, 1976
Nov 26, 1991
April 30, 2003
Chile
Apr 17, 1900
May 27, 1902
Colombia
Sep 14, 1979
Mar 4, 1982
Congo
Jan 6, 1909
Jan 15, 1929
April 23, 1936
July 27, 1911
May 19, 1929
Sept 24, 1936
Aug 5, 1961
Costa Rica
Dec 4, 1982
Oct 11, 1991
Cuba
April 6, 1904
Dec 6, 1904
Jan 14, 1926
March 2, 1905
March 2, 1905
June 18, 1926
Cyprus
Jun 17, 1996
Sep 14, 1999
Czech Republic
July 2, 1925
April 29, 1935
May 16, 2006
March 29, 1926
Aug 28, 1935
Feb 1, 2010
Denmark
Jun 22, 1972
Jul 31, 1974
Dominica
Oct 10, 1996
May 25, 2000
Dominican Republic
Jun 19, 1909
Aug 2, 1910
Ecuador
June 28, 1872
Sept 22, 1939
Nov 12, 1873
May 29, 1941
Egypt
Aug 11, 1874
Apr 22, 1875
El Salvador
Apr 18, 1911
Jul 10, 1911
Estonia
Nov 8, 1923
Oct 10, 1934
Nov 15, 1924
May 7, 1935
Fiji
Dec 22, 1931
June 24, 1935
Aug 17, 1973
Finland
Jun 11, 1976
May 11, 1980
France
Apr 23, 1996
Feb 1, 2002
Gambia
Dec 22, 1931
Jun 24, 1935
Germany
June 20, 1978
Oct 21, 1986
Aug 29, 1980
March 11, 1993
Ghana
Dec 22, 1931
Jun 24, 1935
Greece
May 6, 1931
Sept 2, 1937
Nov 1, 1932
Sept 2, 1937
Grenada
May 30, 1996
Sep 14, 1999
Guatemala
Feb 27, 1903
Feb 20, 1940
Aug 15, 1903
March 13, 1941
Guyana
Dec 22, 1931
Jun 24, 1935
Haiti
Aug 9, 1904
Jun 28, 1905
Honduras
Jan 15, 1909
Feb 21, 1927
July 10, 1912
June 5, 1928
Hong Kong
Dec 20, 1996
Jan 21, 1998
Hungary
Dec 1, 1994
Mar 18, 1997
Iceland
Jan 6, 1902
Nov 6, 1905
Feb 19, 1906
India
Jun 25, 1997
Jul 21, 1999
Iraq
Jun 7, 1934
Apr 23, 1936
Ireland
Jul 13, 1983
Dec 15, 1984
Israel
Dec 10, 1962
Dec 5, 1963
April 11, 1967
Italy
Oct 13, 1983
Sep 24, 1984
Jamaica
Jun 14, 1983
Jul 7, 1991
Japan
March 3, 1978
Aug 5, 2003
Mar 26, 1980
Jordan
Mar 28, 1995
Jul 29, 1995
Kenya
Dec 22, 1931
June 24, 1935
Aug 19, 1965
Kiribati
Jun 8, 1972
Jan 21, 1977
Korea, South
Jun 9, 1998
Dec 20, 1999
Latvia
Oct 16, 1923
Oct 10, 1934
March 1, 1924
March 29, 1935
Lesotho
Dec 22, 1931
Jun 24, 1935
Liberia
Nov 1, 1937
Nov 21, 1939
Liechtenstein
May 20, 1936
Jun 28, 1937
Lithuania
Oct 23, 2001
Mar 31, 2003
Luxembourg
Oct 1, 1996
Feb 1, 2002
Malawi
Dec 22, 1931
June 24, 1935
April 4, 1967
Malaysia
Aug 3, 1995
Jun 2, 1997
Malta
Dec 22, 1931
Jun 24, 1935
Mauritius
Dec 22, 1931
Jun 24, 1935
Mexico
May 4, 1978
Nov 13, 1997
Jan 25, 1980
May 21, 2001
Monaco
Feb 15, 1939
Mar 28, 1940
Nauru
Dec 22, 1931
Aug 30, 1935
Netherlands
Jun 24, 1980
Sep 15, 1983
New Zealand
Jan 12, 1970
Dec 8, 1970
Nicaragua
Mar 1, 1905
Jul 14, 1907
Nigeria
Dec 22, 1931
Jun 24, 1935
Norway
Jun 9, 1977
Mar 7, 1980
Pakistan
Dec 22, 1931
Mar 9, 1942
Panama
May 25, 1904
May 8, 1905
Papua New Guinea
Dec 22, 1931
Aug 30, 1935
Paraguay
Nov 9, 1998
Mar 9, 2001
Peru
Jul 26, 2001
Aug 25, 2003
Philippines
Nov 13, 1994
Nov 22, 1996
Poland
July 10, 1996
April 5, 1935
Sept 17, 1999
June 5, 1936
Portugal
May 7, 1908
Nov 14, 1908
Romania
July 23, 1924
Nov 10, 1936
April 7, 1925
July 27, 1937
Saint Kitts and Nevis
Sep 18, 1996
Feb 23, 2000
Saint Lucia
Apr 18, 1996
Feb 2, 2000
Saint Vincent and the Grenadines
Aug 15, 1996
Sep 8, 1999
San Marino
Jan 10, 1906
Oct 10, 1934
July 8, 1908
June 28, 1935
Seychelles
Dec 22, 1931
Jun 24, 1935
Sierra Leone
Dec 22, 1931
Jun 24, 1935
Singapore
Dec 22, 1931
June 24, 1935
June 10, 1969
Slovenia
Oct 17, 2005
Feb 1, 2010
Slovak Republic
July 2, 1925
April 29, 1935
Aug 28, 1935
Mar 29, 1926
Solomon Islands
Jun 8, 1972
Jan 21, 1977
South Africa
Sep 16, 1999
Jun 25, 2001
Spain
May 29, 1970
Jan 25, 1975
Feb 9, 1988
March 12, 1996
June 16, 1971
June 2, 1978
July 2, 1993
July 25, 1999
Sri Lanka
Sep 30, 1999
Jan 12, 2001
Suriname
June 2, 1887
Jan 18, 1904
July 11, 1889
Aug 28, 1904
Swaziland
Dec 22, 1931
June 24, 1935
July 28, 1970
Sweden
Oct 24, 1961
March 14, 1983
Dec 3, 1963
Sept 24, 1984
Switzerland
Nov 14, 1990
Sep 10, 1997
Tanzania
Dec 22, 1931
June 24, 1935
Dec 6, 1965
Thailand
May 17, 1991
Dec 30, 1922
Dec 14, 1983
March 24, 1924
Tonga
Dec 22, 1931
Aug 1, 1966
April 13, 1977
Trinidad and Tobago
Mar 4, 1996
Nov 29, 1999
Turkey
Jun 7, 1979
Jan 1, 1981
Tuvalu
Jun 8, 1972
Jan 21, 1977
April 25, 1980
United Kingdom
June 8, 1972
June 25, 1985
March 31, 2003
Jan 21, 1977
Dec 23, 1986
April 26, 2007
Uruguay
Apr 6, 1973
Apr 11, 1984
Venezuela
Jan. 19, 21, 1922
Apr 14, 1923
Yugoslavia
Oct 25, 1901
Jun 12, 1902
Zambia
Dec 22, 1931
Jun 24, 1935
Zimbabwe
Jul 25, 1997
Apr 26, 2000
Know more about the USA:
Related Maps: