What are the popular places to visit in Cairo?

From narrow lanes crammed with medieval mosques in Islamic Cairo to the Coptic churches and Roman remnants in Old Cairo, this megalopolis is a treasure trove of culture, adventure, and contemplation. Sprawling endlessly from the Nile delta to the vast tracts of Sahara, the inescapable – and slightly unnerving – aroma and chaotic rhythm of Cairo excite the senses. With urban gaiety and monuments of antiquity, a journey through "The City of a Thousand Minarets" is really a journey through time.
It is located along banks of the Nile River in the Cairo Governorate in northern Egypt.
Facts about Cairo
Cairo was founded by Jawhar al-Siqilli of the Fatimid dynasty in the year 969.
It is the capital of Egypt and the second-largest city in Africa.
The Arabic name for the city is 'Al Qahirah', meaning "The Conqueror", and informally referred as 'Umm al-Dunya' which means "the mother of the world."
It has the oldest and largest film and music industries in the Arab world.
The Great Sphinx of Giza (73.5m x19.3m x 20.22m) is the largest monolith statue in the world.
'Memphis and its Necropolis – the Pyramid Fields from Giza to Dahshur' is a designated UNESCO World Heritage Site since 1979.
At 146.5 meters (480 feet), the Great Pyramid of Khufu has around 2.3 million blocks of stone and is estimated to weigh 5.75 million tons.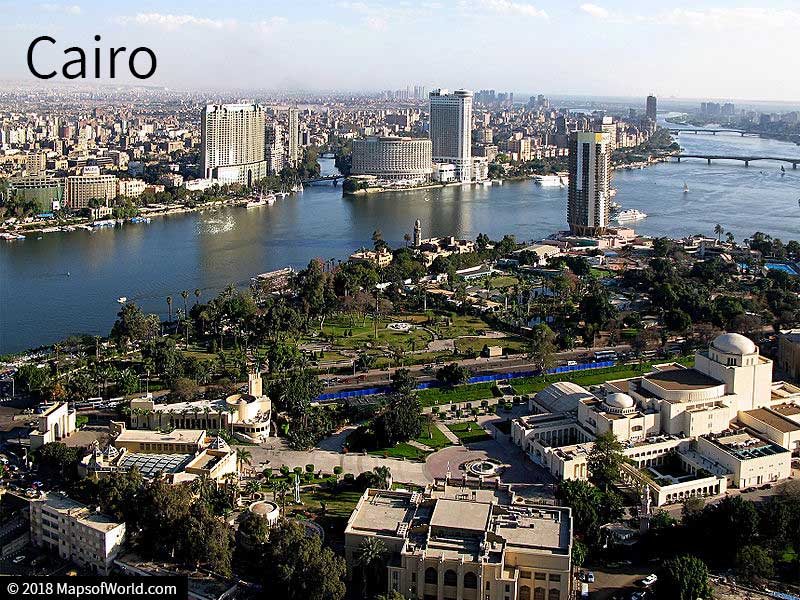 Places to Visit:
Giza Pyramid Complex – Last survivor of the Seven Wonders of the Ancient World, the Egyptian pyramids of Khufu, Khafre, and Menkaure are Ancient Egypt's most famous archaeological site and among the most recognizable landmarks in the world. Constructed around 2560 BC, it is now an archaeological site that features funerary monuments, pharaonic tombs, ornate mastabas, and extraordinary temples. The Grand Gallery, King's Chamber, Queen's Chamber, and Solar Boat Museum are must-see attractions here. You can enter the Great Pyramid through a passage in the masonry. A testament to mathematician accuracy, the pyramids are located on plateau 12 miles southwest of downtown Cairo.
Egyptian Museum – Also known as Museum of Cairo, it has a staggering collection of priceless antiquities like artifacts, royal mummies, statues, jewels, and hieroglyphics belonging to Egyptian Pharaohs. Opened in 1902 and designed in the Neoclassical style with desert-plateau-styled translucent façade, it is a microcosm of the Egyptian, Greek, and Roman cultures. While its ground floor displays papyrus and coins from different kingdoms, the first-floor exhibits items from the tombs of the Pharaohs. The tomb and funerary mask of Tutankhamun are the prized possessions of this museum.
Cairo Citadel – Built between 1176 and 1183 by Salah al-Din, it is a popular tourist attraction situated at the foot of the Mokattam Hills. The Mosque of Muhammad Ali, otherwise known as Alabaster Mosque, and the sweeping views of the city from the terrace of Al-Gawhara Palace are two major reasons for visiting this historical site.
Memphis – Founded by the Pharaoh Menes, it was probably a fortress rather than a city. However, this necropolis lies in ruins scattered across villages, fields, and the Nile silt. Visitors can gape at ruins of the Temple of Ptah, two large statues of Ramasses II, smaller shrines, and sanctuaries.
Cairo Tower – It's a free-standing concrete tower located on Gezira Island that offers panoramic view of Cairo skyline. At 187 meters (about 613 feet), it is arguably the tallest structure in Egypt and most well-known modern landmark after the pyramids. The building houses many restaurants, coffee shops, and entertainment centers.
Giza Zoo – A rare patch of green in this dusty capital, it covers about 80 acres and specializes in African wildlife. A suspension bridge designed by Gustave Eiffel lets visitors view the animals from above.
Islamic Cairo – A popular tourist area, this part of the central Cairo houses hundreds of mosques, madrasas, fortifications, caravanserais, mansions, and tombs from the Islamic era. In 1979, it was declared a UNESCO World Cultural Heritage site.
The Hanging Church – This is one of the oldest churches in India. You'll be impressed with the modern art biblical designs and the 19th facade with twin bell towers.
Tahrir Square (Liberation Square) – Also known as Martyr Square, this public town square located in Downtown Cairo is used for political demonstrations. It also became popular among the locals after the 2011 Egyptian revolution.
Mosque of Ibn Tulun, Coptic Museum, Babylon Fortress, Al-Azhar Mosque, Al-Hakim Mosque, Abdeen Palace, Gabalaya Fish Park, and City of the Dead are other prominent tourist attractions in Cairo.
Things to Do in Cairo
Attend a ballet performance in 1,200-seat main hall of Cairo Opera House, take a stroll in Manial Palace and gardens on Rhoda Island, watch the sunset from Mokattam Hills, smoke shisha and enjoy oriental musical dance shows, and rent a bike to visit attractions around Tahrir Square (Liberation Square) – there are so many amazing experiences on offer.
Shopping – Khan el-Khalili is an open-air market with rows of souvenirs, statuettes, spices, perfumes, jewelry, and belly dancing costumes. It is the most sought after and the largest bazaar in Egypt. Weave through its labyrinthine alleyways and let the chaotic vibe of Cairo embrace you. The nearest subway station, Naguib, is about 30-minute walk from the market.
Parks and Recreation – After a tiring day of sightseeing, relax at the landscaped gardens of Al-Azhar Park in late afternoon. It is a gorgeous respite from the din of the city.
Outdoor Thrills – In the evening, board a felucca (traditional wooden sail boat) to discover hidden landmarks along the Nile River, take a camel ride to explore vast Saharan countryside, and go for hot air balloon rides over the ancient pyramids and necropolis.
Day Trips – Plan a day trip to Saqqara, which is home to the oldest complete stone building complex – Pyramid of Djoser. Wadi Al-Hitan or Whales Valley, famous for hundreds of whale fossils and Tanis, about 90 miles northeast from Cairo, is a brilliant site for history buffs. Lake Qarun is paradise for wilderness lovers with rich bird-life on display.
Accommodations
For a luxurious stay, choose from InterContinental Cairo Semiramis, Four Seasons Hotel Cairo, and Kempinski Nile Hotel Garden City Cairo. For mid-range accommodations, Sara Inn Hostel, Cairo Inn, and Pharaohs Doki Hotel Cairo. Budget travelers should check out Dahab Hostel, The Australian Hostel Cairo, and Bella Luna Hotel.
Restaurants
Try quintessential Egyptian dishes like Moussaka, Kushari, Feteer, Hamam Mahshi at The Osmanly Restaurant, Abou El Sid Restaurant, Zööba, and Koshary Abou Tarek. For fine dining experience, Sequoia, Le Pacha 1901, La Bodega Bistro, and Taboula are recommended. To mingle with locals, have a cup of tea or Ahwa at Naguib Mahfouz, Zahrat el-Bustan, El Horreya Cafe and Bar, and Groppi.
Best Time to Visit
The shoulder seasons, with fewer tourists and cheaper hotel rooms, of March-April and October-November are the best time to visit Cairo. For sightseeing and outdoor activities, winter (December to February) is a popular time to visit.
How to Reach?
By Air – Cairo International Airport (CAI), served by EgyptAir and EgyptAir Express airlines, is the intercontinental gateway to the country.
By Train – Ramses Railway Station is the primary hub for Egyptian National Railways. It is connected with Line 1 and 2 of Cairo Metro and public transport.
By Road – Being the capital, the city has buses providing services to virtually all over the country. It is cheaper to get around the city by shared cabs and rental bikes. Uber services are also available.
Know more:
Related Maps: