What are the Top Ten Largest Islands in the World?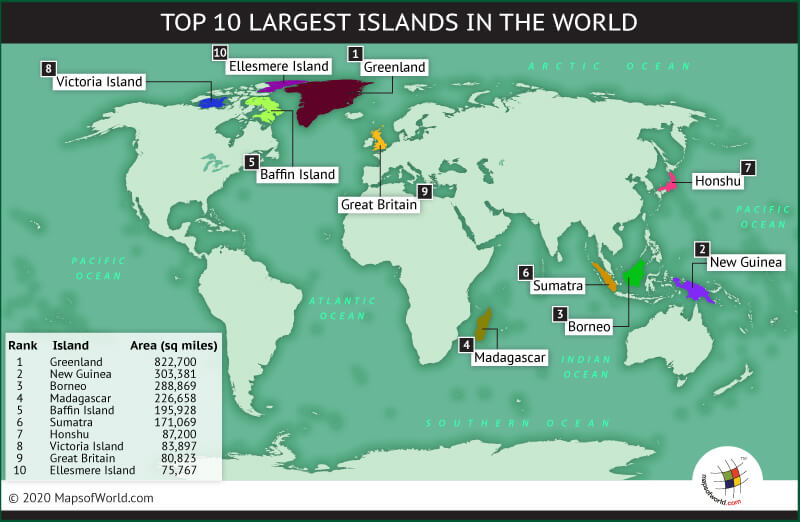 Islands are sub-continental landmasses surrounded by water on all sides. Meanwhile, "archipelago" is a term used for a group of islands, which are related either geologically or geographically. One example of an archipelago of islands is the Philippines.
Several places have "island" in their names for historical reasons, even though they have a connection to a land bridge or big continental mass, for example, Coney Island.
In the sea, there are two main types of islands: continental, lying on the shelf of a continent, and oceanic, not lying on any continental shelves.
The world has many artificial islands, as well. They are built using either natural materials like earth, rock, and sand or using artificial materials like concrete slabs or recycled waste. However, legally they are not considered islands as they don't have any territorial sea of their own.
One might wonder why Australia is not considered as an island, and the reason is that it has its own continental lithosphere and tectonic plate. On the other hand, "island" must be an extension of some oceanic crust or be a part of some continental lithosphere.
Greenland is considered the largest island, covering an area of 822,700 square miles even though there is still an ongoing debate regarding why Greenland has been deprived of the status of a "continent" and why geologically it is considered a part of "North America."
We bring you a table listing the top ten largest islands of the world and the area they cover:
| | | | |
| --- | --- | --- | --- |
| Rank | Island | Area (sq. miles) | Location |
| 1 | Greenland | 822,700 | North Atlantic |
| 2 | New Guinea | 303,381 | Southwest Pacific (Melanesia) |
| 3 | Borneo | 288,869 | Southeast Asia |
| 4 | Madagascar | 226,658 | Indian Ocean |
| 5 | Baffin Island | 195,928 | Northern Canada |
| 6 | Sumatra | 171,069 | Greater Sunda Islands, Southeast Asia |
| 7 | Honshu | 87,200 | Sea of Japan-Pacific |
| 8 | Victoria Island | 83,897 | Northern Canada (Arctic Ocean) |
| 9 | Great Britain | 80,823 | Off the coast of NW Europe |
| 10 | Ellesmere | 75,767 | Northern Canada (Arctic Ocean) |
Related Links:
Related Map: