Where is the Biggest International Box Office Market for Hollywood?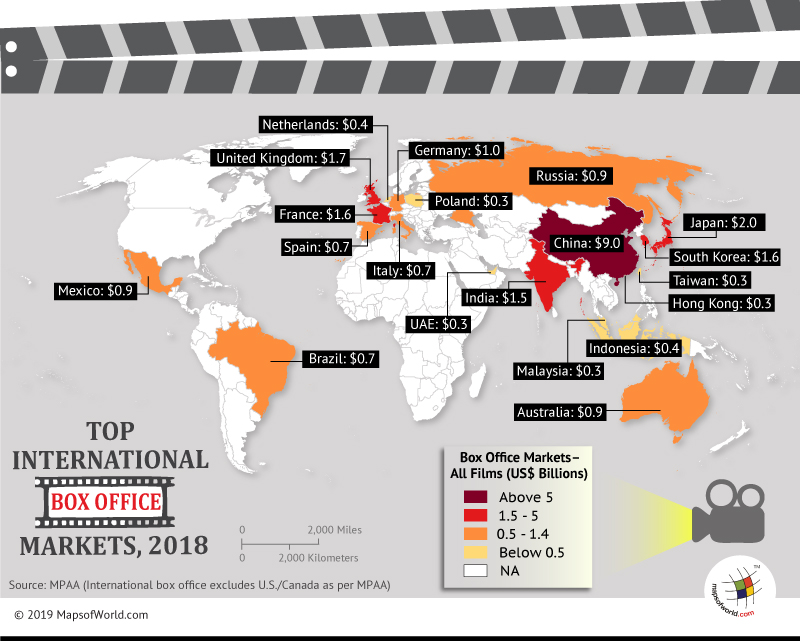 When was the last time you went for a Hollywood movie on the silver screen? I bet, it wasn't that long ago that you had a good time watching an international movie with friends. Thanks to globalization, we are not limited to films of a certain region, but have an access to movies created all around the world.
Today, Hollywood not only entertains the population of US/Canada, but also appeals to people around the world, where first language is not even English. Motion Picture Association of America (MPAA) releases data annually to estimate how much the industry is earning around the world. For the year 2018, the global box office record has reached an all-time high. US$41.1 billion has been earned by the industry, with the domestic earning by US/Canada being US$11.9 billion. The international box office earnings have decreased 1%, while US/Canada earnings increased 7% in comparison to the previous year. The share of international box office in total box office was 71%, a decline of 2% over 2017.
Movies continue to be an affordable option for people to enjoy their pastime. The cinema halls and HD screen versions draw people more than any theme park ever does. Talented people with a passion for their work are bringing out exceptional movie ideas. Movies by Disney and Warner Bros. got the industry some of the highest earnings. In 2019, Netflix has also joined MPAA.
The stats suggest how action and adventure themed movies earn the best worldwide. Black Panther, Avengers: Infinity War and Incredibles 2 earned the maximum amid all the movies released in 2018. Some of the other movies that fared well are Jurassic World: Fallen Kingdom, Deadpool 2, Dr Seuss' The Grinch and Jumanji: Welcome to the Jungle .
Even though it is easy to find the online movie subscriptions and watch them at home, watching movies on the big theater is still the craze for many.
Here is a list of top 20 countries where Hollywood had the highest grossing in 2018:
| | | |
| --- | --- | --- |
| Rank | Country | Box Office Markets – All Films (US$ Billions) |
| 1 | China | $9.0 |
| 2 | Japan | $2.0 |
| 3 | United Kingdom | $1.7 |
| 4 | South Korea | $1.6 |
| 5 | France | $1.6 |
| 6 | India | $1.5 |
| 7 | Germany | $1.0 |
| 8 | Australia | $0.9 |
| 9 | Mexico | $0.9 |
| 10 | Russia | $0.9 |
| 11 | Spain | $0.7 |
| 12 | Brazil | $0.7 |
| 13 | Italy | $0.7 |
| 14 |  Netherlands | $0.4 |
| 15 | Indonesia | $0.4 |
| 16 | Taiwan | $0.3 |
| 17 | Poland | $0.3 |
| 18 | UAE | $0.3 |
| 19 | Malaysia | $0.3 |
| 20 | Hong Kong | $0.3 |
Source: MPAA
Related Links:

Related Map: