At What Age Can You Have Your First Alcoholic Drink?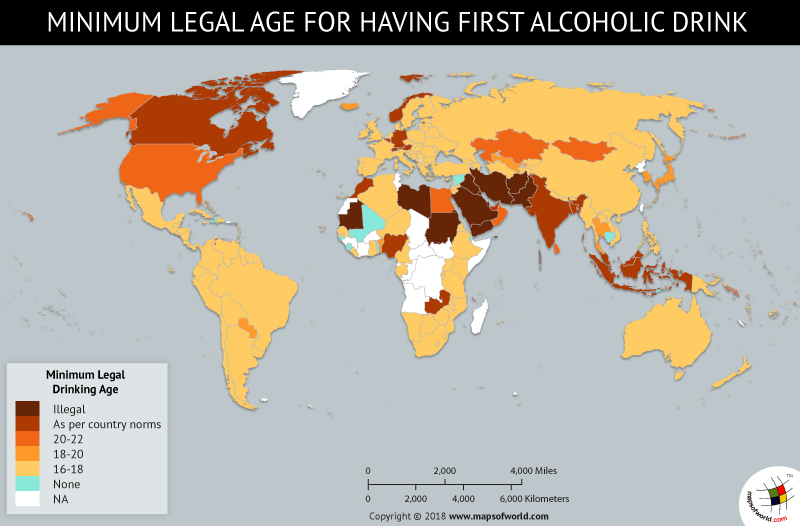 Alcohol is consumed by people around the world, for it has a strong effect on the mind. People tend to celebrate or relax after a sip of their favorite alcoholic beverage. Yet, it is always a question of wonderment that how much of its consumption is too much, as there are many people who later find themselves addicted.
"Minimum legal drinking age" is set by government of a country to restrict youngsters from falling into the habit at an innocent age, to avoid reckless incidents under the influence of alcohol and many other reasons. However, the age is not standardized across the world as each nation has its own set of rules and laws. It may range from as young as 16 in some nations to around 25 in others.
There are countries where consuming alcohol is outright illegal. If any person defies the law, he or she may even land behind the bars. On the other hand, there are countries where the laws regarding intake of alcohol vary from one region to another. Majority of these nations are Muslim-dominated and include countries like Yemen, Sudan, Saudi Arabia, Qatar, Pakistan, Libya and few others.
Back in 1984, National Minimum Drinking Age Act was passed in USA, which established the legal drinking age at 21. However, it was not always the same. Prior to 1984, in some states the age limit was 18, 19 and 20 as well. When the research noticed an increase in accidents among the young people, it was linked to their alcohol intake, and the new age limit was set.
International Alliance for Responsible Drinking (IARD) presents data regarding the changing norms and laws regarding alcohol consumption on a regular basis.  According to it, there are still many countries like Antigua and Barbuda, Cuba, Dominica, Gambia, Grenada, Saint Vincent and Luxembourg, where legal drinking age is 16.
In the most populous country China, citizens are allowed to have their first sip of alcohol as soon as they become an adult, that is, at the age of 18. In fact, in majority of the nations around the world, 18 is the legal drinking age. Algeria, Argentina, Brazil, Bulgaria, Denmark, Peru, the Philippines and many other nations come under the status quo.
In India, laws pertaining to alcohol are quite inconsistent depending on the region. The minimum legal drinking age in most of the states is 21, but in a few states like Goa, Himachal Pradesh, Karnataka and Sikkim, a person can even start drinking as early as 18. In the capital, Delhi and other states like Haryana, Meghalaya and Punjab, a person has to be 25 to enjoy their first alcoholic drink. Meanwhile, there are also certain states where alcohol is illegal, for example, Gujrat.
Find the table here to know the minimum drinking age of alcohol around the world.
Country    
Legal Drinking Age (On Premises)
Notes
Antigua and Barbuda
16
Burundi
16
unless accompanied by parent
Cuba
16
Dominica
16
Gambia
16
Grenada
16
Luxembourg
16
Saint Vincent
16
San Marino
16
Malta
17
Albania
18
Algeria
18
Andorra
18
Argentina
18
Armenia
18
Azerbaijan
18
Bahamas
18
Belarus
18
Belize
18
Bermuda
18
Bhutan
18
Bolivia
18
Bosnia and Herzegovina
18
Botswana
18
Brazil
18
Bulgaria
18
Cabo Verde
18
Cayman Islands
18
Chile
18
China
18
Colombia
18
Costa Rica
18
Croatia
18
Cyprus
18
Czechia
18
Denmark
18
Off premise: 16 for beer and wine; 18 for alcoholic beverages containing 16.5% or more alcohol per volume.
Dominican Republic
18
Ecuador
18
El Salvador
18
Eritrea
18
Estonia
18
Ethiopia
18
Fiji
18
Finland
18
18 for beverages up to 22% ABV; 20 for other beverages
France
18
Gabon
18
Georgia
18
Ghana
18
Greece
18
Off-premise: 18 for spirits at all outlets; 18 for other alcoholic beverages at specialized retailers [not regulated at grocery stores and other types of outlets]
Guatemala
18
Honduras
18
Hungary
18
Ireland
18
Israel
18
Italy
18
Jamaica
18
Jordan
18
Kenya
18
Kyrgyzstan
18
Laos
18
Latvia
18
Lebanon
18
Lesotho
18
Liberia
18
Lithuania
18
Macedonia
18
Malawi
18
Mauritius
18
Mexico
18
Moldova
18
Monaco
18
Montenegro
18
Mozambique
18
Myanmar
18
Namibia
18
Nepal
18
Netherlands
18
Nicaragua
18
Niger
18
Niue
18
Panama
18
Papua New Guinea
18
Peru
18
Philippines
18
Poland
18
Portugal
18
Romania
18
Russia
18
Rwanda
18
Saint Kitts and Nevis
18
Saint Lucia
18
Senegal
18
Serbia
18
Seychelles
18
Singapore
18
Slovakia
18
Slovenia
18
South Africa
18
The National Liquor Policy, under discussion in 2015, proposes to raise the on- and off- premise legal purchasing ages to 21.
Suriname
18
Swaziland
18
Sweden
18
18 for beer of 3.5% ABV or lower, 20 otherwise
Tajikistan
18
Tanzania
18
Trinidad and Tobago
18
Turkey
18
Turkmenistan
18
Ukraine
18
Uruguay
18
Vanuatu
18
Venezuela
18
Vietnam
18
Zimbabwe
18
Benin
20
Iceland
20
Japan
20
Paraguay
20
Thailand
20
Uzbekistan
20
Egypt
21
Kazakhstan
21
Kiribati
21
Marshall Islands
21
Mongolia
21
Nauru
21
Oman
21
Palau
21
Solomon Islands
21
Sri Lanka
21
Tonga
21
Afghanistan
[all sale is prohibited]
Bahrain
[all sale is prohibited]
Brunei
[all sale is prohibited]
Non-Muslims over 17 years of age are allowed to import alcohol not to exceed maximum total volume 2 liters of liquor and 12 cans of beer at 330 ml for personal use, once in 48 hours. This alcohol must be "stored and consumed at the place of residence of the importer" and is "not to be given, transferred or sold to another person."
Iran
[all sale is prohibited]
Iraq
[all sale is prohibited]
Kuwait
[all sale is prohibited]
Libya
[all sale is prohibited]
Maldives
[all sale is prohibited]
prohibition applies to citizens
Mauritania
[all sale is prohibited]
Pakistan
[all sale is prohibited]
non-Muslim citizens may possess alcohol to be used in accordance with religious ceremonies
Qatar
[all sale is prohibited]
Saudi Arabia
[all sale is prohibited]
Sudan
[all sale is prohibited]
Yemen
[all sale is prohibited]
Cambodia
[none]
Djibouti
[none]
Guinea Bissau
[none]
Haiti
[none]
Mali
[none]
Sao Tome and Principe
[none]
Sierra Leone
[none]
Syria
[none]
Timor-Leste
[none]
Togo
[none]
Switzerland
[varies by beverage and jurisdiction]
18 for spirits

16 or 18 for beer and wine depending on the Canton

Belgium
[varies by beverage]
Both on- and off-premise: 18 for spirits, 16 for other alcohol beverages
Germany
[varies by beverage]
16 for beer and wine, 18 for spirits

Those below 18 years of age are not permitted in premises licensed as bars, nightclubs and similar entertainment venues.

Liechtenstein
[varies by beverage]
18 for spirits and alcopops; 16 for other alcoholic beverages
Norway
[varies by beverage]
Both on- and off-premise sales:

18 for beverages of 0.7-22% ABV

20 for beverages of 22% ABV and above

Zambia
[varies by beverage]
on-premise: 18 for beverages of 3%ABV or higher except traditional beer; 16 for traditional beer

on-premise: 14 for beverages of 3%ABV or higher except traditional beer; 16 for traditional beer

Austria
[varies by jurisdiction and by beverage]
Both on- and off-premise: Each federal state prohibits sale of alcohol beverages to anyone under 16 years of age.

Carinthia, Upper Austria, Salzburg, Styria, Tirol, and Voralberg also prohibit sale of spirits and mixed drinks (whether pre-mixed drinks or cocktails) to anyone under 18 years of age.

India
[varies by jurisdiction]
18 in Goa, Himachal Pradesh, Karnataka, Sikkim, and Puducherry

21 in Andhra Pradesh, Arunachal Pradesh, Assam, Chhattisgarh, Jammu and Kashmir, Jharkhand, Kerala, Madhya Pradesh, Maharashtra, Mizoram, Orissa (Odisha), Rajasthan, Tamil Nadu, Telangana, Tripura, Uttarakhand, Uttar Pradesh, and West Bengal

25 in Haryana, Meghalaya, Punjab, Delhi

[all sale is prohibited] in Bihar, Gujarat, Manipur, Nagaland, Lakshadweep

Indonesia
[varies by jurisdiction]
all sale is prohibited in Banda Aceh and Papua;

21 elsewhere for both on- and off-premise

Nigeria
[varies by jurisdiction]
Canada
[varies by province]
18 in Manitoba, Alberta, and Quebec;

19 in British Columbia, New Brunswick, Newfoundland and Labrador, Northwest Territories, Nova Scotia, Ontario, Prince Edward Island, Saskatchewan, and Yukon.

United Arab Emirates
[varies by religion and jurisdiction]
Bangladesh
[varies by religion]
Alcohol may not be purchased by Muslims.
Comoros
[varies by religion]
sale to Muslims is prohibited
Malaysia
[varies by religion]
sale to Muslims is prohibited; 21 otherwise for on- and off-premise
Morocco
[varies by religion]
sale to Muslims is prohibited
Guyana
18 *
except 16 for wine or malt liquor to be consumed with a meal
Uganda
18 *
*16 for beer, wine, perry, porter, cider, or native liquor with a meal in a meal-service section of the premises
United Kingdom
18 *
 *16 for beer, cider, and wine with a meal and bought by and accompanied by an adult. This does not apply in Northern Ireland.
Australia
18*
Regulated at state / territory level. Exceptions may apply if accompanied by a responsible adult.
Cameroon
18*
*unless accompanied by person aged 21 or above in a supervisory role
New Zealand
18*
does not apply if accompanied bypermitting parent or legal guardian
Spain
18*
*Baleares Islands autonomous region does not have specific regulation limiting the sale of alcoholic beverages to minors.
Korea, Republic of
19*
Being 19 is defined, for the purposes of this legislation, as effective from January 1st of the 19th year after one's birth
Samoa
21 *
*unless at a food and beverage establishment and accompanied by parent
United States
21 *
See the NIAAA Alcohol Policy Information System (APIS) for more details

* 18 for on-premise and off-premise sales in Puerto Rico (Law 118, 18 October 1984)
Know more:
Related maps: