Where is Frankfurt located?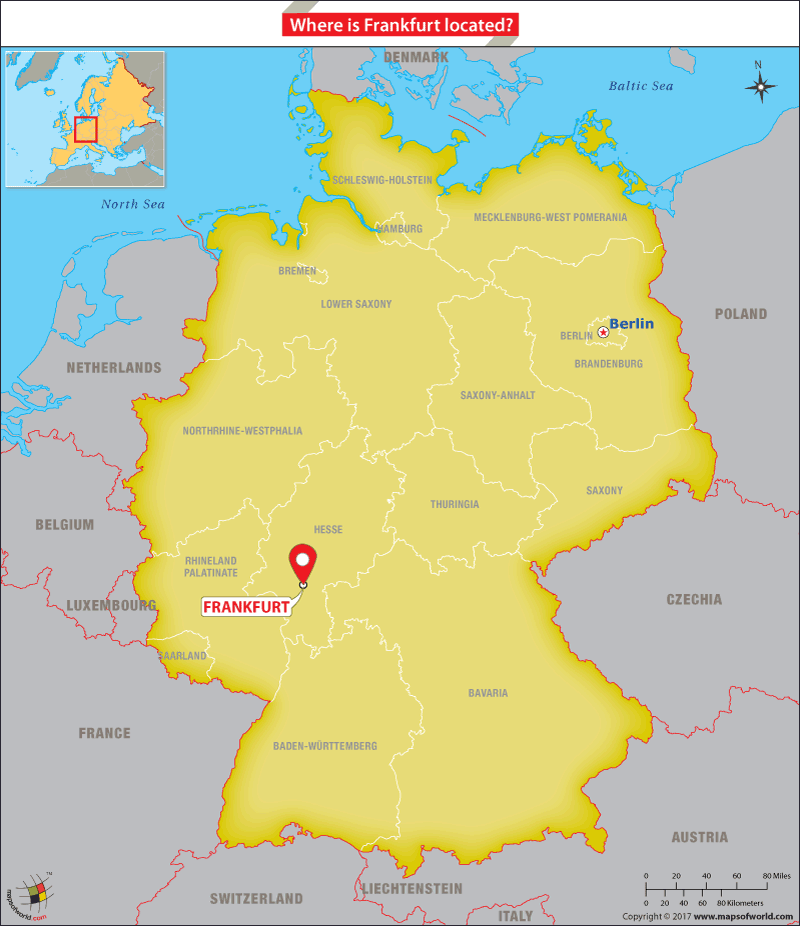 Frankfurt in located in Germany, a central-western European nation.
Frankfurt is situated in Hesse, one of the 16 federal states of Germany. It is Hesse's largest city and the fifth largest in Germany. Covering an area of 95.87 square miles and comprising an estimated population of 732,688, Frankfurt is located on both sides of the Main River. The city is southeast of the Taunus mountain range. The Frankfurt City forest, which is the largest forest in the county, is in the south of the city.
Frankfurt is one of the most important and modernized cities of the world. Frankfurt has over the years emerged as a global culture, commerce, transport, education and tourism hub. A culturally and ethnically diverse city, Frankfurt is a leading financial center of the world, and is host to the headquarters of famous banks and financial institutions. Some of the financial institutions that have their headquarters in Frankfurt are Frankfurt Stock Exchange, European Central Bank, Deutsche Bank, Commerzbank, etc. The city is also home to the Frankfurt Airport, which is Germany's busiest airport by passenger traffic and the fourth busiest in Europe.
The city is also home to many other attractions such as fairs, which are held all throughout the year. Prominent among these is the Messe Frankfurt, which is one of the largest trade fairs in the world. The Frankfurt Motor Show, Music Fair and the Frankfurt Book fair are some other prestigious fairs that draw tourists from all over the world.
Known for its amazing nightlife, Frankfurt is a popular tourist attraction. Some of the attractions that the city has to offer include Taunus mountain range, Hessenpark, Rhine Valley, Hanau Grimm Brothers Summer Festival, Frankenstein Castle, Vineyards at Heppenheim, to name a few.
Related Maps and Articles: