What are the Largest Urban Built Areas?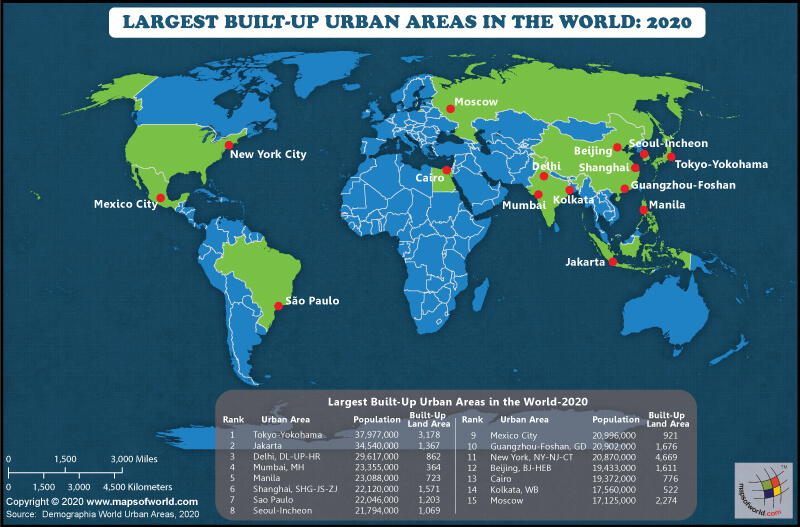 As per the Demographia World Urban Areas 12th annual edition, there are 36 urban built-up areas in the world that have a population of more than one million people. Of the world's 15 largest Built-Up Urban Areas or World Agglomerations, Tokyo-Yokohama stands at the top. Located in Japan, Tokyo-Yokohama was the largest built-up area in 2015 also. Spread over an area of 3,300 square miles, Tokyo-Yokohama is home to an estimated 37,750,000 people. Jakarta, which ranked second in the 2016 list, has retained its spot in 2016 as well. Spread over an area of 1,245 square miles, Jakarta is home to around 31,320,000 people.
Two of India's built-up urban areas feature in the list. Coming at the third spot is Delhi, which beats Mumbai both in area as well as population. Comprising the surrounding cities of Uttar Pradesh and Haryana, Delhi or the National Capital Region (NCR) covers an area of 835 miles. Currently, an estimated population of 25,735,000 is living in the NCR. Seoul-Incheon, South Korea's largest built-up urban area was placed at the fifth spot in 2015. However, it has climbed the ladder in 2016 to become the fourth largest in the world. It covers an area of 1,000 square miles and comprises 23,575,000 people. Manila in the Philippines, which was the fourth largest in 2015, fell to the fifth spot in 2016. Spread over an area of 630 square miles, Manila is home to 22,930,000. The other Indian urban built-up area Mumbai occupies the sixth spot. More than 22,885,000 people live in some 340 square miles.
The Pakistani urban built-up area Karachi comes one spot below Mumbai where an estimated 22,825,000 people are living in 365 square miles. Shanghai, SHG-JS-ZJ in China, which stands at the eighth spot, covers an area of 1,500 square miles with an estimated population of 22,685,000 people. A high-income world city, New York, NY-NJ-CT occupies the ninth spot and has an estimated population of 20,685,000 who live in an area of 4,495 square miles. Coming at the tenth spot is Sao Paulo, which covers an area of 1,045 square miles and has a population of 20,605,000 people.
The other five largest urban built areas on the list are Beijing, BJ-HEB (China), Mexico City (Mexico), Guangzhou-Foshan, GD (China), Osaka-Kobe-Kyoto (Japan), and Moscow (Russia).
The largest built-up urban areas in the world as per the year 2020 are:
| | | | |
| --- | --- | --- | --- |
| Rank | Urban Area | Population | Built-Up Land Area |
| 1 | Tokyo-Yokohama | 37,977,000 | 3,178 |
| 2 | Jakarta | 34,540,000 | 1,367 |
| 3 | Delhi, DL-UP-HR | 29,617,000 | 862 |
| 4 | Mumbai, MH | 23,355,000 | 364 |
| 5 | Manila | 23,088,000 | 723 |
| 6 | Shanghai, SHG-JS-ZJ | 22,120,000 | 1,571 |
| 7 | Sao Paulo | 22,046,000 | 1,203 |
| 8 | Seoul-Incheon | 21,794,000 | 1,069 |
| 9 | Mexico City | 20,996,000 | 921 |
| 10 | Guangzhou-Foshan, GD | 20,902,000 | 1,676 |
| 11 | New York, NY-NJ-CT | 20,870,000 | 4,669 |
| 12 | Beijing, BJ-HEB | 19,433,000 | 1,611 |
| 13 | Cairo | 19,372,000 | 776 |
| 14 | Kolkata, WB | 17,560,000 | 522 |
| 15 | Moscow | 17,125,000 | 2,274 |
Source: Demographia World Urban Areas
Related Links:
Related Map: