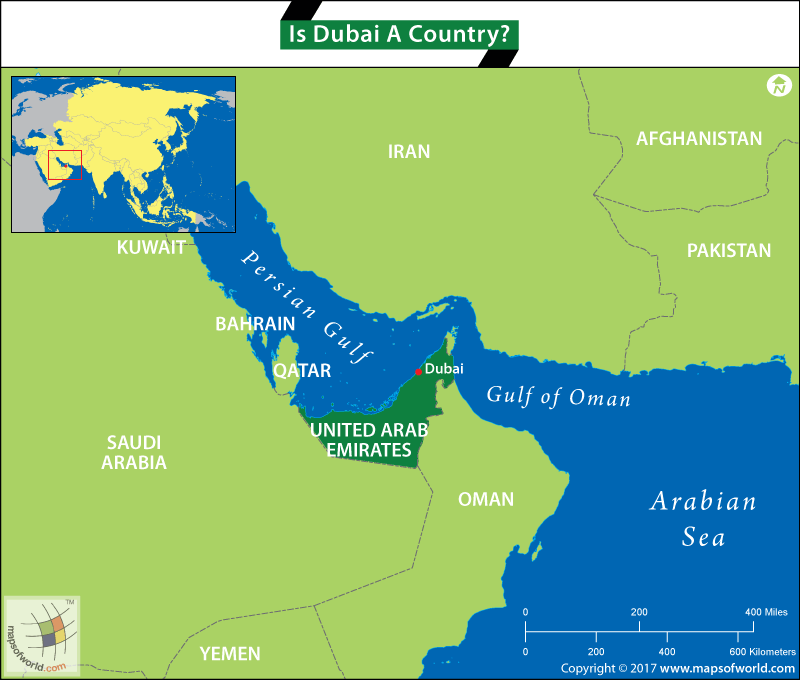 No, Dubai is not a country. The Emirate of Dubai is one of the seven emirates that make up the country we know as the United Arab Emirates (UAE). These seven emirates (erstwhile British protectorate) united to form one sovereign state in December 1971. Dubai is also the name of the port city that forms the capital of the Emirate of Dubai.
An emirate is a territory governed by an Emir (a royal who inherits the position) and the UAE is a federation of seven such emirates. The seven emirs of the UAE make up an electoral college that votes and elects the President and the Prime Minister of the country. The Emirate of Dubai, like the other six emirates, has its own government and set of laws. It maintains an independent judiciary and has its own budget.
The Emirate of Dubai is bordered by the Emirates of Abu Dhabi and Sharjah to the south and north east and the Persian Gulf to the northwest. Of the seven emirates, the Emirate of Dubai and the Emirate of Abu Dhabi are considered most important as they retain the right to exercise a veto in important policy matters raised at the legislature. Sheikh Mohammed bin Rashid Al Maktoum, the Emir of Dubai is currently the Vice President and the Prime Minister of the UAE.
Dubai city is one of the most prosperous cities in the world, apart from being one of the most important cities of the country. Not only is it the largest city in the country but is also the most populous city in all of UAE. It is an international trade and financial hub and is home to thousands of multinational corporations. Dubai city is also one of the best-known tourist destinations in the Middle East. Dubai has come to be known for its iconic skyscrapers and high-rises. In fact, the tallest building of the world, the Burj Khalifa (2712 feet) is located in Dubai. It is also home to the Palm Islands, some of the largest artificial islands in the world.
Related Maps and Articles: