Which Country Has the Most Nobel Laureates in Literature?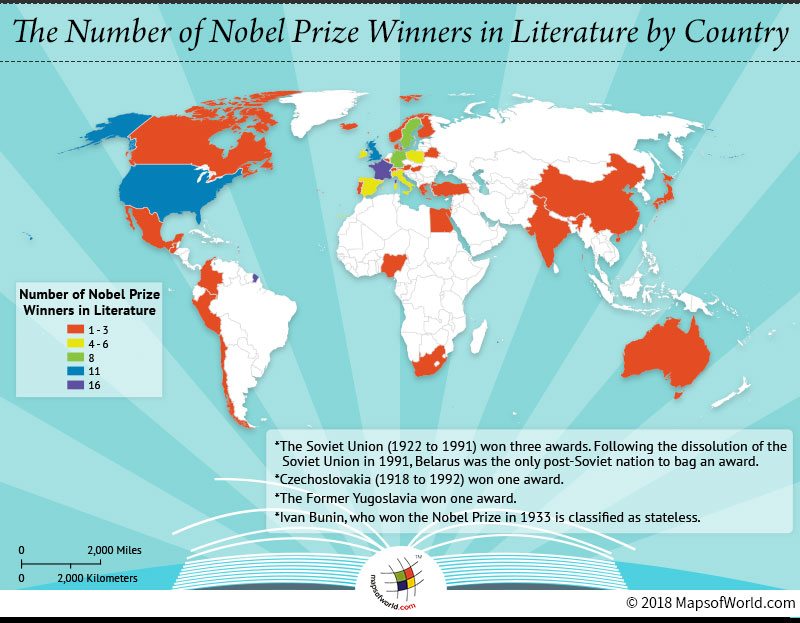 There is hardly any speculation about the status of Nobel Prize. The people who outperform in their fields and have creative or intellectual achievements are honored by this prestigious award.
Nobel Prize was initiated in 1901 and is given in honor of Alfred Nobel who was a Swedish chemist, engineer, inventor, businessman, and philanthropist. Since then it is the most prestigious award that outweighs all other awards. It sets the excellence status for generations to come. Nobel Prize is given for various fields including medicine, mathematics, chemistry, literature, peace, physiology, physics.
Nobel Prize is given for literature as well. Literature is the field of study that continues to travel through time and space. It reveals the holistic picture of the society- historic, social, cultural, political, and economic fronts. By studying literature, one becomes capable of interpreting things in a manner which perhaps none but they can. Literature is not based on hard and fast rules. It accepts the individual perspectives, provided a due support to one's argument is presented.
Here is a table representing the winners of Nobel Prize in literature, with the country winning the maximum awards on the top.
Year
Laureate
Country
Language(s)
Genre(s)
1901
Sully Prudhomme
 France
French
poetry, essay
1904
Frédéric Mistral
 France
Provençal
poetry, philology
1915
Romain Rolland
 France
French
novel
1921
Anatole France
 France
French
novel, poetry
1927
Henri Bergson
 France
French
philosophy
1933
Ivan Bunin
 France (Born in Russian Empire)
Russian
short story, poetry, novel
1937
Roger Martin du Gard
 France
French
novel
1947
André Gide
 France
French
novel, essay
1952
François Mauriac
 France
French
novel, short story
1957
Albert Camus
 France (Born in French Algeria)
French
novel, short story, drama, philosophy, essay
1960
Saint-John Perse
 France (Born in Guadeloupe)
French
poetry
1964
Jean-Paul Sartre
 France
French
novel, philosophy, drama, literary criticism, screenplay
1985
Claude Simon
 France (Born in French Madagascar)
French
novel
2000
Gao Xingjian
 France (since 1998) China (1940–1998)
Chinese
novel, drama, literary criticism
2008
J. M. G. Le Clézio
 France Mauritius
French
novel, short story, essay, translation
2014
Patrick Modiano
 France
French
novel
1907
Rudyard Kipling
 United Kingdom
English
novel, short story, poetry
1932
John Galsworthy
 United Kingdom
English
novel
1948
T. S. Eliot
 United Kingdom (Born in the United States)
English
poetry
1950
Bertrand Russell
 United Kingdom
English
philosophy
1953
Winston Churchill
 United Kingdom
English
history, essay, memoirs
1981
Elias Canetti
 United Kingdom (Born in Bulgaria)
German
novel, drama, memoirs, essay
1983
William Golding
 United Kingdom
English
novel, poetry, drama
2001
V. S. Naipaul
 United Kingdom (Born in Trinidad & Tobago)
English
novel, essay
2005
Harold Pinter
 United Kingdom
English
drama, screenplay
2007
Doris Lessing
 United Kingdom (Born in Iran)
English
novel, drama, poetry, short story, memoirs
1981
Elias Canetti
 United Kingdom (Born in Bulgaria)
German
novel, drama, memoirs, essay
2017
Kazuo Ishiguro
 United Kingdom (born in Japan)
English
novel
1930
Sinclair Lewis
the United States
English
novel, short story, drama
1936
Eugene O'Neill
the United States
English
drama
1938
Pearl S. Buck
the United States
English
novel, biography
1949
William Faulkner
the United States
English
novel, short story
1954
Ernest Hemingway
the United States
English
novel, short story, screenplay
1962
John Steinbeck
the United States
English
novel, short story, screenplay
1993
Toni Morrison
the United States
English
novel
2016
Bob Dylan
the United States
English
poetry, songwriting
1987
Joseph Brodsky
the United States (Born in the Soviet Union)
Russian and English
poetry, essay
1976
Saul Bellow
the United States (Born in Canada)
English
novel, short story
1978
Isaac Bashevis Singer
the United States (Born in Poland)
Yiddish
novel, short story, memoirs
1978
Isaac Bashevis Singer
the United States (Born in Poland)
Yiddish
novel, short story, memoirs
1902
Theodor Mommsen
 Germany
German
history, law
1908
Rudolf Christoph Eucken
 Germany
German
philosophy
1910
Paul von Heyse
 Germany
German
poetry, drama, novel, short story
1912
Gerhart Hauptmann
 Germany
German
drama, novel
1929
Thomas Mann
 Germany
German
novel, short story, essay
1972
Heinrich Böll
 West Germany
German
novel, short story
1999
Günter Grass
 Germany
German
novel, drama, poetry
2009
Herta Müller
 Germany (Born in Romania)
German
novel, poetry
1909
Selma Lagerlöf
 Sweden
Swedish
novel, short story
1916
Verner von Heidenstam
 Sweden
Swedish
poetry, novel
1931
Erik Axel Karlfeldt
 Sweden
Swedish
poetry
1951
Pär Lagerkvist
 Sweden
Swedish
poetry, novel, short story, drama
1966
Nelly Sachs
 Sweden (Born in Germany)
German
poetry, drama
1974
Eyvind Johnson
 Sweden
Swedish
novel
1974
Harry Martinson
 Sweden
Swedish
poetry, novel, drama
2011
Tomas Tranströmer
 Sweden
Swedish
poetry, translation
1906
Giosuè Carducci
 Italy
Italian
poetry
1926
Grazia Deledda
 Italy
Italian
poetry, novel
1934
Luigi Pirandello
 Italy
Italian
drama, novel, short story
1959
Salvatore Quasimodo
 Italy
Italian
poetry
1975
Eugenio Montale
 Italy
Italian
poetry
1997
Dario Fo
 Italy
Italian
drama
1904
José Echegaray
 Spain
Spanish
drama
1922
Jacinto Benavente
 Spain
Spanish
drama
1956
Juan Ramón Jiménez
 Spain
Spanish
poetry
1977
Vicente Aleixandre
 Spain
Spanish
poetry
1989
Camilo José Cela
 Spain
Spanish
novel, short story
2010
Mario Vargas Llosa
 Peru Spain
Spanish
novel, short story, essay, drama, memoirs
1905
Henryk Sienkiewicz
 Poland (born in Russian Empire)
Polish
novel
1924
Władysław Reymont
 Poland
Polish
novel
1980
Czesław Miłosz
 Poland (born in Lithuania)
Polish
poetry, essay
1996
Wisława Szymborska
 Poland
Polish
poetry
1923
William Butler Yeats
 Ireland
English
poetry
1925
George Bernard Shaw
 Ireland
English
drama, literary criticism
1969
Samuel Beckett
 Ireland
English and French
novel, drama, poetry
1995
Seamus Heaney
 Ireland (Born in Northern Ireland)
English
poetry
1958
Boris Pasternak
Russia
Russian
novel, poetry, translation
1917
Karl Adolph Gjellerup
 Denmark
Danish
poetry
Henrik Pontoppidan
 Denmark
Danish
novel
1944
Johannes Vilhelm Jensen
 Denmark
Danish
novel, short story
1903
Bjørnstjerne Bjørnson
 Norway
Norwegian
poetry, novel, drama
1920
Knut Hamsun
 Norway
Norwegian
novel
1928
Sigrid Undset
 Norway (Born in Denmark)
Norwegian
novel
1945
Gabriela Mistral
 Chile
Spanish
poetry
1971
Pablo Neruda
 Chile
Spanish
poetry
2000
Gao Xingjian
 France (since 1998) China (1940–1998)
Chinese
novel, drama, literary criticism
2012
Mo Yan
 China
Chinese
novel, short story
1963
Giorgos Seferis
 Greece (Born in theOttoman Empire)
Greek
poetry, essay, memoirs
1979
Odysseas Elytis
 Greece
Greek
poetry, essay
1968
Yasunari Kawabata
 Japan
Japanese
novel, short story
1994
Kenzaburō Ōe
 Japan
Japanese
novel, short story
1991
Nadine Gordimer
 South Africa
English
novel, short story, essay
2003
J. M. Coetzee
 South Africa ( Australian citizen)
English
novel, essay, translation
1919
Carl Spitteler
  Switzerland
German
poetry
1946
Hermann Hesse
  Switzerland (Born in Germany)
German
novel, poetry
2004
Elfriede Jelinek
 Austria
German
novel, drama
1973
Patrick White
 Australia (Born in the United Kingdom)
English
novel, short story, drama
2015
Svetlana Alexievich
 Belarus (Born in Ukraine)
Russian
history, essay
1911
Maurice Maeterlinck
 Belgium
French
drama, poetry, essay
2013
Alice Munro
 Canada
English
short story
1982
Gabriel García Márquez
 Colombia
Spanish
novel, short story, screenplay
1984
Jaroslav Seifert
 Czechoslovakia (Born in Austria-Hungary)
Czech
poetry
1988
Naguib Mahfouz
 Egypt
Arabic
novel
1939
Frans Eemil Sillanpää
 Finland
Finnish
novel
1967
Miguel Ángel Asturias
 Guatemala
Spanish
novel, poetry
2002
Imre Kertész
 Hungary
Hungarian
novel
1955
Halldór Laxness
 Iceland
Icelandic
novel, short story, drama, poetry
1913
Rabindranath Tagore
 India (formerly British Raj)
Bengali and English
poetry, novel, drama, short story, music
1966
Shmuel Yosef Agnon
 Israel (Born in Austria-Hungary)
Hebrew
novel, short story
2008
J. M. G. Le Clézio
 France Mauritius
French
novel, short story, essay, translation
1990
Octavio Paz
 Mexico
Spanish
poetry, essay
1986
Wole Soyinka
 Nigeria
English
drama, novel, poetry
2010
Mario Vargas Llosa
 Peru  Spain
Spanish
novel, short story, essay, drama, memoirs
1998
José Saramago
 Portugal
Portuguese
novel, drama, poetry
1992
Derek Walcott
 Saint Lucia
English
poetry, drama
2006
Orhan Pamuk
 Turkey
Turkish
novel, screenplay, essay
1961
Ivo Andrić
 Yugoslavia (Born in Austria-Hungary)
Serbo-Croatian[66]
novel, short story
Related Maps: