What Is North Korea Doing?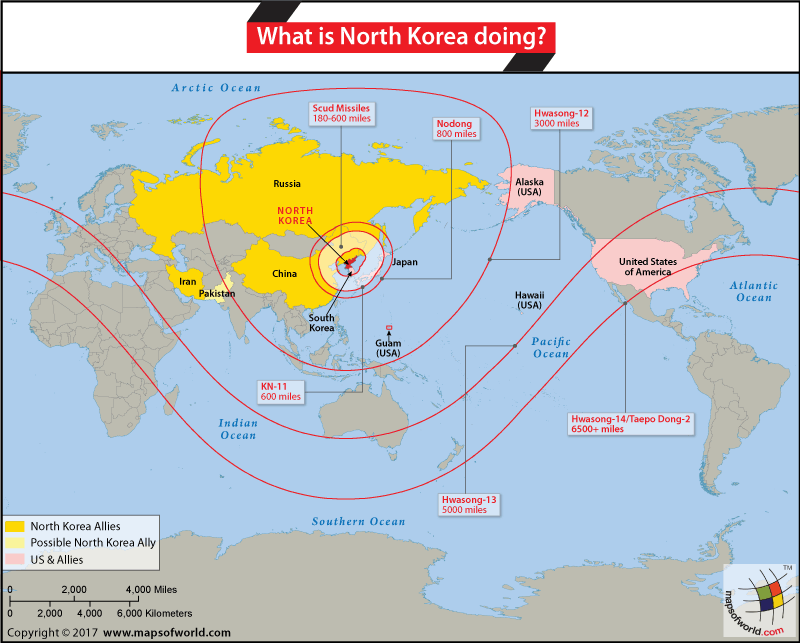 Taking on the US in a military combat is no child's play and the world knows it. The United States is the world's largest economy and is a lethal military force that holds a highly sophisticated arsenal. It seems, however, that North Korea is headed towards an all-out conflict with the US. Over the past few years Pyongyang has been flexing its muscles, threatening the US with missile attacks which, it claims, can reach mainland US. Recently, North Korea's attitude has become a lot more aggressive. The rather public tiff between Donald Trump and Kim Jong-un has marked an all-time low in the relations between the two countries.
Donald Trump's warning to unleash "fire and fury" on North Korea, one that the world has never seen before, may be tough talk but is not quite enough to send the North Korean leader Kim Jong Un scurrying into the bunker. Within hours, North Korea responded that it would envelop Guam, a US island territory in the Western Pacific, with fire. What, exactly, is North Korea doing? Despite knowing the consequences of a full blown (albeit suicidal) war with the US why is North Korea, a nation with shaky infrastructure and a largely poor population, itching to take on the United States?
Is North Korea muscle flexing for concessions and recognition?
Over the past few years North Korea has been testing various missiles to enhance its power and prestige. The United States is not the only nation on North Korea's radar. It has threatened Japan and its neighbor South Korea, both US allies. North Korea has a dictatorial form of government; the country is run by its dictator Kim Jong-un and his regime is a very brutal one. In fact, the nation's refusal to abide by international laws, its undeterred pursuance of nuclear weapons, and its oppressive treatment of its own populace has earned it the reputation of being a "rogue nation".
North Korea's threat stems from the fact that it wants an assurance that the nation will not be attacked or even stifled by economic sanctions. In a nutshell, Kim Jong Un wants his regime to survive. What annoys North Korea is the refusal of the United States to accept it as a global nuclear power. In fact, the US wants North Korea to give up its nuclear weapons and open the country up to UN inspectors. North Korea feels that this may be detrimental to its very existence. The US has a strong military presence in Guam which is a little more than 2,000 miles from North Korea.
North Korea's foreign affairs – Russia, China and Iran
It case war does break out, the international community is highly likely to back the US. Russia, China, and Iran, however, may remain neutral given their close ties with North Korea.
North Korea shared close ties with the former USSR. Following the disintegration of the USSR, North Korea's ties with Russia have only strengthened. Though Putin has opposed the missile tests conducted by North Korea, he has also spoken against the joint military exercises conducted by South Korea and the US in the region. Russia also has strong trade ties with North Korea; trade between the two countries grew by about 73 percent in the first two months of 2017. In fact the two nations declared 2015 a 'year of friendship'.
Despite the fact that China had opposed North Korea's recent missile test, it is still the North's closest ally. Relations between the countries have deteriorated with Kim Jong Un's ascent to power in 2011 and with China exerting pressure on the North to put an end to its nuclear tests and missile launches. In February 2017, China suspended coal imports from North Korea to enforce UN sanctions but fell short of blocking food and energy supplies. The Sino-North Korea Friendship, Cooperation, and Mutual Assistance Treaty, signed in 1961, may, however, force China to intervene if the US strikes first.
Iran also maintains close ties with Pyongyang. On August 3, 2017, Kim Yong Nam, president of the Supreme People's Assembly and the number two official in North Korea, landed in Tehran for a 10-day visit. Further, North Korea has opened an embassy in Tehran. It remains to be seen how these nations will react in the eventuality of war.
There are also claims of Pakistan having supplied North Korea the required nuclear technology to build its arsenal. Dr. A Q Khan, a senior atomic research scientist from Pakistan, allegedly traveled to North Korea and provided them with the technology.
Can North Korean Missiles reach the US, South Korea and Japan?
North Korea's short-range missiles can reach South Korea and Japan. North Korea's missile program accelerated last year and in May 2017 it launched an intermediate-range ballistic missile which puts Guam within reach. The Hwasong-14 (intercontinental ballistic missile), which was tested this July and has a range of 6,000 miles, and is believed to have the capability of striking any target in the Northern Hemisphere.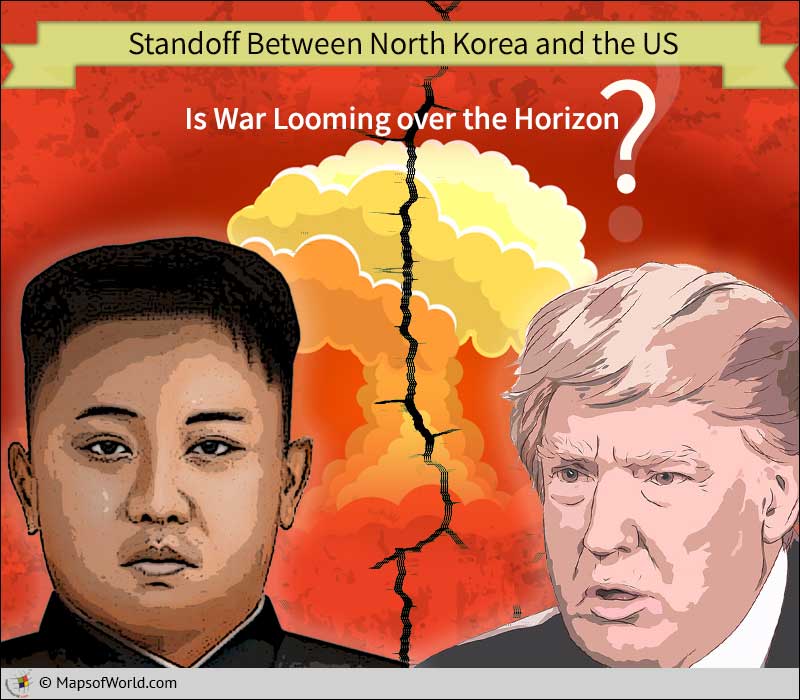 Last week, North Korea and the US decided to tone down the belligerent exchanges that were being exchanged and Kim Jong Un announced his decision to postpone missile testing near Guam. The US also said that it was at a standoff with North Korea. The international community is hopeful that diplomatic efforts will replace threats and military action.
Related Maps: