Is Pakistan a Terrorist State?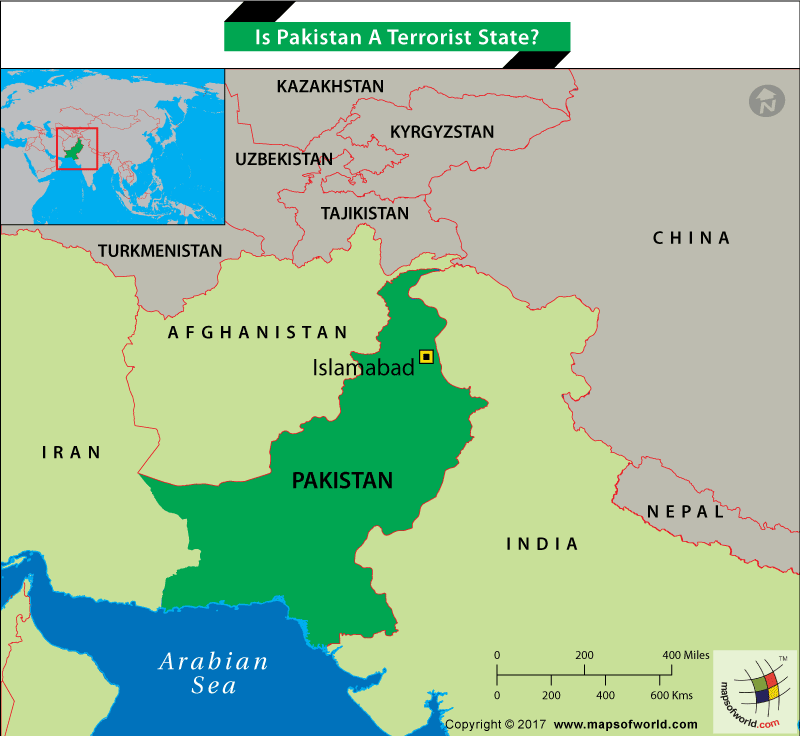 No, Pakistan is not a terrorist state.
For quite some time now, Pakistan's neighbors India and Afghanistan have accused Pakistan of indulging terrorists and using state-sponsored terrorism as a matter of policy. Many western nations including the US and UK have also raised serious concerns about terrorist activity in the country. Despite this, Pakistan is far from being declared a terrorist state. In October 2016, US State Department spokesperson John Kirby said that the country does not support declaring Pakistan a terrorist state but will work with Pakistan's government to eliminate "safe havens" for terrorists in the country. Earlier this year (February 2017), the Indian government too decided to oppose a bill that seeks to declare Pakistan a terrorist state (The Declaration of Countries as Sponsor of Terrorism Bill, 2016). This comes despite historic accusations by India that numerous terrorist camps are live and operating on Pakistani soil and that cross border terrorism originating in Pakistan is one of India's greatest security threats.
The refusal of most leading countries of the world to call Pakistan a terrorist state, however, should not be deemed a clean chit for the country. Pakistan faces allegations of sponsoring terrorism not only by its neighbors but also by various independent authors, investigative journalists, and media publications across the world. Osama bin Laden, possibly the world's most infamous terrorist and mastermind of the 9/11 attacks is believed to have lived in Pakistan, just about a kilometer away from the country's leading military academy, till he was killed by US forces. Pakistan denied any knowledge of his existence. Other al-Qaeda terrorists Khalid Sheikh Mohammed, Abu Zubaydah, and a number of others have also been captured on Pakistani soil, indicating that the country could be routinely used by terrorists as a safe hideout.
Pakistan's intelligence services, the ISI is believed to support and train terrorists to fight in Afghanistan and in India (particularly in the state of Jammu & Kashmir). India says it has conclusive proof that Pakistan based terrorists are behind numerous terrorist attacks in the country including the 2001 Indian Parliament attack, the November 2008 Mumbai attacks, the 2016  Pathankot attack, and the 2016 Uri attack. Afghanistan claims that the support of Pakistan's army led to the rise of the Taliban. Even about a decade ago FBI satellite imagery confirmed the existence of terrorist training camps in the country. India claims that these camps continue to exist and have increased in number. Recently Iran too has warned Pakistan to dismantle these terror camps.
Despite these facts, Pakistan continues to remain of geopolitical significance in the Indian subcontinent. The government of the country is a democratically elected one, although a weak one, thus making the military a powerful force. Most nations of the world maintain diplomatic ties with Pakistan and the possibility of the country being declared a terrorist state is a remote one.
Related Maps: