What are the Key Facts of Kiribati?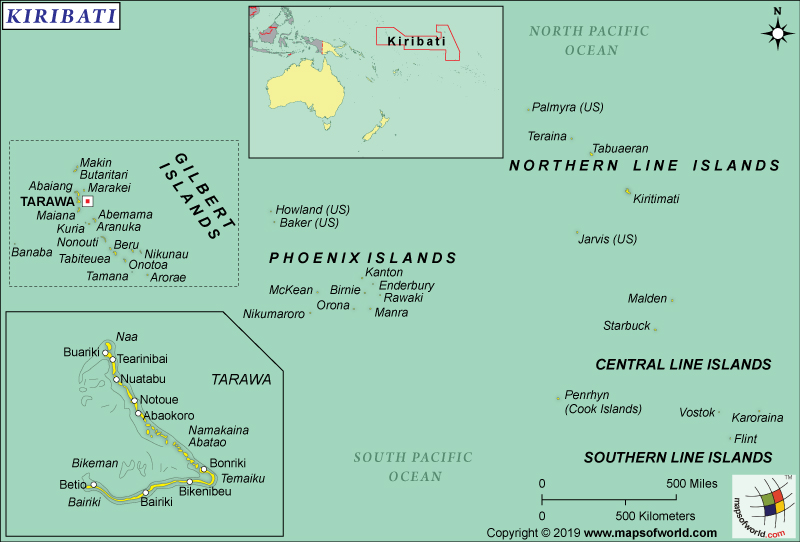 | | |
| --- | --- |
| Official Name | Republic of Kiribati |
| Continent | Oceania |
| Capital | Tarawa |
| Largest City | Tarawa |
| Coordinates | 1.416667, 173.000000 |
| Area | 313 sq mi ( 811 sq km) |
| Land Boundaries | 0 mi ( 0 km) |
| Coastline | 710 mi ( 1,143 km) |
| Currency | Kiribati dollar, Australian dollar (AUD) |
| Neighboring Countries | Marshall Islands, Nauru, Tuvalu |
| Population | 110,136 (2015 census ) |
| Official Languages | English, Gilbertese |
| Major Religion | Christianity |
| National Day | 12 July (Independence Day) |
| National Anthem | "Teirake kaini Kiribati" |
| Form of Government | Unitary parliamentary republic |
| President | Taneti Mamau |
| Vice President | Teima Onorio |
| GDP per capita (PPP) | $ 2,289.9 (World Bank, 2018) |
| GDP per capita (nominal) | $ 1,625.3 (World Bank, 2018) |
| HDI | 0.612 (2017), Rank: 134 |
| Literacy Rate (%) | NA |
| Space Agency | NA |
| Military Expenditure Ranking | NA (SIPRI, 2017) |
| No. of Olympic Medals | 0(as of 2018) |
| Driving Side | left |
| Calling Code | +686 |
| Time Zone | UTC+12, +13, +14 |
| Internet TLD | .ki |
Where is Kiribati?
Kiribati (pronounced as Kiribas) is a remote part of Micronesia (a division of Pacific Islands) that is located in the central Pacific Ocean. It is situated around 4,000 km (about 2,500 mi) to the southwest of Hawaii.
What is the Geography of Kiribati?
Kiribati consists of 33 coral islands, which are divided into three groups of islands: The Phoenix Islands, the Gilbert Islands, and the Line Islands. These island groups are spread over an area of around 3.5 million sq. km (1.35 million sq. mi). Most of the atolls are barely 6 m (20 ft) above sea-level and are surrounded by barrier reefs.
Except for one island (Banaba in the Gilbert Islands), all others are atolls that are characterized by a ring-shaped structure having central lagoons. Banaba is a raised limestone Island. Only 21 out of the 33 islands are inhabited. While Tarawa (in the Gilbert Islands) is the capital city, an islet of Tarawa named Bairiki works as an administrative center.
The total area of Kiribati is 811 sq. km (313 sq. mi), out of which entire 811 sq. km (313 sq. mi) is. From east-to-west, islands extend around 3,900 km (about 2,400 mi). From north-to-south, the islands straddle the equator and extend around 2,100 km (about 1,300 mi). Kiribati has a 1,143 km (710 mi) coastline.
The Line Islands is the largest atoll in the world, in terms of land area. Its total land area is 609 sq. km (235 sq. mi). The exclusive economic zone of Kiribati is spread over an area of 3 million sq. km (over 1.16 million sq. mi). The average elevation of the country is just 2 m (6.56 ft). While the highest elevation point is 81 m (266 ft) located on Banaba, the lowest elevation point is sea level at the Pacific Ocean.
This country has a hot and humid tropical climate. The ocean temperatures surrounding the atolls and islands are closely related to air temperature. Throughout the year, the temperature remains relatively constant, with a maximum seasonal variation of around 1°C (33.8°F). While the average water temperature remains around 28-29 °C (82.5-84.2°F), the air temperature remains within 26-32°C (78.8-89.6°F) throughout the year.
There are two wet seasons in Kiribati. While the first one is from February-to-May, the second is from September-to-November. The dry season lasts from December-to-March. And even though the maximum rainfall in the group of islands can go over 4,000 mm, the lowest it has received till now is just 150 mm all-year long. The factors that affect rainfall and overall climate in Kiribati include the movement of the South Pacific Convergence Zone, the Intertropical Convergence Zone, and El Nino-Southern Oscillation.
As per the World Bank, "Kiribati is highly exposed to the effects of sea level rise, storm surge, coastal erosion and saltwater intrusion. Access to fresh water is particularly challenging, as population growth, saltwater intrusion and droughts increasingly jeopardize Kiribati's very limited groundwater supplies."
What is the Economy of Kiribati?
The nominal GDP of Kiribati was US$188.28 million in 2018, making it the poorest country in Oceania. Though phosphates constituted profitable exports, the total deposits got exhausted back in 1979. Kiribati's economy depends heavily on foreign assistance. It is highly dependent on fishing (26.1%) and government consumption (25.7%).
The main constraints of Kiribati's growth potential (as assessed by Asian Development Bank or ADB) include limited land area, dispersion of the geography spread across 5,000 km (3,107 mi) of ocean, high external costs of transport (because of major markets' travel distance from the islands), natural resource scarcity, and high vulnerability to natural forces. Both government consumption and construction works are funded mainly from the revenues earned from fisheries as well as donor programs.
Other important economic activities include cutting dried coconut kernels and agriculture. As employment opportunities are limited, Kiribati has a high unemployment rate (to the extent of 30%, as estimated by Kiribati Fifth Economic Reform Development Policy Operation document dated October 31, 2018). Every 1 person in 4 persons is poor (unable to get the basic needs of life). Just 4-in-10 adults are employed, which causes per capita income to fall. A large percentage of people in Kiribati live on imported food supplies, subjecting them to price fluctuations.
What is the Transportation System of Kiribati?
Kiribati has limited transportation system for connectivity with the other parts of the world. There are just 19 airports (4 paved and 15 unpaved) in the country, out of which two are international airports. The schedule airlines are limited and the fares are also significantly high. International passenger ships are non-existent. Fiji Airways and Air Nauru are the only airliners available. Air Kiribati Ltd (AKL) carries out the domestic air transport, mainly limited to the Gilbert Islands.
Just 670 km (416 mi) of roadways are available. Motorized vehicles are not available in many outer islands and the locals use motorbikes, bicycles or foot for transport. Private bus services are available mainly in South Tarawa.
Waterways are also limited to the Line Islands' small network of canals, which extends to just 5 km (3.11 mi). Sea transport is the favored mode of transport for inter-island travel. Kiribati has 111 merchant marine ships, out of which 46 are general cargo, 16 oil tankers, 3 bulk carrier, and 46 others. Betio, English Harbor, and Canton Island are the major seaports of the country.
What International Organizations is Kiribati part of?
UN, ABEDA, ACP, IMF, ADB, AOSIS, ILO, C, FAO, IBRD, UNESCO, ICAO, ICRM, UNCTAD, IDA, IFAD, WHO, IFC, Sparteca, IFRCS, IMO, WIPO, IOC, ITU, WMO, OPCW, PIF, SPC, UPU, ITUC (NGOs)
Related Maps: