What is the Capital of Italy?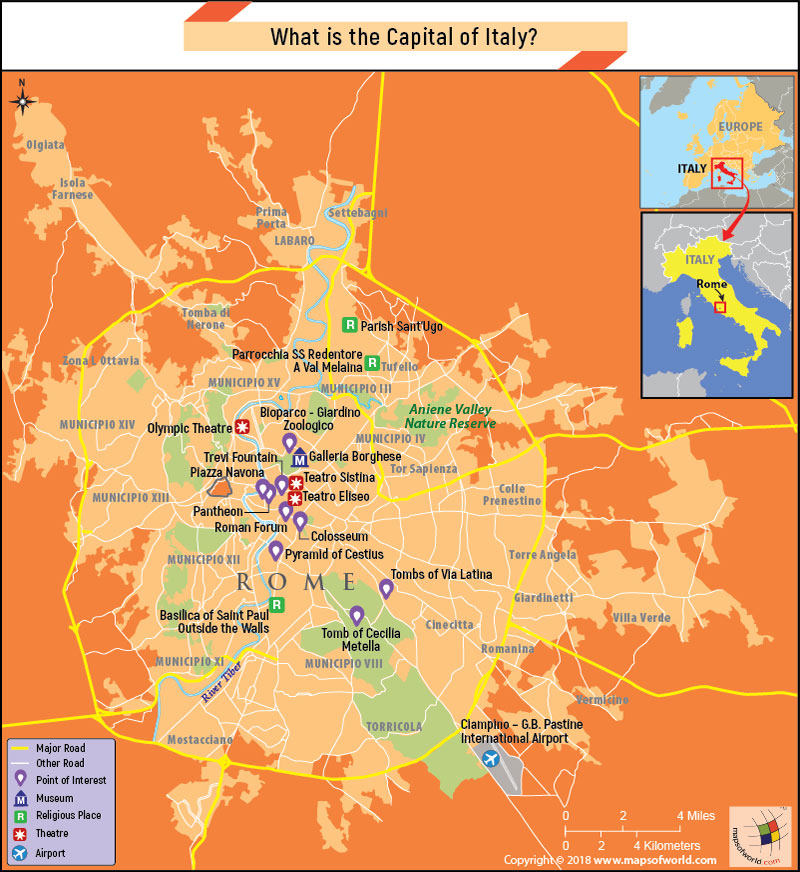 What is Italy's capital?
Rome is the capital of Italy.
Rome is situated in the central-western part of the Italian Peninsula and is the most populated commune in Italy. It has a population of 2.9 million (2016) residents and covers an area of 496.1 square miles.
Rome is an ancient city comprising a history spanning back many centuries. It is stated to be the oldest continuously occupied site in Europe. Though people have been living in Rome since times immemorial, the traditional date of Rome's foundation is April 21, 753 AD, some 28 centuries ago. The following centuries witnessed the emergence of Rome as the most important city in the world. Initially, as the capital of the Roman Kingdom, and then the Roman Republic and the Roman Empire, Rome became a great center of trade, commerce, culture, and political power.
The city witnessed a period of decline following the fall of the Roman Empire around 476 AD. The end of the Roman Empire is also considered to be the beginning of the medieval ages. With the end of the Empire, the Papacy gained control of the city and by the 8th century, Rome had become the capital of the Papal States. In 1861, the Kingdom of Italy was established and by 1870 the Papal States had dissolved. Thus, in 1871, Rome became the capital of the Kingdom of Italy. In 1946, the monarchy was ended in Italy through a referendum, and the Italian Republic was formed, creating present-day Italy, and Rome was chosen as its capital.
A prosperous city, Rome is home to many multinational companies and international organizations. The headquarters of the Food and Agriculture Organization, as well as that of private companies and banks such as Eni, TIM, BNL and many others, are located in the city. Rome is also one of the most popular tourist destinations in the world and is home to many magnificent structures dating back to the era of the Roman Empires. Tourists from around the world visit Rome to have a glimpse at its imposing structures such as the Colosseum, the Pantheon, Roman Forum, Trevi Fountain, Piazza Navona, and many others. In 2016, Rome was listed as Italy's most popular tourist attraction and the 14th most visited city in the world.
Visit the following to learn more about Italy:
Related Maps: