Where is the Valley of Ten Peaks?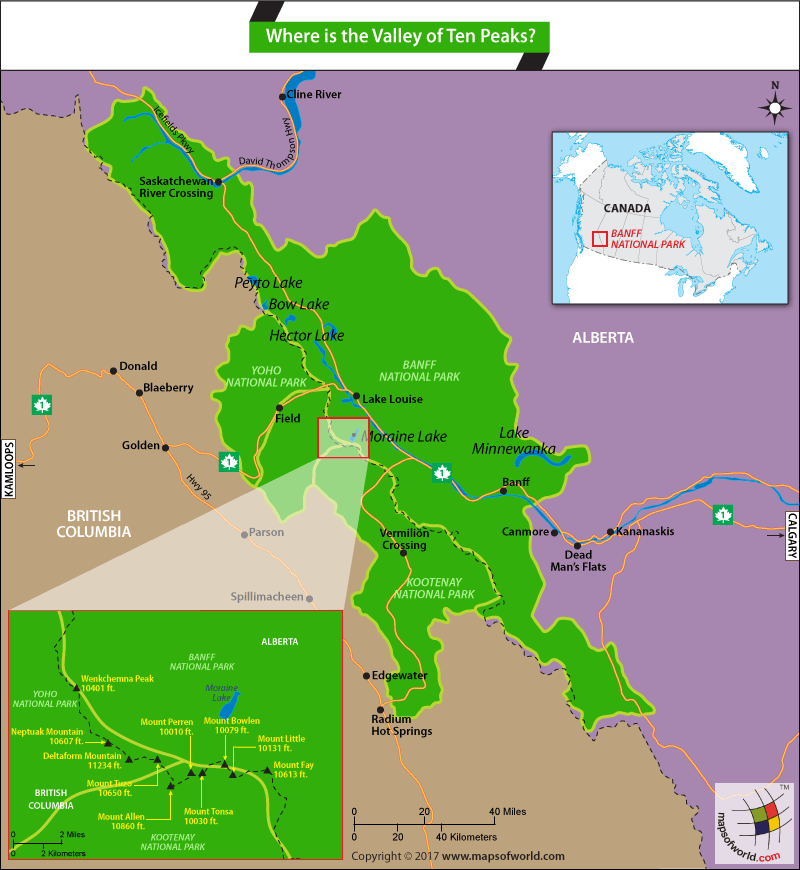 The Valley of Ten Peaks is located in Banff National Park, Canada. The 2,564 square mile (6,641 square km) park is located at a distance of about 80 miles (130 kilometers) west of Calgary, in the province of Alberta. It occupies the eastern slopes of the Rocky Mountains. Banff National Park, which encompasses the Valley of Ten Peaks is the oldest national park in Canada and was established in 1885. The national park was designated a UNESCO World Heritage site (as part of the Canadian Rocky Mountain Parks) in 1984.
The ten peaks as visible from Sentential Pass (east to west) and their height, in feet, are:
| | |
| --- | --- |
| Peak Name | Height (ft) |
| Mount Fay | 10,613 |
| Mount Little | 10,131 |
| Mount Bowlen | 10,079 |
| Mount Tonsa | 10,030 |
| Mount Perren | 10,010 |
| Mount Allen | 10,860 |
| Mount Tuzo | 10,650 |
| Deltaform Mountain | 11,234 |
| Neptuak Mountain | 10,607 |
| Wenkchemna Peak | 10,401 |
The crystal clear blue waters of the Moraine Lake in the Valley of the Ten Peaks reflect these ten lofty peaks. The scenic beauty of this lake and its grandeur are legendary and attract a number of nature lovers each year. In fact, the Valley of Ten Peaks and the Moraine Lake are so well known that they were featured on the back of the Canadian $20 bills between 1969 and 1979.
The Valley of Ten Peaks is a favorite with adventure enthusiasts and hikers. A number of hiking trails (of various difficulty levels) crisscross the park. Paddles and canoes are also available for those who prefer to canoe through the lake.
It is believed that in the late 1800s, American explorer and alpinist Samuel Allen who visited the region, named the ten peaks after the native Nakoda (Stony Indian) names for the peaks. These names – Heejee, Num, Yamnee, Tonsa, Sapta, Shappee, Shagowa, Shakhnowa, Neptuak, and Wenkchemna – are believed to be the native names for the first 10 numbers, signifying that there are 10 peaks. These names, however, were lost (except Tonsa, Neptuk, and Wenkchemna) and recent explorers gave the peaks their current names.
Related Maps: