What are the top 10 countries with the largest forest areas?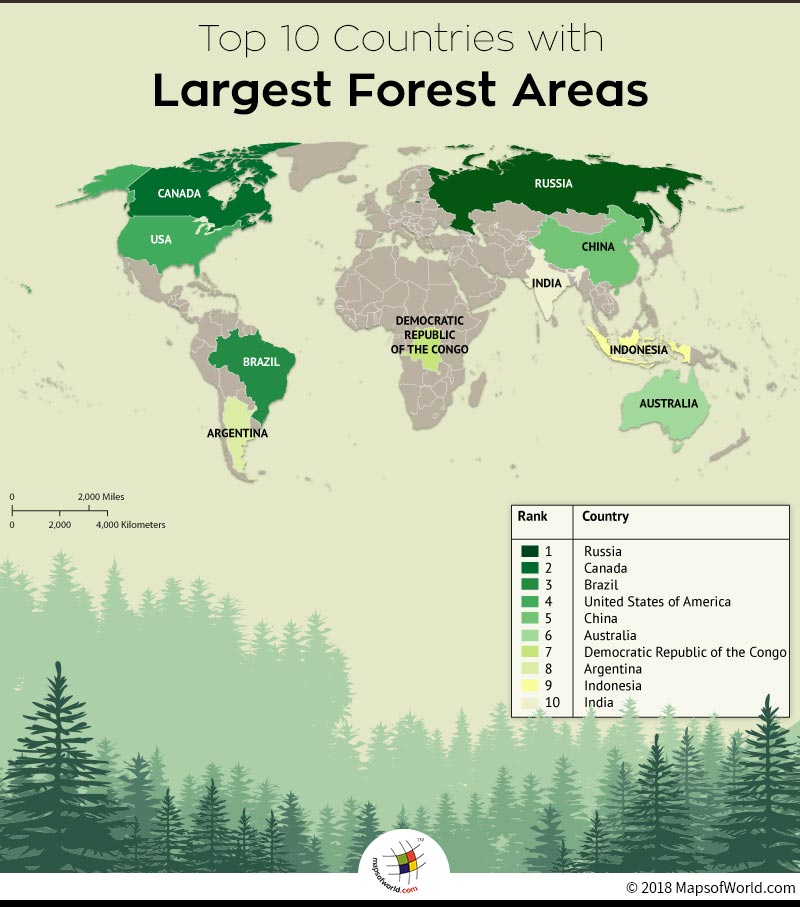 Throwing light on the significance of forests, Gautam Buddha quoted that, "The forest is a peculiar organism of unlimited kindness and benevolence that makes no demands for its sustenance and extends generously the products of its life activity; it affords protection to all beings, offering shade even to the axe-man who destroys it." The forest cover of the world reflects the health of the planet. Beyond the orchestration of natural phenomena of temperature, rain, soil erosion and air purification, the forest can play an important role in the backdrop of the global climate change. Some of the largest forest areas are home to the wildlife and numerous forest communities.
The drop in the forest cover leads to an apparent change in the levels of carbon dioxide in the atmosphere, resulting in greenhouse gas effect. The releasing of this stored carbon accounts for 15%-20% of global carbon emissions.
Some 70% of the world's animal and plant species inhabit forest lands. A forest area refers to all geographical areas recorded as forests in government documents.
Afforestation, reforestation and deforestation have rippling effects. This helps manage the carbon sequestration but also affects the soil organic quality and groundwater resources and quality. The change in the land use patterns and the need to strip forests to meet the demands of agricultural and economic developments has led to deforestation.
The top five countries with the largest forest area are-
 

Russia

, with 49.40% of forest area, accounts for the largest forest area of the world. Spreading over much of Northern Eurasia, the country falls largely in the Sub-Arctic zone. Russia's forest falls into two main groups- coniferous evergreen and deciduous birches. Other trees include Larch, Fir, Pines, Spruces and Cedars.

Canada

, with 49.24% of forest area, is the second country accounting for largest forest area. The country falls in the Frigid zone with low temperatures. The types of forest are largely deciduous with tree species such as Maple, Pines, Spruces, Birch, Oak.

Brazil

lies in the Tropical zone and Temperate zone. The types of forest in Brazil are rainforest, deciduous forest and savannas. A large cover of Brazil's forest cover falls in the Amazon Basin.
United States of America,lies in the Tropical as well as Temperate zones. These types of forest cover include trees like White Oaks, Dogwood, Fir, Aspen, Maple.
China, with 21.83% of forest area, has deciduous and evergreen forest. The country falls in the Temperate and Sub-Tropics of the world.
Below lying table depicts the top 10 countries with largest forest area in the world-
S.No.

Country

Land area under

forest cover

(Square miles)

% of total land area

1

Russia

31,46,462

49.40%

2

Canada

18,98,247

49.24%

3

Brazil

18,44,402

56.10%

4

United States of America

11,97,283

33.84%

5

China

8,04,331

21.83%

6

Australia

5,67,891

19.90%

7

Democratic Republic of the Congo

4,52,783

50.00%

8

Argentina

3,64,996

34.00%

9

Indonesia

3,41,681

46.46%

10

India

3,09,687

23.68%
Know more:
Related maps: