When is Mother's day celebrated across the world?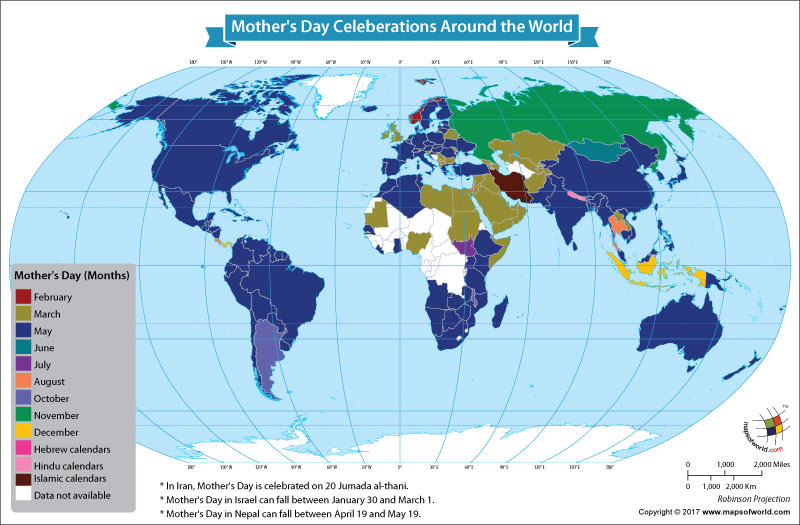 Every year, on the second Sunday in May, people in many nations around the world celebrate Mother's Day. The day honors the mother, maternal bonds and the role that mothers play in the society. It is the day when people across the globe take the opportunity to make their mother's feel loved, honored, as well as important. It is the day when children pamper their mothers by giving them gifts, taking them out for lunch, dinner, or to the movies, or just spending the entire day with them.
Though Mother's Day is a universal festival and is celebrated across the world with great enthusiasm, the date and even months in which it is celebrated vary from country to country. Though a majority of nations celebrate Mother's Day either in March or May, some nations celebrate it in different months.
In the United States Mother's Day is observed on the second Sunday of May. Here Mother's Day celebration is a recent phenomenon and dates back to 1908. This Year, the United States will observe Mother's Day on May 14. Other nations, which celebrate Mother's Day on the second Sunday of May are Australia, Brazil, Canada, China, Denmark, Belgium, Germany, India, Japan and many others.
Meanwhile, many nations also celebrate the day on the first Sunday of May. These are Angola, Cape Verde, Hungary, Lithuania, Mozambique, Portugal, Romania, and Spain. While in South Korea, the day is observed on May 8, in the nations of El Salvador, Guatemala and Mexico, the day is observed on May 10.
In the United Kingdom, the day is known as Mothering Sunday and is celebrated in March, i.e. on the fourth Sunday in Lent. Other nations celebrating the Mothering Sunday are Nigeria, Ireland, Isle of Man, etc.
In some nations such as Bulgaria, Macedonia, Serbia, Uzbekistan, Laos, Afghanistan, and some other nations, Mother's Day is celebrated on March 8, which is the International Women's Day. In Slovenia Mother's Day is observed on March 25. Many countries also observe the day on March 21 and a few of these are – Bahrain, Egypt, Jordan, Kuwait, Mauritania, Palestine, Saudi Arabia, Sudan, Syria, and a few other nations.
Some countries where Mother's Day is celebrated in months other than March and May are Norway, where it is observed on the second Sunday of February; Armenia, on April 7; Mongolia, and Luxembourg in June; Thailand on August 12, which is the birthday of Queen Sirikit; Belarus and Argentina in October; North Korea and Russia in November; etc.
To get information on when is Mother's Day celebrated in each nation refer to the table below.
Gregorian calendar
Occurrence
Month
Dates
Country
Second Sunday of February
February
Feb 14, 2016 Feb 12, 2017 Feb 11, 2018
 Norway
03/03/18
March
 Georgia
8 March (with International Women's Day)
March
 Afghanistan
Albania
Armenia
Azerbaijan
Belarus
Bulgaria
Kazakhstan
Kosovo
Laos
Macedonia
Moldova
Montenegro
Serbia
Slovenia
Tajikistan
Uzbekistan
Fourth Sunday in Lent (Mothering Sunday)
March
6 Mar 2016
26 Mar 2017
11 Mar 2018
 Guernsey
Ireland
Isle of Man
Jersey
Nigeria
United Kingdom
21 March
(Spring equinox)
March
 Bahrain
Comoros
Djibouti
Egypt
Iraq
Jordan
Kuwait
Libya
Lebanon
Mauritania
Oman
Palestine
Qatar
Saudi Arabia
Somalia
Sudan
Syria
United Arab Emirates
Yemen
25/03/18
March
 Slovenia
7 April (Annunciation day)
April
 Armenia(Motherhood and Beauty Day)
First Sunday of May
May
May 1, 2016
May 7, 2017
May 6, 2018
 Angola
CapeVerde
Hungary
Lithuania
Mozambique
Portugal
Romania
Spain
08/05/18
May
 South Korea (Parents' Day)
10/05/18
May
 El Salvador
Guatemala
Mexico
Second Sunday of May
May
May 8, 2016
May 14, 2017
May 13, 2018
 Anguilla
Antigua and Barbuda
Aruba
Australia
Austria
Bahamas
Bangladesh
Barbados
Belgium
Belize
Bermuda
Bhutan
Bonaire
Botswana
Brazil
Brunei
Canada
Cambodia
Chile
China
Colombia
Croatia
Cuba
Curaçao
Cyprus
Czech Republic
Denmark
Dominica
Ecuador
Estonia
Ethiopia
Fiji
Finland
Germany
Ghana
Greece
Grenada
Guyana
Honduras
Hong Kong
Iceland
India
Italy
Jamaica
Japan
Kenya
Latvia
Liberia
Liechtenstein
Macau
Malaysia
Malta
Myanmar
Namibia
Netherlands
NewZealand
Pakistan
PapuaNewGuinea
Peru[30]
Philippines
PuertoRico
SaintKittsandNevis
SaintLucia
SaintVincentandtheGrenadines
Samoa
Singapore
SintMaarten
Slovakia[29]
SouthAfrica[31]
SriLanka
Suriname
Switzerland
Taiwan
Tanzania
Tonga
TrinidadandTobago
Turkey
Uganda
Ukraine
UnitedStates
Uruguay
Vietnam[21]
Venezuela
Zambia
Zimbabwe
15/05/18
May
 Paraguay(samedayasDíadelaPatria)[32]
19/05/18
May
 Kyrgyzstan(Russian:Деньматери,Kyrgyz:Энэкүнү)
26/05/18
May
 Poland
27/05/18
May
 Bolivia
Last Sunday of May (sometimes First Sunday of June if the last Sunday of May is Pentecost)
May
May 29, 2016
May 28, 2017
May 27, 2018
 Algeria
Dominican Republic
France
French Antilles ( FirstSunday of June if Pentecost occurs on this day )
Madagascar
Morocco
Haiti
Mauritius
Senegal
Sweden
Tunisia
30/05/18
May
 Nicaragua
01/06/18
June
 Mongolia (together with Children's Day)
Second Sunday of June
June
Jun 12, 2016
Jun 11, 2017
Jun 10, 2018
 Luxembourg
First Monday of July
July
Jul 4, 2016
Jul 3, 2017
Jul 2, 2018
 South Sudan
12/08/18
August
 Thailand (birthday of Queen Sirikit )
15 August (Assumption of Mary)
August
 Costa Rica
Antwerp ( Belgium)
Second Monday of October
October
Oct 10, 2016
Oct 9, 2017
Oct 8, 2018
 Malawi
14/10/18
October
 Belarus (since1996)
Third Sunday of October
October
Oct 16, 2016
Oct 15, 2017
Oct 21, 2018
 Argentina
03/11/18
November
 Timor Leste
16/11/18
November
 North Korea
Last Sunday of November
November
 Russia
8 December (Feast of the Immaculate Conception)
December
 Panama
22/12/18
December
 Indonesia
Hebrew calendars
Occurrence
Equivalent Gregorian dates
Country
Shevat 30
Between 30 January and 1 March- Family Day
 Israel
22/05/18
Mother's Day – new
 Israel
Hindu calendars
Occurrence
Equivalent Gregorian dates
Country
Baisakh Amavasya (Mata Tirtha Aunsi)
Between 19 April and 19 May
   Nepal
Islamic calendars
Occurrence
Equivalent Gregorian dates
Country
20 Jumada al-Thani
20 April 2014
10 April 2015
30 March 2016
 Iran
Know more:
Related maps: