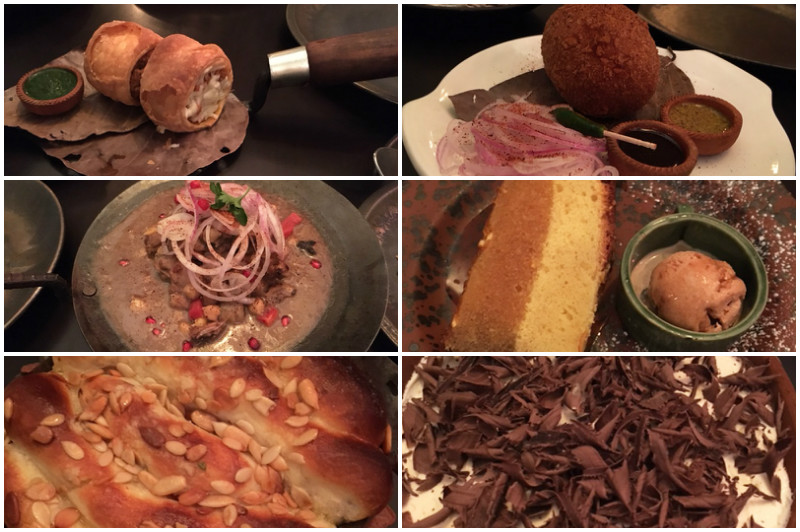 Who would have thought of getting the taste of Armenia in South Delhi? I was excited to try out a new world cuisine in town, and that too, reminiscent of someone's childhood. I decided to take my almost 24-year-old for a pre-birthday dinner to offer an all-round perspective
The Location
Little away from the hustle bustle of Delhi, the restaurant is nestled in idyllic surroundings. It couldn't have found a better location than this in Mehrauli.
Address: H-5/1 Ambawatta One, Kalkadass Marg, Mehrauli
The Timings
12 Noon to Midnight
The Ambiance
I just loved the place! It's truly a labor of love. I could sense the passion of someone trying to recreate the past and memories of childhood and the way they merged into the haveli concept. Felt like high drama and a bit of Alice in Wonderland, with high ceilings, jharokha-like huge windows, geometric windows, indigo tiles, kantha on the seating, floral tapestry, fairy lighting on the front yard tree, balcony lights in big candy glass jars and a smattering of peacock screens lend the restaurant an Armenia-Turkish touch.
It was an amalgam of a casual cafe and a smart club, with a retro Bengal and Turkish influence. You have to go there to experience it. Almost magical at night, it's a good idea to book your place, especially if you want to go post 9 pm.
The Service
Pretty good! The floor manager took extra pain to come over to our table, introduce the concept, and make suggestions. We received a very warm and personalized attention from him. Although I had to wave my hands frantically to catch my waiter's attention once or twice, I don't have any complaints on the service front.
The Food
The proof of the pudding is in the eating, and the one at Lavaash is worth the calories! More of that later, let's begin with starters and mains first.
The menu is a smattering of Armenian elements with a Bengali touch. It's like having cuisines of Bengal with an Armenian influence. Hence, loads of kasundi (mustard) and Kalimpong cheese, cutlets, and kebabs on the menu. I actually had a tough time deciding what I wanted to try. So, two starters, one main, and two desserts among the three of us were the safest bet.
The Egg Devil (₹250) was a soft boiled egg coated with minced chicken and bread crumbs. Looked pretty on the plate, and I felt quite like a judge on the Masterchef cutting open the crispy ball. Yes, it had a perfect soft center, glistening yellow with a crunchy exterior and a hint of whole grain mustard. It was quite nice
The Mutton Puff (₹350) is a not-to-be-missed dish on the menu for sure. It had a spicy mutton filling with a rich and crusty coat. It tasted like a fresh flurry patty. The puff disappeared in a jiffy, though there were two pieces to the portion.
For the main course, we tried Chicken Kalagyosh (₹500), which was listed as an Armenian main, but now as I think of it , I can't help feeling that it was kala gosht cooked in the way locals do. This interesting dish had succulent pieces of bony chicken (I personally felt that boneless would have been better) cooked with chick peas, paprika, parsley, olive oil, and black pepper. The spices were wisely used to bring out the Mediterranean flavour. In fact, large cloves of sweet roasted garlic were used for the Mideastern touch.
I ordered the Matnakash Claypot Bread (₹150) alongside to soak up the gravy. This freshly baked Armenian bread resembled a ploughed field. It was laced with crunchy and yummy chironjee (melon seed that tastes like almonds) and pumpkin seeds. I actually loved the bread even more than the main dish. It was complementing!
It was now the time for desserts. A menu which makes you have a tough time deciding which dish to try and which to give a miss gets my vote… always. You definitely don't stuff yourself before trying the dessert because you can't go to a part Bengali restaurant without trying the mishti (sweets). It's even more enjoyable if it is a bakery 'item'.
The Old Monk Mousse (₹350) was served in an earthen plate to soak up the extra water making the dish richer. It is a rich rum-infused cookie crumble topped with decadent pastry cream and dark chocolate curls. Whatever little I could taste seemed delicious. I didn't get much because the young lady accompanying me polished it off in a jiffy. She absolutely fell in love with it. I guess, the rum element was addictive.
The Orange Pound Cake (₹400) was awesome too. I really enjoyed the palm jaggery syrup softening the perfect marmalade smelling orange cake slice and this was served with delicious nolen gur (palm jaggery) ice cream.
Would I go again? Definitely. I still haven't tried the day menu and would definitely like to catch up with a friend over a coffee overlooking the Qutab Minar. In a city where Thai, Chinese, Lebanese, Italian and Pan-Asian have been done to death, a refreshing change of cuisine is more than welcome!