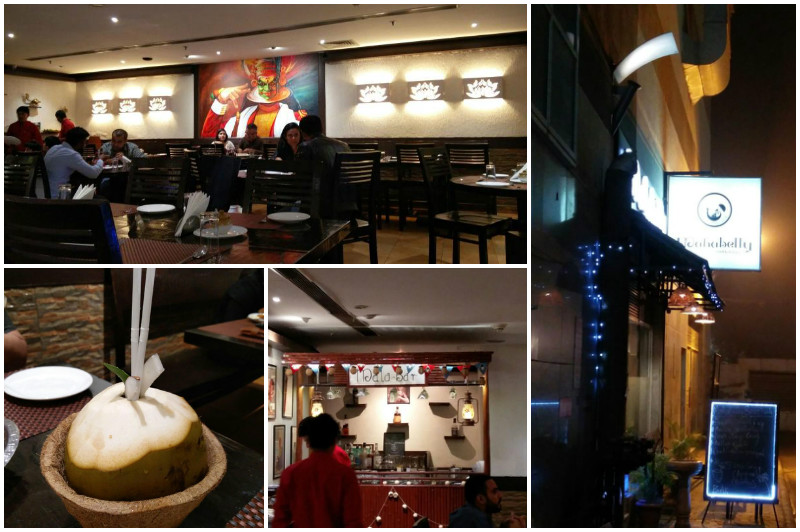 Mahabelly, which means big fat tummy, is actually a play on the name of the famous king Mahabali, This is a joint venture of two alumni of St Stephen's College and a doctor from Kerala. Non-vegetarian South Indian cuisine in a very cool ambiance is the USP of this 50-seater restaurant.
The Location
MA-A05 , Restaurant block,
Ground floor
DLF Place
Saket
The Timings
11AM to 11PM
The Ambiance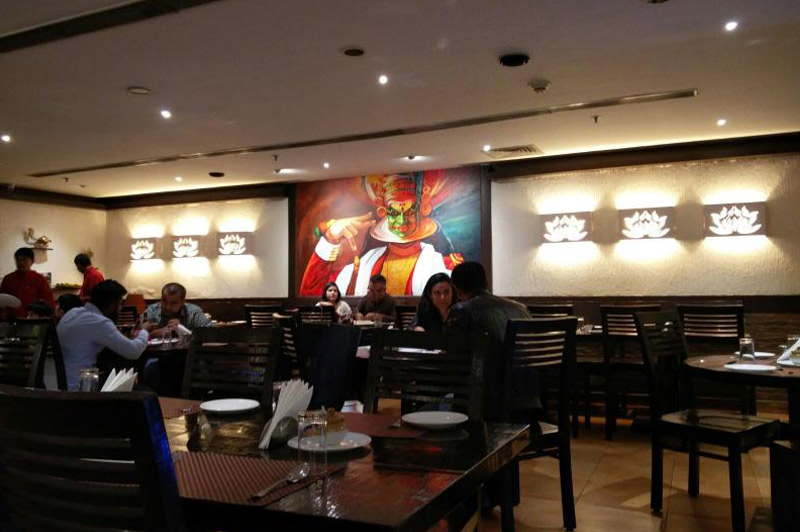 I just loved the place. It's absolutely bipolar! As I entered the restaurant, I saw comfortable chairs and tables. On one wall, a large mural of the traditional Kathakali dancer made me feel I was in a typical South Indian joint, and suddenly I was drawn towards this crazy 26 alphabet-based 'spoofy on southy' fun artwork by Malayali artist Taarika John. The bar looks like a little toddy shack and is appropriately named 'Mala-bar'… sweet!
The Service
Service is impeccable, and the manager floats in an unobtrusive way, making sure that we have a good meal and enjoy the food. In fact, seeing my interest in the delicious sweet raw mango chutney on my table, he appeared with two more tiny jars and compelled me to try the sweet lime pickle and the chilly pickle too!
The Food
The menu features Keralite cuisine with the influence of Syrian Christian, traditional Nair and the Malabar's Moplah cuisine along with authentic dishes served in small toddy shops. With plenty of Appams and Malabar Parathas to go with the food, I couldn't wait to dig in!
I just had to try their signature cocktail – the Thenka Colada (₹299). This was the southy version of my favorite Pina Colada, but made with tender coconut water and served in a coconut shell. It was delicious, and probably put me in a great mood for the rest of the meal.
The Rasam with Pappadam (₹150) was served in a Kullad (earthen cup), was quite nice but not something I would rave about. I wish they could do a variation on it, like a tomato or a tamarind rasam.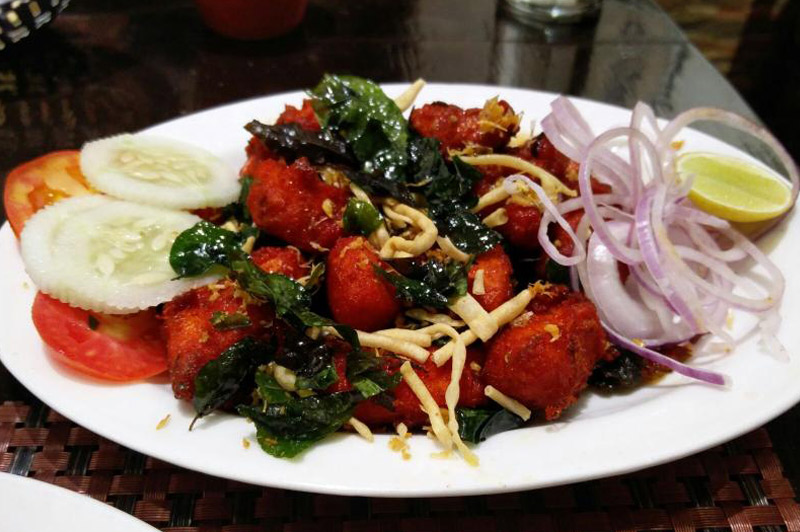 The Chicken 65 (₹350) was fiery red spicy succulent tender red pieces of chicken, with a smattering of fried curry leaves and pappadam strips as a garnish. It was probably one of the best I've had. Moreover, it was juicy but not overly spicy.
The next dish I tried in the mains was the Prawns in mango curry (₹490). This was special. I just loved the flavor. Prawns were perfectly cooked and not rubbery. The raw mango curry was absolutely delightful. There were sliced bits of raw mango too which upped the flavor by a couple of notches. There was a hint of cinnamon which added a slight sweetness too.
I tried this with the rich Kerala Parotha (₹55), which is a shallow fried, flaky rich flat bread. I was transported to the Malabar coast in a jiffy.
The vegetable stew (₹270) had a smattering of fresh vegetables including mushrooms, beans, and carrots in a delicate and mildly spiced coconut gravy. I wondered whether it had a hint of pepper, cloves, and star anise. It tasted delicious with soft and bowl-shaped Appams (₹55). These rice pancakes melt in the mouth.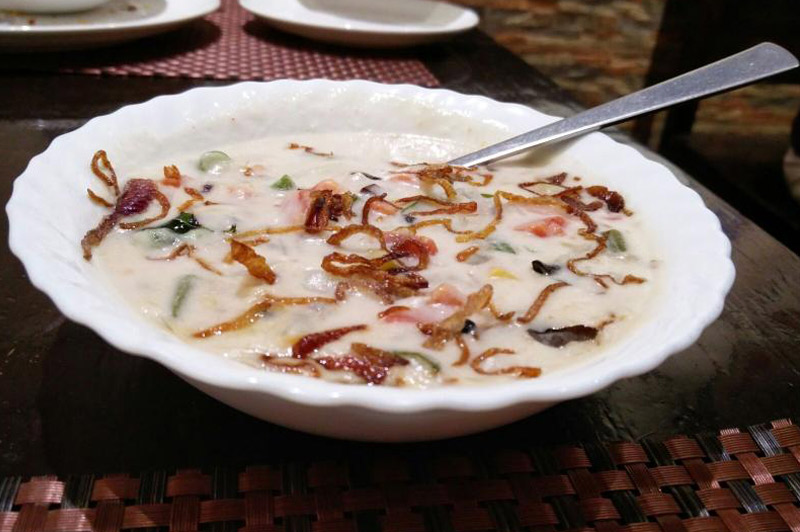 I ended the meal with a dessert. Caramelised Banana with Ice Cream and Palm Treacle (₹160) sounded just like a befitting end to the meal, but turned out to be a disappointment. It's really a sad-looking dish with exactly what it says: Pan fried slivers of banana with droplets of palm syrup drizzled over it. It was not worth the experimentation either. I assume that desserts are not their strong point.
Would I go there again? Surely. And over and over again. I loved the ambiance, the bar, the drinks, the starters, the mains – but will always remember not to have dessert!
The Pricing
Very decent. A meal for 2 with a drink thrown in will set you back by ₹2500