Roses are red, Violets are blue; Romance is in the air and it's time for Rose Cafe review. A cafe by this name warranted a visit, especially when it's a Valentine month.
The Location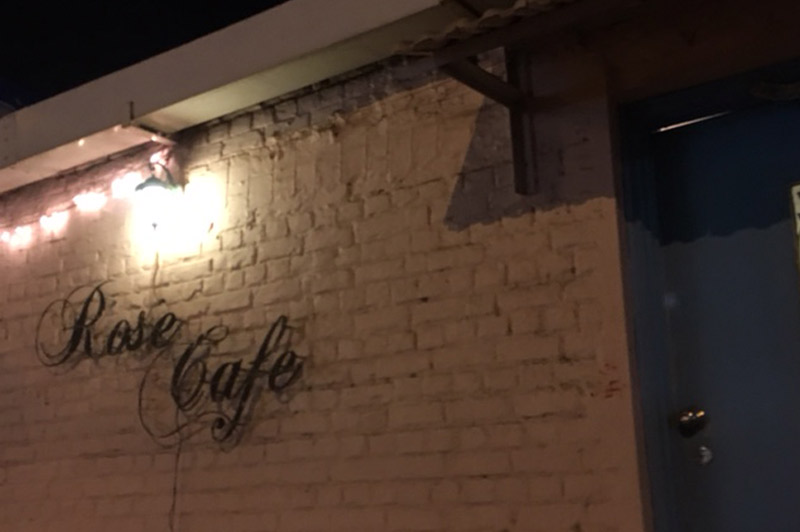 This place is virtually in hiding, hence, relatively unknown. The restaurant is nestled between little kathi shops and grocery stores on a long winding road leading to the Garden of Five Sense. It's off Saidulajab with the nearest landmark being the Saket metro station.
Address: 2, Westend Marg, Saiyad-ul-ajab Extension
New Delhi 110030
The Timings
Interestingly, it opens at noon and closes by 9 pm. Hence, it's a true cafe in every sense.
The Ambiance
Picture a powder blue brick single-storey building with flowery metal-trellised windows with white lace curtains, floral writing on the wall, a blue door, lampshades, flowery teacups hanging by a string, white rustic wooden chairs, tables with tiled surface, a counter with roses, cookie cars with fudge and brownies. The owner of the café was in pink and the service staff in rose-colored shirts.
A giant floral teacup and a mantelpiece like dresser with roses grace the setting. There is space to sit in the backyard too, with fairy lighting and gas heaters to keep you warm. It looks straight out of a 'Woman and Home' type of magazine of the 70s: very sweet and comfortable.
The Service
To say it in one word, it's decent. There is a board which says that all meals are made fresh and hence, service would take 20 minutes or so. In fact, the owner himself comes down to help with the menu. It's a pleasant experience and up to expectations.
The Food
Since I was in for an early relaxed dinner on a Sunday evening, I decided to have Sangria (₹225). Although it was supposed to be a house special, it was pleasant but not exceptional.
Next, I tried the Spiced Pumpkin Soup (₹200) and I was not happy. Pumpkin Soup should be thick, smooth, creamy, bright colored, and heartening. This one was a pale watered down version. The soup was extremely disappointing and should not have moved out of the kitchen. Rather than comforting the soul, it seemed like it was meant for someone very ill.
Things started looking better with the food. I ordered Spinach Corn Tart (₹175) as starter. It turned out to be nice. It had three tarts to the portion and the spinach was fresh. Unlike other tarts, it was not creamy with rich gooey filling. It was full of flavor and the base was perfect.
The Shepherd's Pie (₹375) was quite delicious and very British. It was a yummy mince pie topped with potato and little cheese and baked in the oven. The chicken mince was flavored well with hints of pepper and nutmeg. The potato mash on top was crisp to a T.
The Grilled Fish (₹450) was great too. It was 3 plump fillets of fish grilled perfectly, served with a delicious lemon caper sauce, with a delicious garlic buttery bread, a creamy potato mash and seasonal fresh grilled veggies, zucchini, mushrooms, broccoli, and bell peppers. I loved this dish. A place, which prepares its fish well, is close to my heart
As I gradually shifted to desserts, my favorite moment arrived.
Much as I was tempted by the Rose Cafe sundae with meringue, brownie, vanilla ice cream, chocolate fudge and caramel, I opted for their Expresso Cake (₹150), a delicious coffee cake served with whipped cream and gooey homemade caramel (which i asked for more since I like my cakes moist).
They also offer a Tangy lemon cake but I went for the day's special, the Orange Marmalade Cake (₹150) that was a superb pound cake with orange rind and orange marmalade in it. It went wonderfully with the Americano (₹150), a fitting end to the meal.
To sum up, this is not a gourmet restaurant, nor does it profess to be one. It is a sweet little romantic cafe with a comfortable ambiance and delicious home cooked food. On some days, the soup may not be as good as on the others.
Would I go back again? Definitely, for coffee with friends, or on a day when I am in a mood to sit back and read a book and be in no hurry to leave, and maybe on a romantic date, too. And I have to go back for the fish and to try the Rose Cafe sundae and their homemade gelato. The owner has also promised to take care of my soup. So, I guess, I have to go back for sure.
The Pricing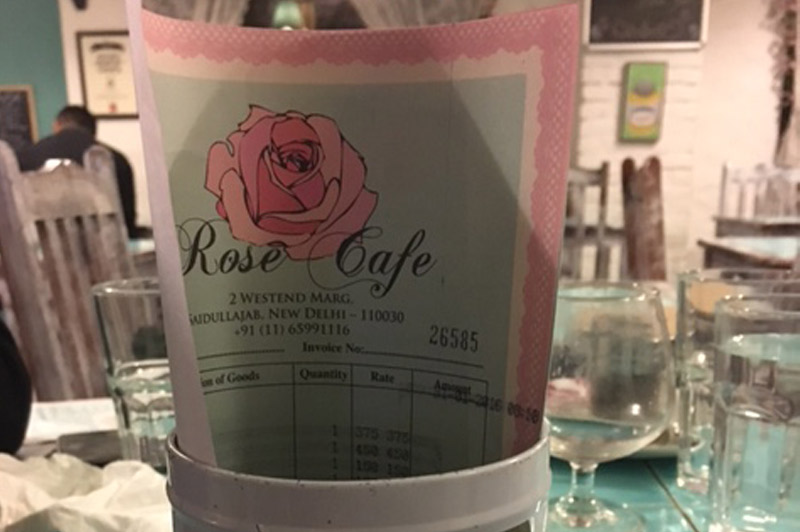 There are very few cafes in Delhi where you can have sangria, soup, starter, two mains, two desserts and coffee within 2500 bucks. This is one of them.