India is one of the most diverse countries in terms of culture, cuisine and arts. Traditionally the finer nuances of these have been passed from ancient kingdoms to modern day generations. Modern day India is a confluence of these traditional cultures and western influences with a close knit society. In terms of food, many traditional cuisines like Mughal are as much relished as modern day innovations and fast foods. In terms of diversity, you would not have to repeat a dish travelling from North to South or East to West. Some of the common dishes from the North include rich cream based curries like Shahi Paneer, Butter Chicken, Dal Makhani and more spicy counterparts in Rogan Josh, Kadhai Paneer etc. These go well with breads like Roti, Naan or Parathas which come in huge number of variations. In the south you would find Sambhar, Kadla Curry, Fish and vegetable stews going with Dosa, Uttapam and Appam's. Fish and Rice, Thupka from the east gives a perfect balance to Kadhi and Khandavi from the west. All along the Chaat's, Kebab's and Biryani's in multiple varieties knit the cuisine together. Some time back we saw Garlic Naan preparation in this column while today let's make a curry.
I picked up Shahi Paneer, a cream based cottage cheese curry which has made its mark through the world. It is loved equally by adults and kids and goes well any of the Indian breads.Its easy to make it at home and you would just love the taste. It brings out the taste from the various spices, Khova (an Indian milk preparation) and cream. If you don't get Khova, boil and reduce milk till it is slightly solid and use that. Enjoy this Shahi Paneer Recipe.
Ingredients (serves 3 to 4)
Oil - 3 tbsp
Cloves - 3 to 4
Green cardamom - 3 to 4
Cinnamon stick - 2 inch stick
Black pepper corn - 5 to 6
Onion - 1 cup (chopped)
Ginger Garlic paste - 2 tsp
Tomato puree - 2 tbsp
Khova - 2 tbsp
Coriander powder - 2 tsp
Red chili powder - 1/2 tsp
Turmeric powder - 1/2 tsp
Garam Masala powder - 1/2 tsp
Salt to taste
Paneer (Cottage Cheese) - 400 gms
Fresh cream - 2 tbsp
Honey - 1 tsp
Lemon juice - 1 tsp
Coriander leaves for garnishing
How to Make Shahi Paneer
Heat oil in a pan and add cloves, green cardamom, cinnamon stick, black peppercorn and fry for 20 seconds.
Add onion and fry till translucent.
Add ginger garlic paste and fry till golden brown.
Add tomato puree and cook for 2 to 3 minutes.
Add Khova and cook for a minute.
Add coriander powder, red chili powder, turmeric powder, garam masala powder, salt and fry for a minute.
Add Paneer with 1/2 cup water and cook for 3 to 4 minutes.
Add cream, honey, lemon juice and cook for about a minute.
Garnish with coriander leaves.
Serve hot.
Summary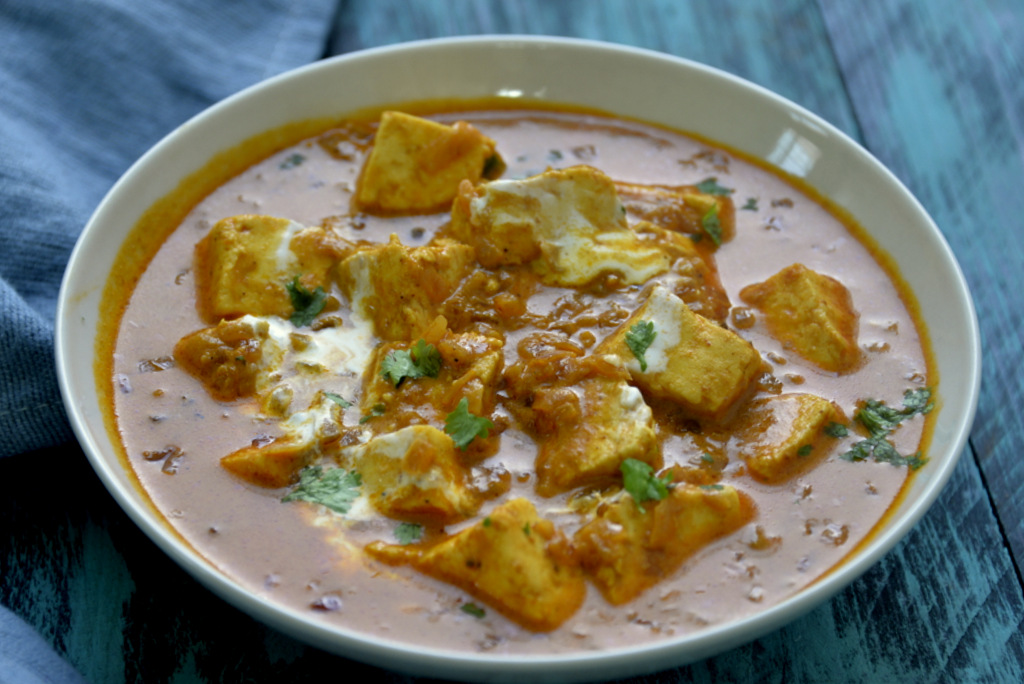 Recipe Name
Published On
Preparation Time
Cook Time
Total Time
Average Rating
Based on 4 Review(s)
Published On:
Wednesday, March 11th, 2015