Different states and regions in India have their own native cuisines and in total create a large diversity of food cooked. Most of the regions use typical Indian spices in cooking giving nice aroma and taste. Indian curries are famous and sought after the world over. The northern part of India got influenced by the central Asian cuisine under the Mughal rule and the dishes have been adapted since. Some of the known dishes from the Northern part of India include chaat's like Pani Poori, Dahi Bhalle, Aaloo Tikki, curries like Shahi Paneer, Butter Chicken, Rogan Josh, Mughlai curries, Dal Fry and breads like Roti, Naan and Paratha. Some of the famous dishes from the South India include Dosa, Idli, Appam, Sambhar, Kesari Bhaat, Bisi Bele Bhaat and breads like Akki Roti etc. Other regional dishes include Thupka, Poha, Saag, Pongal, Biryani etc. Sweets are also used in large quantities throughout India and some of the famous varieties include Laddu's, Gulab Jamun, Rasmalai etc. India has also created a fusion cuisine adapting to other countries cuisines amongst which China is the most common, there are numerous Indian Chinese Restaurants serving dishes like Chowmein, Noodles, Fried Rice & Manchurian's.
For my readers today I picked one of the common breads available in most Indian restaurants and buffets worldwide, however not too common in the home use. Naan come in various varieties like plain, with butter, filled with keema (minced mutton or lamb), or made with garlic etc. Today I made Garlic Naan which goes well with most Indian curries and gives a great flavor. This bread is made with all purpose flour (Maida) along side with garlic and some coriander leaves. There are various ways to bring out the taste in your bread, a lot of restaurants make it in a traditional tandoor, while I've seen some modified gas tandoor's as well. However I made it using a home oven as tandoor's are not generally found in homes. The taste came out wonderfully well and I enjoyed the Naan with my favorite curry. I'm sure you too are excited to make it yourself, so just go ahead and use this Garlic Naan Recipe.
Ingredients (makes about 6 Naan Breads)
All purpose flour - 1 & 1/2 cup
Baking soda - 1/2 tsp
Baking powder - 1/4 tsp
Salt - 1/4 tsp
Sugar - 1 tsp
Yogurt - 1/4 cup
Milk to knead the dough
Garlic - 3 tsp (chopped)
Coriander leaves - 3 tsp
Butter for brushing on top
How to Make Garlic Naan
Mix all purpose flour, baking soda, baking powder, salt, sugar and yogurt in a bowl.
Knead a soft dough using milk.
Cover and keep aside for 2 hours.
Pre-heat the oven to 220 C.
Divide the dough into 6 equal balls.
Keep 1/2 tsp coriander and 1/2 tsp garlic on the working station.
Place and press the dough ball over the spread.
Dust and roll into a naan shape.
Turn around and keep it on the baking tray.
Repeat for all 6 balls.
Bake for 5-6 min till brown spots appear on the top.
Remove from oven and brush with butter.
Serve hot with your favorite curry.
Summary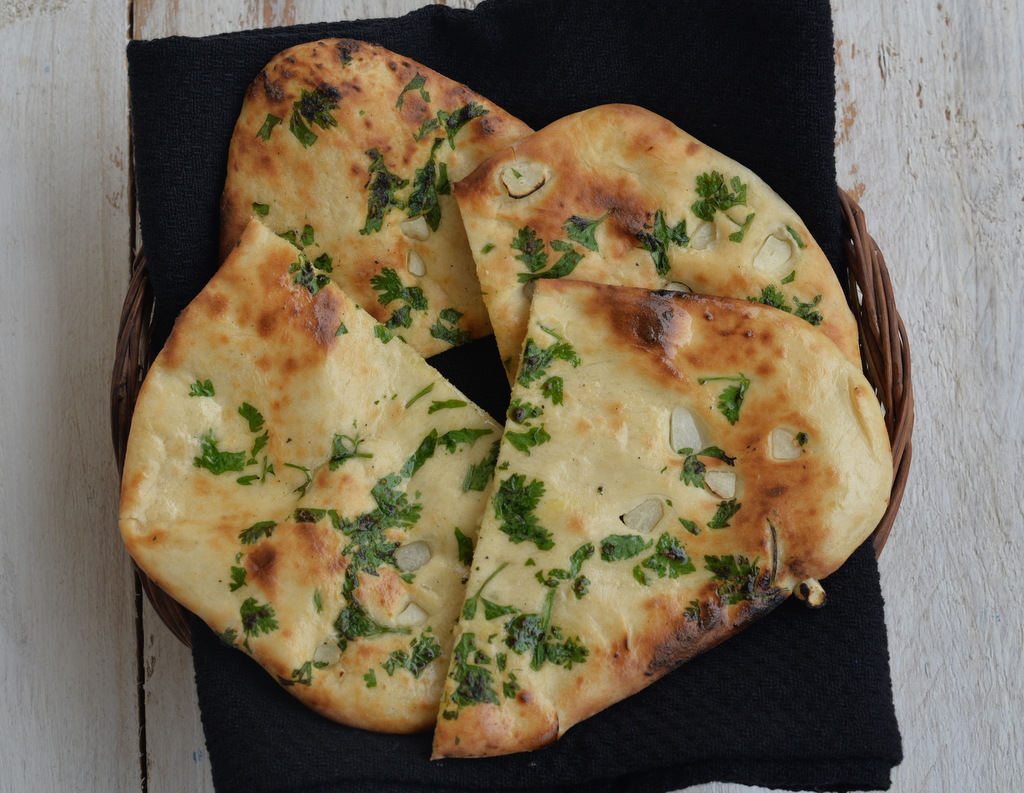 Recipe Name
Published On
Preparation Time
Cook Time
Total Time
Average Rating
Based on 4 Review(s)
Published On:
Sunday, June 8th, 2014