I wrote about Iranian cuisine few weeks back as one of the most traditional ones. A lots of recipes originated long ago and are still made in many homes. Most of the dishes use rice, meats like chicken, lamb, fish etc. along with herbs like parsley, saffron and cinnamon. Fruits are also a big part of Iranian cuisine, the major ones being prunes, apricots and pomegranate. Talking about some of the common recipes from Iran, we get Fish Stew or Ghalieh Mali in the southern part of the country while the central Iran gives Pashmak and Morasah Polo. Northern part of the country has many traditional dishes some of which are Kebab Torsh, Shami Kebab etc. Iran is also famous for number of desserts among which are Iranian Fereni, Sholeh Zard, Faludeh, Persian Ice cream or Bastani-e-Zafarani, Zulbia etc.
Last time we saw Iranian Fereni Recipe, this time again I picked up another of Iranian desserts for this recipe and made Sholeh Zard. This dish prepared in traditional Iranian style, lets the rice soak up all the water before you add saffron, sugar and rose water for the flavor, aroma and taste. The color the dish takes from Saffron is very appealing and it goes as a perfect dessert after your main meals. For the decoration I used cardamom powder and dry fruit slivers. You are free to garnish over the dish and any innovative techniques can come in handy. You have to try out this Iranian dessert to experience the richness in the cuisine. Here is a simple Iranian Sholeh Zard Recipe for your use.
Ingredients (serves 4 to 6)
Rice - 1/2 cup
Water - 4 cups
Rose water - 2 tsp
Sugar - 1 cup
Saffron - few strands (use generously for the color and taste)
Cinnamon powder - 1 tsp
Dry fruit slivers - for garnishing
Iranian Sholeh Zard Recipe
Wash and soak rice in water for 15 minutes.
Boil the rice with water on low flame, removing the white froth as it comes.
When it comes to a boil, cook on low flame for another 15 to 20 minutes until most of the water is absorbed by rice.
Add sugar, rose water and saffron strands and mix well, also lightly mashing the rice in the process.
Cook on low flame for another 20 minutes with regular stirring until it reduces.
Pour the mixture in the serving container and refrigerate for couple of hours.
Decorate with cinnamon powder and dry fruit slivers.
Serve.
Summary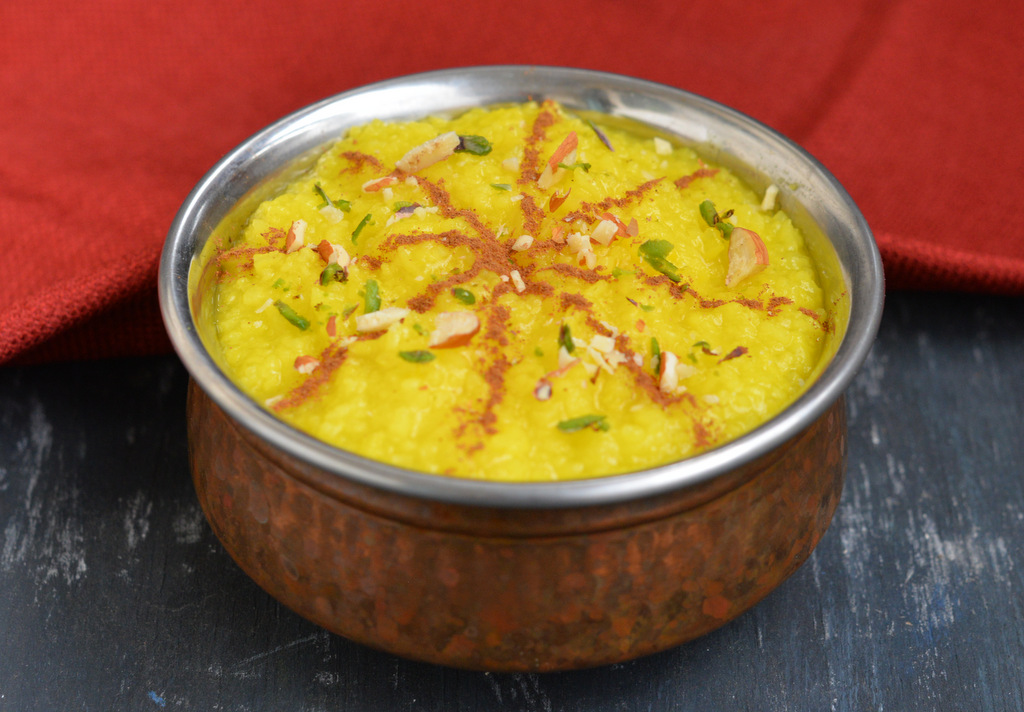 Recipe Name
Iranian Sholeh Zard Recipe
Published On
Preparation Time
Cook Time
Total Time
Average Rating
Based on 1 Review(s)
Published On:
Sunday, August 3rd, 2014