Iran is one of the middle east countries, also known as Persia and as one of the oldest civilizations that existed centuries ago. The land has seen many big empires come and go and leave their marks on the history and culture of the country. It has a tropical region with restricted vegetation, owing to the middle east mountain ranges. It grows many fruits typical to the tropical weather while dates are very common as well.
The country draws cultural and food influences, specifically from central Asian and Indian cuisine. The states and provinces within the country also bring traditional influences and form part of the modern day country. Iran uses green herbs such as parsley along with home grown fruits such as plums, apples, grapes and spices such as cardamom, cinnamon, and saffron in the regular preparations.
Just like the Indian cuisine it also uses onions and garlic in most of the curry preparations. Sharbat's such as Havij Bastani are served with or without the meals. The meals include rice or breads, while the rice is mostly prepared as pilaf with many different meats or vegetables the breads such as Naan are made with varying fillings. Some of the cooked dishes in Iran include Fish Stew or Ghalieh Mahi, Gaz, Biryani, Kufteh Tabrizi, Morasah Polo etc. The desserts include ice cream, faluda, ferni and other dry and moist sweets.
Also Read: Iranian Sholeh Zard Recipe
For tasting the Iranian cuisine, I picked up a dessert recipe, Ferni. This dish has commonalities with Phirni as made in India, however instead of using broken rice, Iran uses rice flour for the preparation. Iranian Ferni is served warm or chilled, however I liked the latter variety. It is also decorated with dry fruit slivers and served traditionally in an earthen pot. I followed the traditional ways of serving and the dessert looked very appealing. The decoration can make or break a good appeal, so I made sure the Ferni was nicely decorated with the dry fruits while I also sprinkled some cinnamon powder for the flavor. The taste came out extremely pleasing and I loved the preparation. You too can try it out easily with this Iranian Ferni Recipe.
Ingredients for Ferni (serves 4)
Full cream milk - 1 lt.
Rice flour - 1/4 cup
Saffron strands - 1 pinch
Sugar - 1/4 cup
Rose water - 1 tsp
Almonds and pistachio slivers for garnishing
Cinnamon powder for garnishing
Iranian Ferni Recipe
Boil the milk in a heavy bottom pan.
Add rice flour and mix well, avoid forming any lumps.
Add saffron strands and cook till the milk reduces to about half and thickened.
Add rose water and sugar and cook for another 1 minute.
Pour in earthen pots to be used for serving.
Garnish with almond and pistachio slivers and sprinkle the cinnamon powder all over.
Refrigerate for about an hour.
Serve chilled.
Summary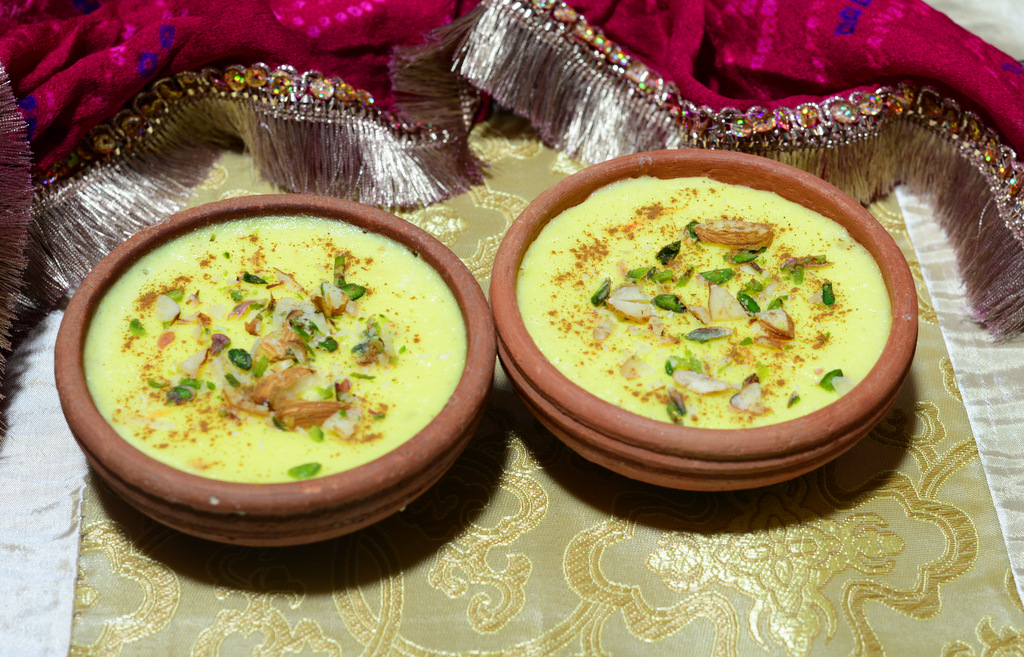 Recipe Name
Published On
Preparation Time
Cook Time
Total Time
Average Rating
Based on 4 Review(s)
Published On:
Sunday, May 25th, 2014