Neighboring Countries - Mongolia, Nepal, India, South Korea, Pakistan
Continent And Regions - Asia Map
Other China Maps - China Map, Where is China, China Blank Map, China Road Map, China Rail Map, China River Map, China Cities Map, China Political Map, China Physical Map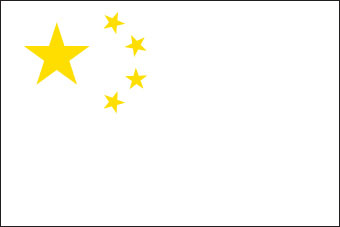 Download Picture of China Flag Outline for kids to color
China Flag Description (China Flag Colors)
The flag of China, formally the People's Republic of China, is red with five golden stars in the canton, one of them large, and the other four in an arc around it.
Red is a traditional color of communism, representing the communist revolution. The stars symbolize the Chinese people, united under the country's central leadership. The larger star represents the Communist Party, and the four small stars are the social classes of China. These classes are the working class, peasantry, the urban petit bourgeoisie, and the bourgeoisie. The flag is named "Wǔ Xīng Hóng Qí," meaning "Five-star Red Flag." The other potential meaning of the stars is to represent the five main ethnicities of China: the Han, Manchus, Mongols, Hui, and Tibetans.
History of the Flag of China
A committee of the government of China solicited designs for the national flag from the public on July 4, 1949. Around 3,000 designs were submitted, which were further narrowed down to 38 that went to a committee discussion. One design, submitted by Zeng Liansong of Shanghai, was similar to the current flag. He designed it after reflecting on a Chinese proverb that said "longing for the stars, longing for the moon." Liansong incorporated the communist party into the flag's design in the large star.
The flag of Zeng Liansong's design was modified slightly, a hammer and sickle in the large star were removed, and the flag was officially selected by the committee on September 27, 1949, in a unanimous vote.
| | |
| --- | --- |
| National symbol(s): | dragon, giant panda |
| National colors: | red, yellow |
| National anthem: | |
| Name: | "Yiyongjun Jinxingqu" (The March of the Volunteers) |
| Lyrics/Music: | TIAN Han/NIE Er |
| Country | China |
| --- | --- |
| Designed by | Zeng Liansong |
| Adopted | September 27, 1949 |
| Revision | NA |
| Design and Colors | A large golden star within an arc of four smaller golden stars, in the canton, on a field of red. |
| Size Ratio | 2:3 |