How old is the Great Wall of China?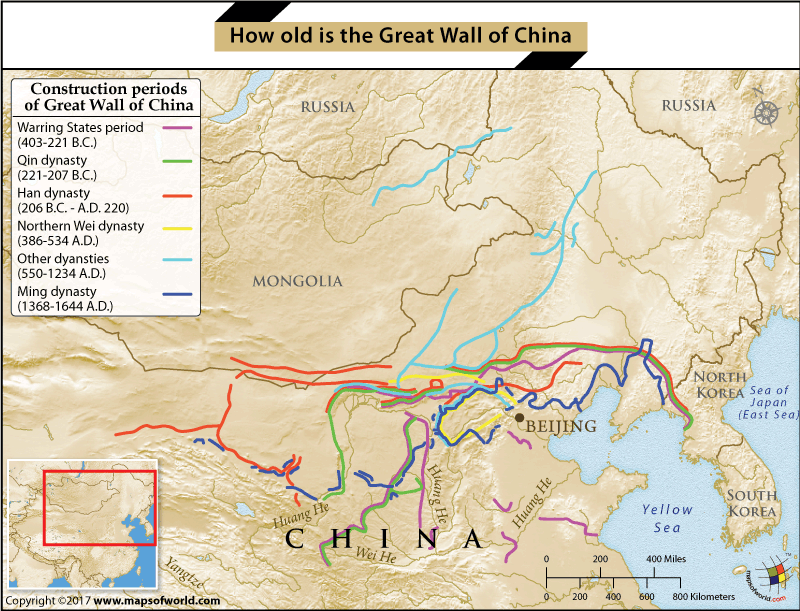 The Great Wall of China is more than 2,000 years old.
The length of the Great Wall of China is 13,171 miles (21,196 km), which stretches from Dandong in the east of China to Lop Lake in the west. However, contrary to what its name suggests, the Great Wall of China is not a single wall, but a fortification of walls.
The construction of the earliest walls can be traced back to the 7th century BC. Over the centuries, successive imperial dynasties carried out constructions increasing the length of the walls. Among these walls, the most famous is the one constructed during the reign of Qin Shi Huang, who was the first Emperor of China. This was built between the years 220-206 BC. Over the years the wall suffered damages and today only a small part remains. The wave of dynasties and emperors that came after Qin Shi Huang rebuilt, maintained and carried out further constructions on the wall. The majority of the Great Wall of China, length 5,500 miles, dates back to the time of the Ming Dynasty which ruled from 1368 to 1644.
The purpose of the wall was primarily as a defense against the raids of the barbarian nomadic groups of the Eurasian Steppe; however, more than a defensive structure, the wall acted as a psychological block between the ancient Chinese empires and the rest of the world. To keep a watch over the enemy, the wall also comprised garrison stations, watchtowers, and troops barracks.
The Great Wall of China is a marvelous feat of engineering and architecture and as such is one of the New Seven Wonders of the World. However, contrary to the popular misconception, the Great Wall of China is not visible from the space. Nevertheless, millions of tourists from across the globe travel to China every year to witness the aura, magnificence, and exquisiteness of this amazing symbol of ancient Chinese engineering.
To learn more about the other wonders, check our Wonders of the World section.
Related Maps: