What are the best places to spot Giant Pandas?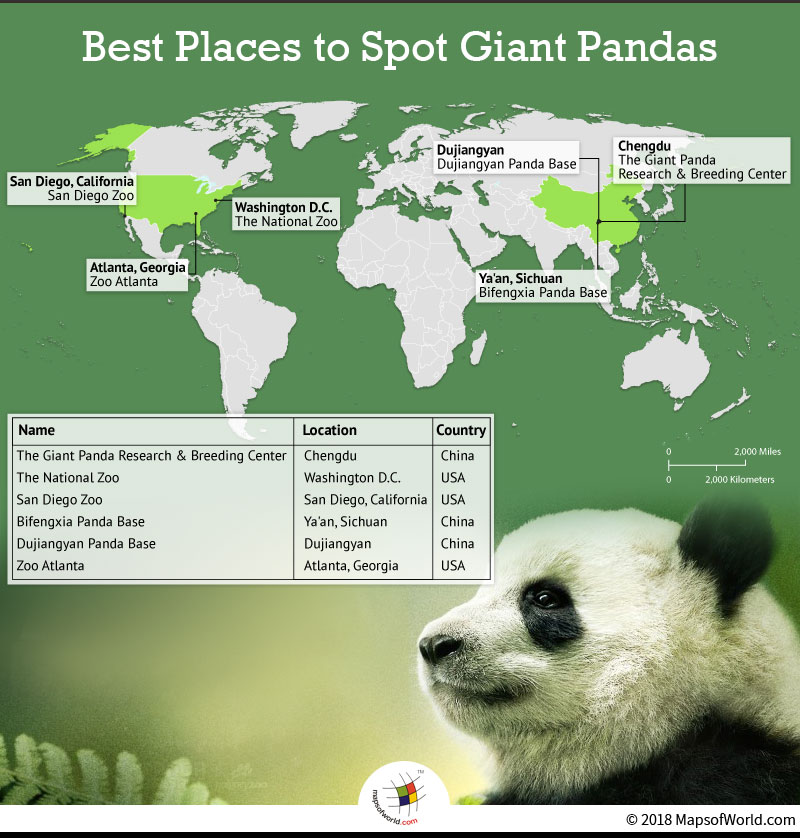 Rarely seen in the wild – the charismatic Giant Pandas are one of the universally loved species. There was a time when these gullible creatures could have been found throughout eastern and southern China, northern Vietnam and northern Myanmar, but now they are restricted to only few mountain ranges in China. Numerous human activities like livestock grazing, fuel-wood collection, herb collection and mining have caused disturbance in the habitats of pandas around the world.
It is unfortunate that pandas are under the IUCN Red List of threatened species, but the organizations around the world are focusing on conservation of this species and reports have shown success. As per World Wildlife Fund, the percentage of pandas has increased up to 17% within the years of 2003 to 2013, and as of 2014 around 1,864 giant pandas were alive.
With the innumerable videos of adorable pandas rolling around on the internet, the world does not want the species to become extinct. These creatures might spend 14 hours of the day feeding themselves, but they benefit the mountain forests by spreading seeds in their droppings. It helps the vegetation and overall ecosystem to remain healthy. Their survival adds a lifeline to the other threatened species like golden sub-nosed monkeys, red pandas and snow leopards as well.
It is a wholesome experience to watch a panda relaxing or stumbling in front of you. These extraordinary tree climbers can be spotted chewing on the bamboo in different centers around the world. Some of the well-known destinations which are helping in safeguarding them, whilst providing you an eye to eye experience with pandas are as follows:
The Giant Panda Research & Breeding Center, Chengdu, China

If you wish to get close and personal, the Giant Panda Research and breeding center is one of the best locations to visit. You can spot dozens of baby pandas here, and even get a chance to cuddle with one. There you will find numerous pandas interacting with each other in their own language or maybe they would just be lazing around.
The National Zoo, Washington D.C.

Part of the Smithsonian Institute, the National Zoo attracted millions of visitors when two giant pandas Mei Xiang and Tian Tian arrived here in year 2000. The Zoo has established itself as a leader in conservation of giant panda for they study and share necessary information with other organizations which have been working for protection of this endangered species.
San Diego Zoo, San Diego, California

A giant panda viewing area in San Diego Zoo enables its visitors to watch two endearing pandas Xiao Liwu and/or Bai Yun engaged in their daily activity, that is they might probably be eating their bamboo. There is a two-hour adventure shuttle which includes a tour to observe numerous animals closely.
Bifengxia Panda Base, Ya'an, Sichuan, China

The breeding center is a paradise for giant pandas, for they are living in a natural environment. The total number of pandas are about 20. The panda base offers volunteer programs for its visitors, so they can indulge in interesting activities with pandas, for example cleaning panda enclosures or even bathing them.
Dujiangyan Panda Base, Dujiangyan, China

This center is quieter in comparison to rest of the places and receives lesser crowd. Visitors can volunteer and help the research department record panda behavior or in preparation of food for them. It would be a lovely experience to spend good time observing or being with the fluffy animals.
Zoo Atlanta, Atlanta, Georgia

You'll get to meet the cute twin pandas Ya Lun and Xi Lun. It is claimed that the two littermates have completely different personalities, if observed. Ya Lun, is more adventurous and social, while Xi Lun spends more time enjoying by herself. When you get to observe the different characteristics of the two, the experience could turn out to be everlasting.
Know more:
Related maps: