What is the Non-Aligned Movement?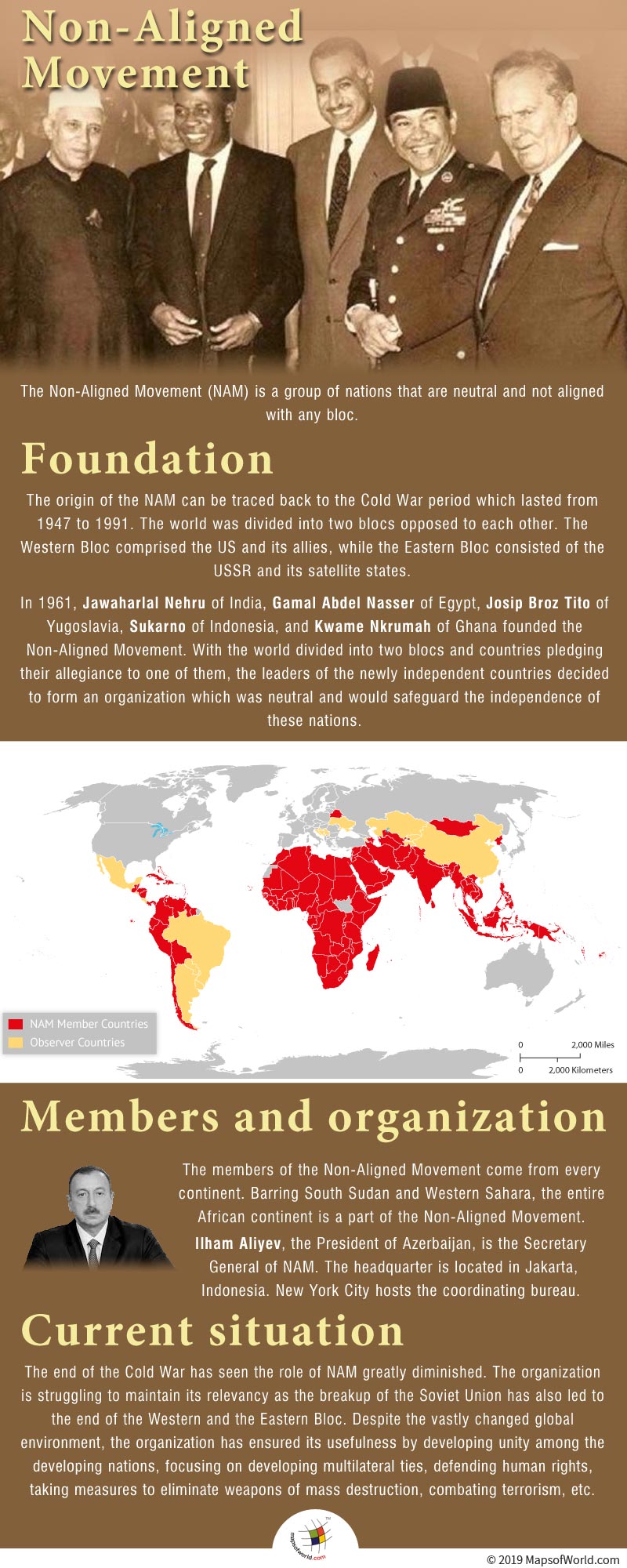 The Non-Aligned Movement (NAM) is a group of nations that are neutral and not aligned with any bloc. Established in 1961, the NAM has 120 members and 17 observers, as of 2012. The group is largely composed of developing countries; however, some developed countries are also its members.
Foundation
In 1947 the world was divided into two blocs opposed to each other. The Western Bloc comprised the US and its allies, while the Eastern Bloc consisted of the USSR and its satellite states.
In 1961, Jawaharlal Nehru of India, Gamal Abdel Nasser of Egypt, Josip Broz Tito of Yugoslavia, Sukarno of Indonesia, and Kwame Nkrumah of Ghana founded the Non-Aligned Movement. With the world divided into two blocs and countries pledging their allegiance to one of them, the leaders of the newly independent countries decided to form an organization which was neutral and would safeguard the independence of these nations.
The Bandung Conference that was held in 1955 can be considered a significant milestone in the journey of the Non-Aligned Movement. The Conference was hosted by Sukarno, President of Indonesia, and comprised of Asian and African nations. The conference pledged not to align with any bloc in the Cold War and adopted a "Declaration on Promotion of World Peace and Cooperation." In 1961, Josip Broz Tito, President of Yugoslavia, hosted the first Conference of Heads of State or Government of Non-Aligned Countries in Belgrade. In September 1970, the Lusaka Conference was held. At the conference, the aims listed by the member states included opposing military bases in foreign countries, the peaceful resolution of disputes and not joining any military alliances or pacts of the two blocs.
Members and Organization
The members of the Non-Aligned Movement come from every continent. Barring South Sudan and Western Sahara, the entire African continent is a part of the Non-Aligned Movement. The organization is led by the Secretary General. Currently, Ilham Aliyev, the President of Azerbaijan, is the Secretary General of NAM. The headquarter is located in Jakarta, Indonesia. New York City hosts the coordinating bureau.
Current Situation
The end of the Cold War has seen the role of NAM greatly diminished. The organization is struggling to maintain its relevancy as the breakup of the Soviet Union has also led to the end of the Western and the Eastern Bloc. Despite the vastly changed global environment, the organization has ensured its usefulness by developing unity among the developing nations, focusing on developing multilateral ties, defending human rights, taking measures to eliminate weapons of mass destruction, combating terrorism, etc.
Non-Aligned Movement Countries
| | | |
| --- | --- | --- |
| S.No. | Countries | Year of Joining |
| 1 | Afghanistan | 1961 |
| 2 | Algeria | 1961 |
| 3 | Angola | 1976 |
| 4 | Antigua and Barbuda | 2006 |
| 5 | Azerbaijan | 2011 |
| 6 | Bahamas | 1983 |
| 7 | Bahrain | 1973 |
| 8 | Bangladesh | 1973 |
| 9 | Barbados | 1983 |
| 10 | Belarus | 1998 |
| 11 | Belize | 1976 |
| 12 | Benin | 1964 |
| 13 | Bhutan | 1973 |
| 14 | Bolivia | 1979 |
| 15 | Botswana | 1970 |
| 16 | Brunei | 1993 |
| 17 | Burkina Faso | 1973 |
| 18 | Burundi | 1964 |
| 19 | Cambodia | 1961 |
| 20 | Cameroon | 1964 |
| 21 | Cape Verde | 1976 |
| 22 | Central African Republic | 1964 |
| 23 | Chad | 1964 |
| 24 | Chile | 1973 |
| 25 | Colombia | 1983 |
| 26 | Comoros | 1976 |
| 27 | Côte d'Ivoire | 1973 |
| 28 | Cuba | 1961 |
| 29 | Democratic Republic of the Congo | 1961 |
| 30 | Djibouti | 1983 |
| 31 | Dominica | 2006 |
| 32 | Dominican Republic | 2000 |
| 33 | Timor-Leste | 2003 |
| 34 | Ecuador | 1983 |
| 35 | Egypt | 1961 |
| 36 | Equatorial Guinea | 1970 |
| 37 | Eritrea | 1995 |
| 38 | Ethiopia | 1961 |
| 39 | Fiji | 2011 |
| 40 | Gabon | 1970 |
| 41 | Gambia | 1973 |
| 42 | Ghana | 1961 |
| 43 | Grenada | 1979 |
| 44 | Guatemala | 1993 |
| 45 | Guinea | 1961 |
| 46 | Guinea-Bissau | 1976 |
| 47 | Guyana | 1970 |
| 48 | Haiti | 2006 |
| 49 | Honduras | 1995 |
| 50 | India | 1961 |
| 51 | Indonesia | 1961 |
| 52 | Iran | 1979 |
| 53 | Iraq | 1961 |
| 54 | Jamaica | 1970 |
| 55 | Jordan | 1964 |
| 56 | Kenya | 1964 |
| 57 | Kuwait | 1964 |
| 58 | Laos | 1964 |
| 59 | Lebanon | 1961 |
| 60 | Lesotho | 1970 |
| 61 | Liberia | 1964 |
| 62 | Libya | 1964 |
| 63 | Madagascar | 1973 |
| 64 | Malawi | 1964 |
| 65 | Malaysia | 1970 |
| 66 | Maldives | 1976 |
| 67 | Mali | 1961 |
| 68 | Mauritania | 1964 |
| 69 | Mauritius | 1973 |
| 70 | Mongolia | 1993 |
| 71 | Morocco | 1961 |
| 72 | Mozambique | 1976 |
| 73 | Myanmar | 1961 |
| 74 | Namibia | 1979 |
| 75 | Nepal | 1961 |
| 76 | Nicaragua | 1979 |
| 77 | Niger | 1973 |
| 78 | Nigeria | 1964 |
| 79 | North Korea | 1976 |
| 80 | Oman | 1973 |
| 81 | Pakistan | 1979 |
| 82 | Palestine | 1976 |
| 83 | Panama | 1976 |
| 84 | Papua New Guinea | 1993 |
| 85 | Peru | 1973 |
| 86 | Philippines | 1993 |
| 87 | Qatar | 1973 |
| 88 | Republic of the Congo | 1964 |
| 89 | Rwanda | 1970 |
| 90 | Saint Kitts and Nevis | 2006 |
| 91 | Saint Lucia | 1983 |
| 92 | Saint Vincent and the Grenadines | 2003 |
| 93 | São Tomé and Príncipe | 1976 |
| 94 | Saudi Arabia | 1961 |
| 95 | Senegal | 1964 |
| 96 | Seychelles | 1976 |
| 97 | Sierra Leone | 1964 |
| 98 | Singapore | 1970 |
| 99 | Somalia | 1961 |
| 100 | South Africa | 1994 |
| 101 | Sri Lanka | 1961 |
| 102 | Sudan | 1961 |
| 103 | Suriname | 1983 |
| 104 | Swaziland | 1970 |
| 105 | Syria | 1964 |
| 106 | Tanzania | 1964 |
| 107 | Thailand | 1993 |
| 108 | Togo | 1964 |
| 109 | Trinidad and Tobago | 1970 |
| 110 | Tunisia | 1961 |
| 111 | Turkmenistan | 1995 |
| 112 | Uganda | 1964 |
| 113 | United Arab Emirates | 1970 |
| 114 | Uzbekistan | 1993 |
| 115 | Vanuatu | 1983 |
| 116 | Venezuela | 1989 |
| 117 | Vietnam | 1976 |
| 118 | Yemen | 1990 |
| 119 | Zambia | 1964 |
| 120 | Zimbabwe | 1979 |
Observer Countries
| | |
| --- | --- |
| S.No. | Countries |
| 1 | Argentina |
| 2 | Armenia |
| 3 | Bosnia and Herzegovina |
| 4 | Brazil |
| 5 | China |
| 6 | Costa Rica |
| 7 | Croatia |
| 8 | El Salvador |
| 9 | Kazakhstan |
| 10 | Kyrgyzstan |
| 11 | Mexico |
| 12 | Montenegro |
| 13 | Paraguay |
| 14 | Serbia |
| 15 | Tajikistan |
| 16 | Ukraine |
| 17 | Uruguay |
Related Map: