What is the National Airline of Spain?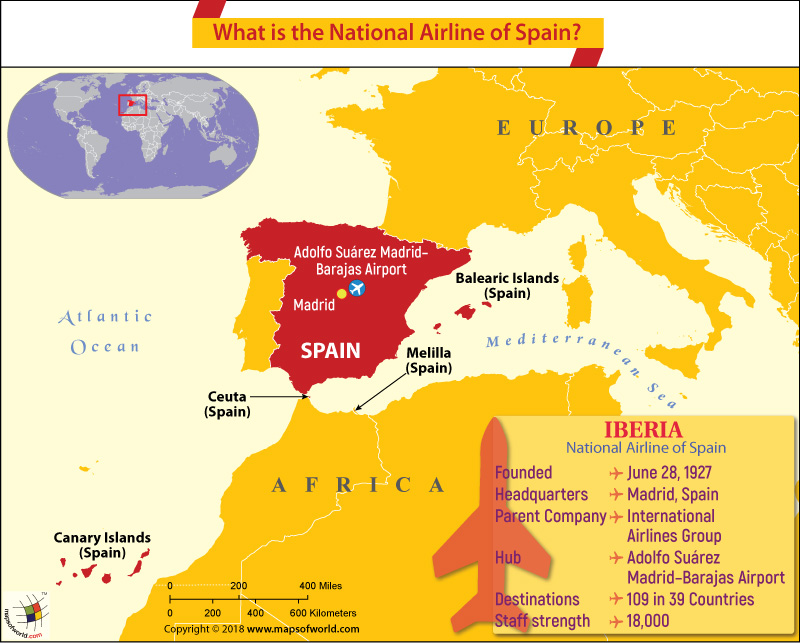 Iberia is the national flag carrier of Spain.
Iberia was founded in 1927 and is a part of the Iberia Group. It is based in Madrid, the capital of Spain. Iberia Group airlines fly to 39 countries covering 109 destinations. As a part of the code-sharing agreement with other countries, the airline flies to 90 additional destinations in a partnership arrangement.
Iberia has a fleet of 79 planes, and some of the aircrafts owned by it include Airbus A319-100, Airbus A320-200, Airbus A321-200, and Airbus A330-300. All of its aircrafts comprise two classes – the Business Class and the Economy Class. As of 2016, the revenue of the airlines stood at €4,586 million and the net income at €271 million. The subsidiaries of Iberia include Iberia Regional, Iberia Express, and Iberia Cargo. As of 2013, the Iberia had over 18,000 employees working for it.
Iberia joined the Oneworld alliance in 1999 whose members include leading international airlines such as Qantas, British Airways, American Airlines, Cathay Pacific, Qatar Airways, etc. In 2001 Iberia was privatized. In 2010, Iberia and the British Airways signed an agreement to merge and in 2011, the International Airlines Group was formed, which was a merger of the two airlines. This joint operation is currently the third largest airline in the world in terms of revenue; however, both the airlines are operating under their respective brands.
Related Maps: