What are the Top 10 Countries with Most Internet Users?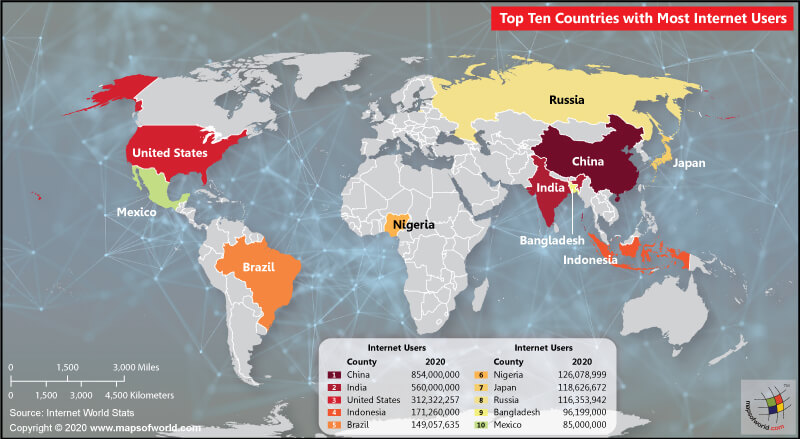 It was in the 1990s that the internet became mainstream and everyone started to talk about it. Today, billions of people worldwide are active users of the internet, for both professional and personal purposes. Currently, COVID-19 has created havoc in the entire world. But in these challenging times, the internet has provided work-from-home options.
The internet serves as the most significant mode of communication these days, as we can connect to people all around the world efficiently. We can send e-mails or make video calls to different corners of the world.
The internet is used to collect information regarding different topics: education, medicines, literature, software, computers, business, or even entertainment, and leisure. Not just that, no one can neglect its value for carrying out business operations, also known as Electronic Commerce (e-commerce).
With newspapers, magazines, and journals around the world also available on the internet, its usage is increasing day by day. So many websites are being created every minute. Social media is a significant attraction for people to use the internet extensively. We cannot say that there is no downside to it, but the number of users is increasing in each country over time.
China, being the most populated nation, has the most number of internet users. As of July 2020, the number is a whopping 854 million. India holds the second position, with 560 million users, and then comes the United States with over 312.32 million people using the internet.
In the table below, we have noted the top ten countries with most internet users as of July 2020 (according to data from Internet World Stats)
As per the recent report, there were 4.13 billion internet users around the world. Currently, the world population (the number of persons living on earth) is estimated at around 8.5 billion. It means that above 41 percent of the world population is connected through the internet.
The top 10 countries with the highest number of internet users as of July 2020 (in millions):
| | | |
| --- | --- | --- |
| S.No. | Country | Internet Users (JULY 2020) |
| 1 | China | 854,000,000 |
| 2 | India | 560,000,000 |
| 3 | The United States | 312,322,257 |
| 4 | Indonesia | 171,260,000 |
| 5 | Brazil | 149,057,635 |
| 6 | Nigeria | 126,078,999 |
| 7 | Japan | 118,626,672 |
| 8 | Russia | 116,353,942 |
| 9 | Bangladesh | 96,199,000 |
| 10 | Mexico | 85,000,000 |
Source: Internet World Stats
Related Links: