How many Stations are there in the London Underground?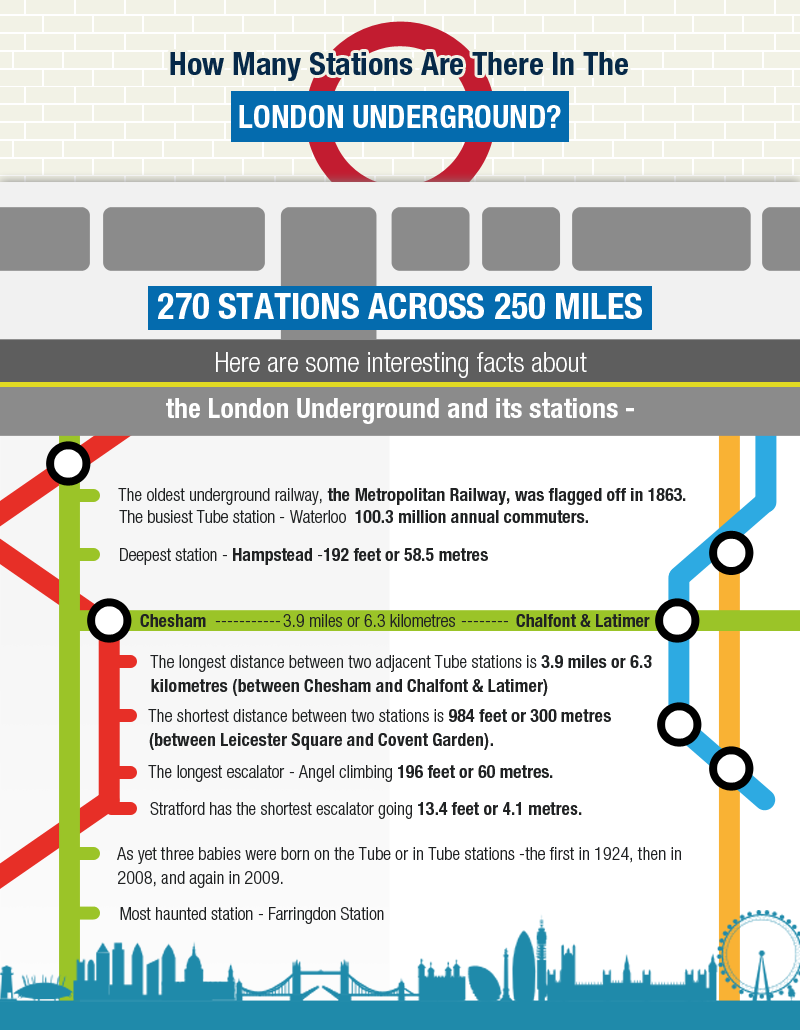 The London Underground, or the Tube, as it is commonly called is the oldest underground railway system in the world. It connects most of London city and also the neighboring counties of Essex, Buckinghamshire, and Hertfordshire. There are 270 stations across 250 miles that are connected by the London Underground. Over 1.37 billion commuters take the Tube each year.
Here are some interesting facts about the London Underground and its stations –
The oldest underground railway, the Metropolitan Railway, was established in 1863. It is now part of the London Underground.
The busiest Tube station is Waterloo with 100.3 million annual commuters. It beat Oxford Circus which previously held the record with 98 million passengers each year.
Hampstead station is the deepest (192 feet or 58.5 meters underground). Predictably the station also has the deepest elevator shaft which goes down 181 feet or 55.2 meters. King's Cross St. Pancras has the shortest lift shaft (7.5 feet or 2.3 meters).
Over 50,000 people use the Waterloo station during the morning peak hours. With 23 escalators, it is the station with the most escalators.
The longest distance between two adjacent Tube stations is 3.9 miles or 6.3 kilometers (between Chesham and Chalfont & Latimer). The shortest distance between two stations is 984 feet or 300 meters (between Leicester Square and Covent Garden).
The longest escalator at a London Underground station is at Angel, climbing 196 feet or 60 meters. Stratford has the shortest escalator going 13.4 feet or 4.1 meters. Hampstead Station has the most steps (320 steps) from surface level to the platform. The London Underground has 71 stations with no steps at all.
To date, three babies were born on the Tube or in Tube stations -the first in 1924, then in 2008, and again in 2009.
"Mansion House" and "South Ealing" are the two Tube station names that contain all the vowels.
Farringdon Station is one of the most haunted stations of the Tube. The ghost of Anne Naylor who was murdered in 1758 is believed to haunt the station.
Related Maps: