What are The Oldest Subway Systems In The World?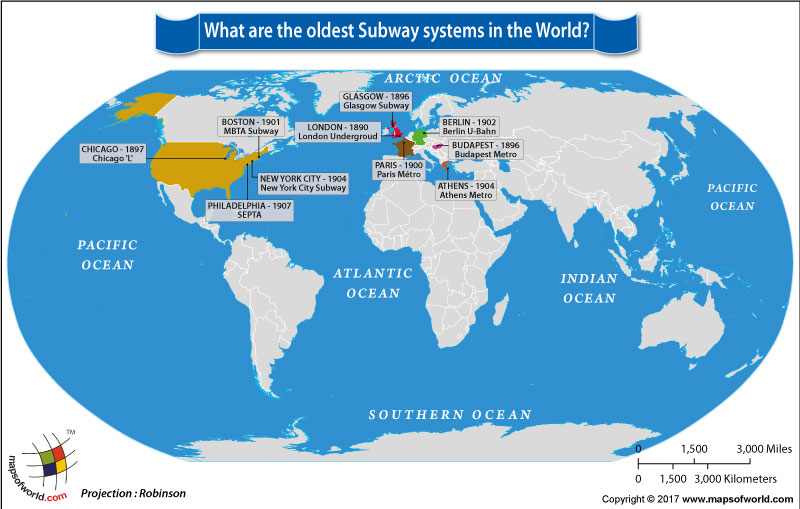 The London Underground, commonly referred to as 'The Tube', is the oldest underground subway system in the entire world.
The oldest underground railway system, the Metropolitan Railway was completed in 1863, and later incorporated into the London Underground as part of the Circle, Hammersmith & City and Metropolitan Lines.
The London Underground public transit system is now a network of 11 lines and serves most of London along with its neighboring counties such as Hertfordshire, Essex, and Buckinghamshire. 250 miles of track serve over 1.3 billion commuters each year. About 270 stations are connected and though called the Underground many sections of the track (about 55 percent) are not in the subway tunnels but above ground.
At the outset London Tube trains were powered by steam, but by 1890 the earliest deep level electric trains were introduced. The name 'Underground' itself dates back to approximately 1908 when it first appeared in the stations. The Tube, a reference to the underground railway system that was derived from the shape of the tunnels has, however, managed to survive the test of time.
The London Underground is now owned by Transport For London (TfL). "Mind the Gap", the traditional warning issued to passengers on the Underground to step over the gap between the train and the platform has now become an iconic representation of the TfL and in fact of London itself. Another iconic symbol that you are likely to see is the "Roundel" – the red circle with a blue bar running horizontally across. This is the logo of the London Tube.
While on the topic of subway metro systems, let us also look at the metro with the greatest ridership. This would be the Beijing Subway metro in China which serves an average of 9.998 million commuters each day. This rapid transit system was completed in 1969 and is the oldest metro in the country. Another very popular subway system (one of the most used in the world) is the New York City Subway. It has 472 operational stations and is the metro with the most number of metro stations.
| City | Country | Name | Year Opened | System length |
| --- | --- | --- | --- | --- |
| London | UK | London Underground | 1890 | 250 mi |
| Budapest | Hungary | Budapest Metro | 1896 | 23.7 mi |
| Glasgow | UK | Glasgow Subway | 1896 | 6.5 mi |
| Chicago | USA | Chicago 'L' | 1897 | 102.8 mi |
| Paris | France | Paris Métro | 1900 | 133 mi |
| Boston | USA | MBTA Subway | 1901 | 38 mi |
| Berlin | Germany | Berlin U-Bahn | 1902 | 94.3 mi |
| Athens | Greece | Athens Metro | 1904 | 52.6 mi |
| New York City | USA | New York City Subway | 1904 | 236.2 mi |
| Philadelphia | USA | SEPTA | 1907 | 36.7 mi |
Related Maps: