Where is the Iron Gates on the Danube located?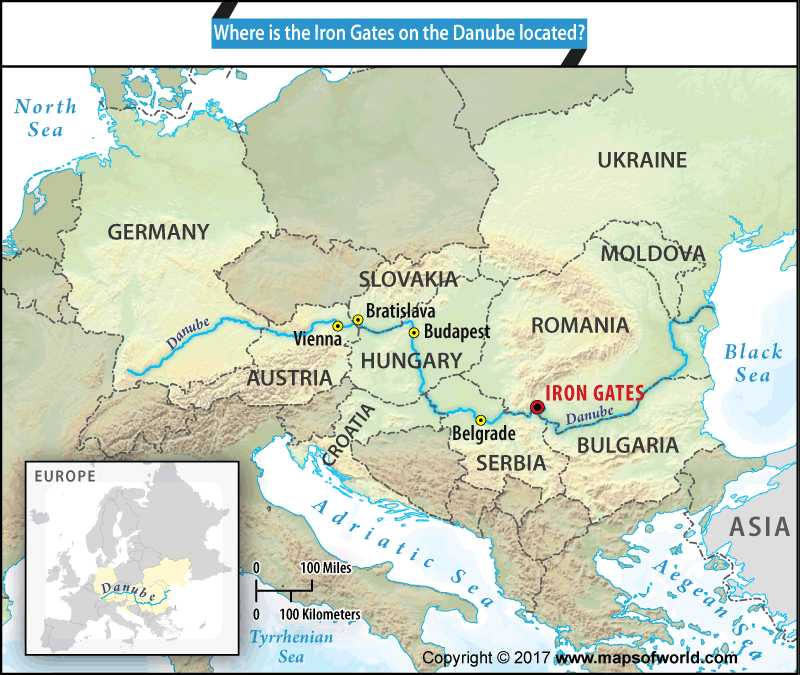 Iron Gates is the gorge on the Danube River that also serves as the boundary between Romania and Serbia.
Located on 44°40'16"N, 22°31'47" E, the gorge lies between the south Carpathian mountains that forms part of Romania, and the foothills of the Balkan Mountains, that form part of Serbia.
Europe's longest canyon stretches for 83 miles at the Iron Gates, comprising the two reservoirs – Great Kazan and the Small Kazan. The Danube flows at its narrowest point of 492 ft. and a depth of 174 ft. at the Great Kazan, just beyond the Romanian town of Orşova.
The gorge on the Danube river is marked by two major hydroelectric dam projects – Iron Gate 1 Hydroelectric Power Project, opened in 1972, and Iron Gate 2 Hydroelectric Project that began operations in 1984.
The old island town of Ada Kaleh on the Danube which formed part of Orşova, was submerged along with 5 other villages to make way for the dam. Today, besides generating electricity for the region, the Danube at the Iron Gates also serves as a popular spot for tourism and several cruises sail the Danube through the Iron Gates.
It was at the Great Kazan that the first bridge over the Danube was built around 2,000 years ago by Apollodorous of Damascus which facilitated Roman Emperor Trajan's conquest of Dacia. On the Serbian side, there is a commemorative plaque – Tabula Trajan, that stands as a testimony to that event.
The 444 sq miles Iron Gates Natural Park lies on the Romanian side, just below the town of Orşova, 12 miles west of Drobeta-Turnu Severin. Part of the park, is a 131 ft. high rock sculpture, Europe's largest, commemorating the Dacian leader and Emperor Trajan's opponent, Decebalus (r AD 87-106). It was built between 1994  and 2004 on the Romanian bank of the Small Kazan.
Both the Tabula Trajan and the Decebalus monument are popular tourist attractions. Besides these, there is the Iron Gates Museum that houses collections of historical, archeological and natural sciences.
Serbia's largest natural park, the 246 sq miles Djerdap National Park, lies on the Serbian side of the Iron Gates and is rich in ecology and wildlife.
The river Danube begins where Rivers Brigach and Breg merge in the town of Donaueschingen in the Black Forest area of Germany and flows 1,770 miles till the Black Sea. The river passes through 4 state capitals and 10 countries as it makes its make towards the Black Sea.
Related Maps: